How do you take care of tiles and grout in your bathroom? We all love to have beautiful and well-maintained tiles. But the main problem is the grout. This is an important part that connects the tiles and it gets dirty easily. Grout is porous and light colored which makes easily stained.
This is why you should maintain your grout your grouts and tiles to extend their life. If you want to make your cleaning tasks easier, you can use a steam cleaner.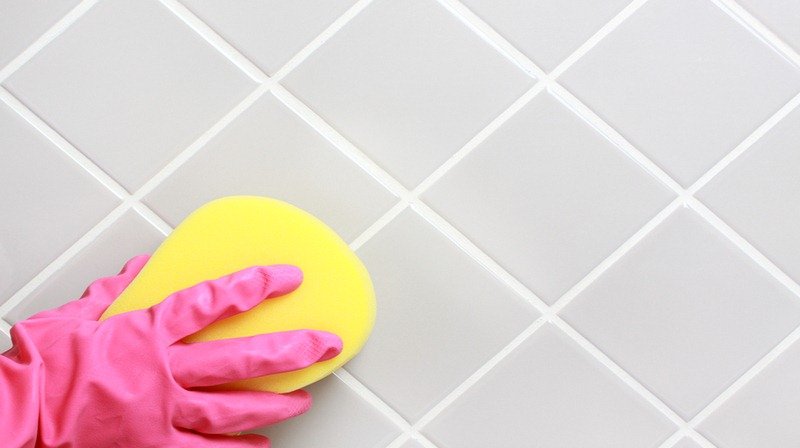 How to Renew Tiles Grout with a Steam Cleaner
A steam cleaner does an amazing job when it comes to cleaning your tiles. Find out why you need to have the best steam mop for tile and grout.
---
Read Also:
---
Why Grouts Get So Dirty?
If your kitchen, bathroom or any other place has tiles, I know you have been asking yourself why the grout gets dirty easily. Before you decide the right way to clean the dirt, it is important to understand the main causes of the dirt.
There are many reasons as to why the grouts get dirty more often. This is especially because most of the dirt on the tiles usually sleep off to the grout. This continued trend makes it accumulate a lot of dirt.
Another cause is cleaning using dirty. The water causes the grout to become dirty due to some dripping of water in the grout line. Furthermore, sweeping dirt towards the grout line between tiles is another cause.
For those who have children deposition of dirt by kids when they are playing on the floor.  Besides that, lack of sealers and some not properly placed is another key cause of dirt in grouts.
Lastly, grout gets dirty fast because of their rough texture that allows contaminants and other dirt to settle along the ridges. The porous nature of grout also allows colored liquids to get deeper causing stains.
Do Grout Steam Cleaners Really Work?
Places like the kitchen and the bathroom are high traffic do dirt can be inevitable. While you cannot remove all the dirt on the tiles all the time, you can use a steam cleaner to make your work easier.
Do grout steam cleaners work really work? I have heard this question many times from people.  I usually find this question to be very simple and direct. In fact, it is a YES that grout steam cleaners work. I will explain to you why they are practical.
Steam cleaning is one of the best cleaning methods that you can use if other methods do not work. The machine uses pressurized steam which works well when cleaning grouts that absorb dirt and grime.
Grout steam cleaners work well and clean grout easily and quickly. People who have used steam cleaners report positive outcomes after comparing before and after. They heat the water over 200 F and the nozzles that remove the dirt out of the grout with blasts of steam.
Choosing a Steam Cleaner
There is a wide range of steam cleaners on the market today that vary in features and performance. Choosing a steam cleaner might be a very difficult job but with these factors below, you will be good to go.
The cost of a steam cleaner is very essential credential to consider when buying one. No one likes to buy something which is expensive due to other needs one meets.
On that note, while choosing a steam cleaner it is advisable to choose that which is cheap. At the same time don't compromise on quality. Choose a cheap quality steam cleaner.
No one would prefer buying a steam cleaner that lasts for a short time. Everyone wants something durable so as to visit the dealers less often. This makes the durability of Steam cleaner, not something to overlook.
The best steam cleaner is that which is durable. Taking this consideration into practice the next time you shop for a steam cleaner will save a lot.
Function ability/Quality is another essential factor to consider. A steam cleaner of high quality is the best to opt for any time you are buying a steam cleaner.
Would you like to buy a steam cleaner that is of low quality that malfunctions easily? Absolutely I know you will not want that. It is for this reason you should compare and contrast in reference to performance and quality of a steam cleaner.
Mopping alone is not enough to clean and tidy your tile floor. You can also use vacuum cleaners for tile floors. Like any other floor materials, tile floors also need proper cleaning with the proper product.
Maintenance Cost
What would you feel if you buy a steam cleaner which cost a lot to maintain? Most of you if not all will be discouraged from buying such a steam cleaner.
This will never be the case if you choose a Steam cleaner that has a cheap maintenance cost. Therefore, when choosing a steam cleaner always takes your time to know the maintenance cost it will cost you.
There are many brands of steam cleaner in the market today. They come to any many varieties. When selecting the suitable Steam cleaner, you will come across many brands and due to this reason; you must choose the best brand brightly to avoid the wrong brand.
The right brand is that which is relatively cheap, comfortable to use, has a low maintenance cost, a long-lasting one, etc. The brand with all these features is the best to settle for.
The only way in which a steam cleaner will work well if there is water to heat so that it can produce steam. These tools come with different sized water tanks so you need to choose the correct size to suit your needs. A smaller tank means that you will have to refill water frequently. Larger tanks last longer but they also take time to heat the water.
Other Considerations:
Pressure and temperature
Level of noise
Ease of use
Attachments and accessories included
Final Words
It is evident that a steam cleaner is the best to clean the tile and grout. I assure you that if you get yourself the Best brand steam cleaner for tile and grout.
You will be more than happy to see the floor of your home/workplace is sparklingly clean. Therefore, get yourself today a steam cleaner for greater benefits. Remember to put the above factors into consideration to avoid settling for a low-quality steam cleaner.