Trying to implement hardscaping into your backyard design in Denver? This article can help guide you from start to finish in your quest for sustainable landscaping solutions no matter what city you are located in.
What are the benefits of hardscaping? What do you need to do to implement an excellent hardscape project into your backyard? This article tells all.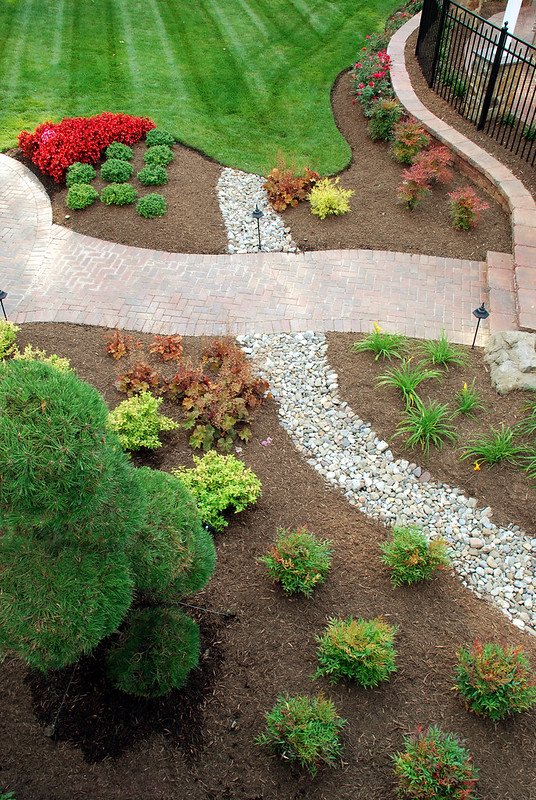 The first step is to dream big with your hardscape plans. You can reel in your wild ideas later. Write down your wildest dreams on a list: patios, swimming pools, outdoor kitchens, garden, outdoor shower, whatever comes to mind.
The beauty of your initial wishlist is that you don't have to commit to all of it. You just want it to use as a guideline. After you complete the list, now what? Let's take a look at the many ways you can use hardscaping to complement your outdoor landscape.
Decks and Patios
What's the difference between a deck and a patio? Patios are built at ground level, and they typically have permanent construction elements. Permanent construction materials include stone, brick, and poured concrete. Structural footings support decks. You can construct them at a height between a few inches to a couple of stories.
Deck frames typically use wood or steel supports, and the support flooring choices include natural wood, composite materials, bamboo, and pressure-treated lumber.
Choosing whether to implement a patio or deck comes down to your space. If you don't have a lot of yard space to work with, decks are most likely the best option. If you have a pretty large plot to work with, then implementing a patio is most likely the best course of action.
Driveways
Don't take driveways for granted. They can wreak havoc if you don't take care of them. They are also integral for your curb appeal. Your entryway sets the tone for people who look at your house. It's your home's most prominent hardscaping feature.
Attractive driveways also up resale value if you're thinking about potentially moving. However, if you don't take care of them, they can turn into a money drain with maintenance costs. If you're designing a new driveway, you should try to marry style and function.
Study the shape and contour of your land. Examine your property's dimensions. Does the driveway have dips and slopes you need to navigate? How many parked vehicles do you need to account for? Your driveway style will depend on the size, shape, and material you use to pave your driveway.
Your material should complement your architectural design. Take this into account when you're accounting for the terrain.
---
Read Also:
---
Exterior Hardware
Hardware is consisting of external addition you add to your house. The accouterment such as house numbers, doorbells, latches, hinges, knockers, even down to the spigot, anything that adds to your home as a form of decoration is considered exterior hardware.
The challenge with hardware comes from deciding whether hardware doesn't compromise your form or function. Find a landscape design artist who can find the exterior hardware that compliments your home.
The best landscape design artists know where to get any product that your need. Whether you need the latest doorbell tech or you're looking to trick out your elegant-looking knockers, they can assist you.
Exterior Facades
You have to consider exterior elements when trying to improve your curb appeal. You should try to match external aspects such as paint colors and roof tiles with your garden. Examine your external hardware, window details, and exterior paint.
You should also look at your outdoor accessories to decide whether, such as doormats and doormats, to help you create a welcoming facade that you can enjoy every time you return.
Choose the Proper Materials for Your Style
There's no correct answer when it comes to hardscapes. They can be casual or formal. The trick is finding the one that fits your style the best. When deciding on your hardscape, try to devise a concrete theme you can use and stick to it.
After you decide on your style, you can decide on a few visually creative materials that complement each other to accomplish the aesthetic you're attempting to create. You should also consider textures when choosing your materials.
You don't want your hardscape to be bland by only using one texture, but you also don't want it to look disjointed and busy using too many textures. Two textures are an excellent choice to use when planning your hardscape. Choosing two textures can give you harmony and diversity.
The Small Things Matter
Yes, the devil in the details, but sometimes, you can find little angels and blessings in the details. Use the small stuff to your advantage, and don't let it ruin your ideas for your hardscape. Make sure all of your materials complement each other. Stone, pavers, concrete, gravel, all of your hardware should work together to complement your house's architectural style.
Thorough research comes in handy when getting down to the nitty-gritty. Thoroughly researching reveals which materials are the most suitable for your hardscaping solution. You don't want to scrounge materials together because they look good. They should serve a purpose and incorporate durability.
Conclusion- Hardscaping for Your Backyard
Hardscaping your backyard takes a lot of planning and decisions. When you plan your hardscaping, you set yourself up for success.
How will you approach hardscaping your backyard? Will you make designs that compliment your house's aesthetic, or will you throw too many materials together to create a hodgepodge that looks disjointed.
 If you're looking for a professional in Denver who can take your garden to the next level, you can hire a hardscape yard designer. They will help implement your vision into your sustainable landscape in Colorado.