It might be challenging to know where to begin your interior project design whether designing a house from scratch or doing remodeling.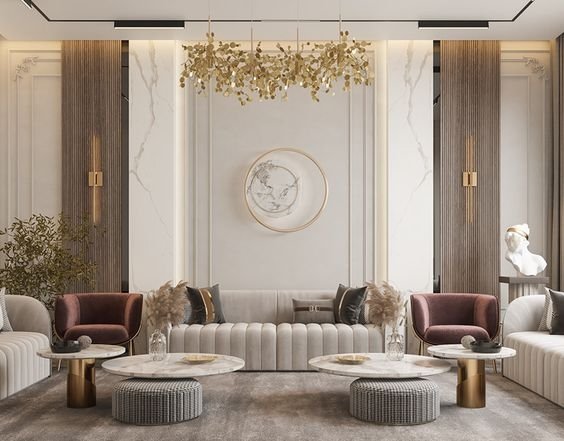 A luxurious living room may take on many distinct forms. However, incorporating luxury features into a specific design is absolutely plausible.
There are various aspects to consider in order to prevent overdesigning and instead get the best luxury design result. Whether your living room is an open-concept area in need of parlor-style seating sections or a smaller, friendlier space, these living room designs will inspire your next decorating endeavor.
Living Room Furniture
The right furniture can radically change the atmosphere of a space. Consider how you'll use the space, the type of couch you want, how many armchairs you can fit in if you'll need a sofa bed, and whether you'll need a coffee table or ottoman, as well as side tables for drinks.
Living room design gives distinct elements regardless of the arrangement, much as people differ in expressing their own thoughts in various settings.
Studying the layout of the design space allows you to decide the optimum location for the furniture and quickly create a focal point that will build up the design.
Functional and Stylish Floors
The flooring is perhaps the most overlooked portion of the living room. It is important to choose an upmarket and appropriate floor material to reduce maintenance and damage. As a result, marble flooring is frequently used in the interior design of luxury residences.
This is not only a nice touch but also a good investment. Rugs and carpets are regularly used to offer different zones and warmth. However, only select carpets with deeper tones, stain resistance, upmarket design, and current style.
---
Read Also:
---
Color Palette
When it comes to color palettes, there are two key considerations. The first is the size of the living room, and the second is the orientation of the place in terms of natural lighting.
The smaller living area requires a brighter color palette to provide the illusion of a larger, fresher, and more open space for the living room design.
A larger or broader living area, on the other hand, may experiment with both light to darker color palettes and be more innovative with dominant brilliant strong hues. The direction of natural illumination is determined by where the sun rises and sets.
If the living room faces the direction where the sun rises most of the time, adopting warmer color tones helps balance the colder light that comes in.
In contrast, the living room, which faces and receives more natural light from where the sun sets, requires cooler tones since it receives warmer natural light. The incorporation of metallic touches into the living room's color palette adds a sense of elegance to the overall design.
Decoration and Accessories
To avoid clutter, choose medium to large items of décor. Accessorize your living area with velvety rugs, furniture, blankets, and cushions that highlight accent elements.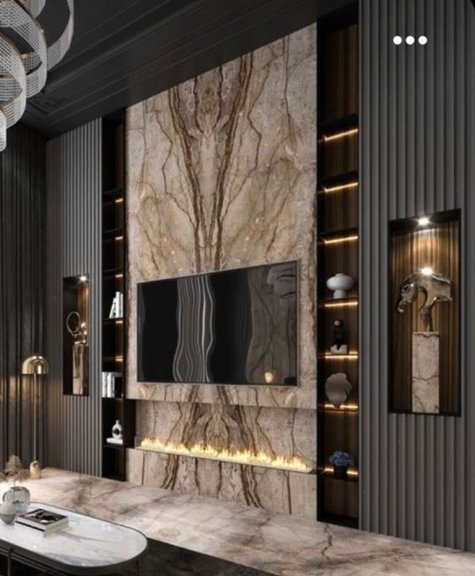 Consider using photographs and artwork as accent walls. Indoor plants may freshen the environment and filter the air for better health.
Choose items that have utility, quality, and beauty that represent the homeowner's individuality. Glass, gold, and ceramic vases, as well as metallic accessories and accent furniture, all contribute to the creation of a luxurious style. So, take your time in selecting the perfect style and décor for your property.
Lighting
Proper lighting sets the tone for a specific area of any home design. Every item in the living room should have an adequate amount of light. A focal point in a living room should always make an impact at all costs, and good lighting is the solution.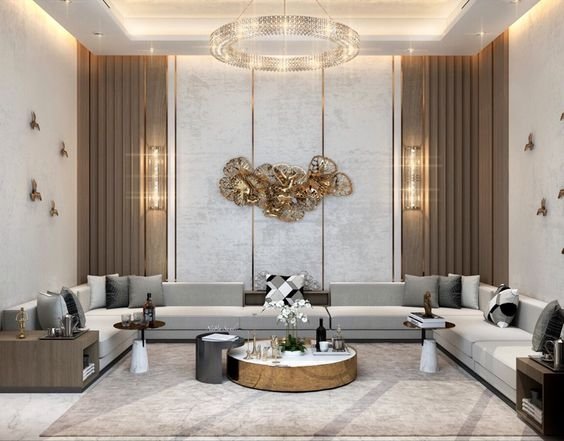 A gorgeous chandelier positioned just above the seating area functions as stress lighting for the living room's main point, and also adds elegance to the design.
Accent lighting, such as spotlights that emphasize an accent wall, standing lamps, low-level table lights, and even pendant lights, provides the proper amount of light to establish the ambiance in the living room.
Functional Storage Output
Control clutter by utilizing furniture that serves both aesthetic and utilitarian objectives.
Choose from coffee or side tables with concealed storage, cabinets with display, covered areas, and drawers, or settees with concealed storage. Be adaptable while also being innovative enough to maintain orderliness and beauty.
Final Word
Decorating may be costly. The good news is that certain modifications can be done to get a high-end aesthetic without spending a fortune.
You may make it appear as though you spent a lot more money or time with only one or two investments from the above list.