This article includes plans and instructions for a DIY inexpensive deck. Complete deck building plans include where to save money and cut costs without compromising safety or quality. Build a long-lasting deck that looks great from plans designed to save money and keep construction simple.
These plans take the confusion out of deck building and reduce it to a few easy-to-follow steps. This deck is easily scalable to make it larger or smaller.
How to Build Your Own DIY Inexpensive Deck with Plans
Learn how to build a DIY inexpensive deck with plans for a 12 x 12 deck. Start-to-finish instructions include plan layouts from footings and posts to laying the decking and building the stairs. This article includes cost-saving tips that cut your material expenses.
Be aware that if you want to spend a little more money on expensive materials but don't have the funding, you could acquire extra cash from Max Cash Title Loans!
---
Deck Building 101: You Can Do It Yourself
You can build a deck yourself. We've got tips, construction drawings, plans, cost estimating, and more in this series on building decks. You'll find the information you need to turn your dream of outdoor living space into reality.
Make an Easy and Inexpensive Deck
---
Overview
Decks are popular outdoor building projects. They increase living space by adding a room made specifically for relaxation and enjoyment. A deck is a great place for outdoor reading or just sitting and watching a sunset.
A DIY deck saves the cost of labor and material markup, cutting the total cost by at least half. Here's how to build a DIY inexpensive deck.
Materials
Start by estimating the cost of your deck. Use pressure-treated lumber instead of cedar or redwood and use stain to change the color or let it age to a silver-gray tone. Some nails and screws are made specifically for use with pressure-treated lumber. Bolts, lag bolts, and brackets should all be galvanized.
Ledger Board
The deck attaches to the house with a joist called a ledger board which is installed before the footings and posts. The ledger is the starting point for the rest of the deck layout. Attach the ledger to the house with 1/2-by-4 1/2-inch lag bolts and washers. Be sure to install a piece of "Z" flashing under the house siding that sits on top of the ledger.
Footings and Posts
Lay out your footings with mason lines and stakes using the ledger as a reference. Dig the footings 10 inches in diameter and make them 6 inches deeper than local codes require so you can add some gravel to the bottom for drainage.
Mix your own concrete to save on the cost of premix. When you pour the footings, place a J-bolt in the concrete for adjustable post brackets.
The footings support the posts, which support the beams which support the rest of the framing. Use a post level to keep the posts plumb and your mason lines to position them correctly.
Framing
Free 12 x 12 DIY Inexpensive Deck Plans Fig 1, Fig 2
12 x 12 DIY Inexpensive Deck Plans Fig 1
Fig 1 of the plans Includes:
Ledger board installation height
Footing and post layout
Support Beams
Joist Framing
12 x 12 DIY Inexpensive Deck Plans Fig 2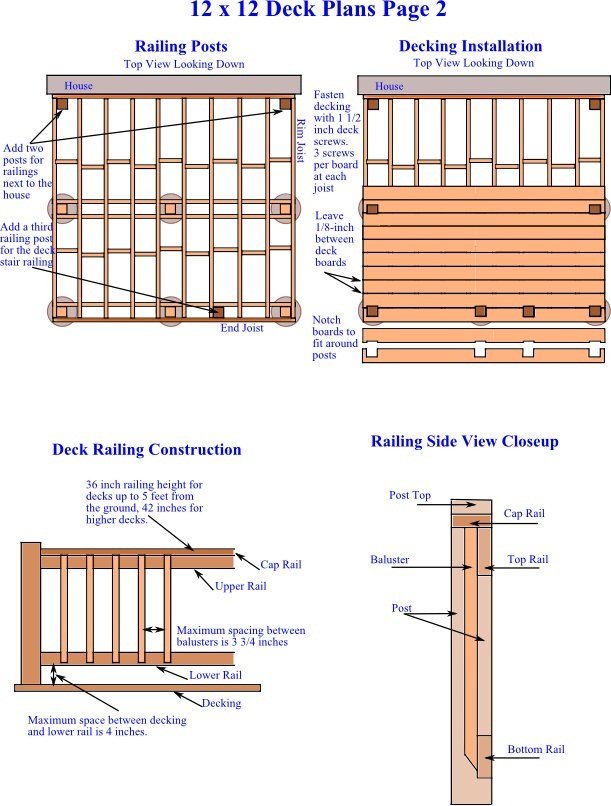 Fig 2 of the plans for a 12 x 12 deck Includes:
Adding Railing Posts
Decking Installation
Railing Constructions
Beams
Beams sit on top of posts for the greatest strength and support the rest of the joist frame. Attach beams to posts with the post to beam brackets. Most beams are two pieces of joist lumber nailed together.
Joists
Joists attach to the ledger on one side and the end joist on the other. The end joist sits on top of the end support beam. Place joists every 16 inches on center and attach them using joist hangers on both ends.
Rail Posts
Plan railing posts so they are equal distances apart which makes baluster spacing the same around the deck. Attach railing posts in the corners using 1/2-inch carriage bolts through the end and rim joists. Middle posts use two bolts through the rim joist. Railings must be either 36 or 42 inches high, depending on the height of the deck.
Decking
Using 2-by-6 lumber for the decking saves a bit on the cost of deck boards. The decking runs parallel to the ledger board across the joists. You'll need to make cut-outs to fit around the posts and space the boards 1/8-inch apart. Attach the decking to the joists with 2 1/2-inch deck screws.
Railings
Railings consist of four parts: The posts, 2-by-4 top, and bottom rails, and balusters. Optionally, you can add a cap rail for a more finished look. Cut the top and bottom rails so they fit between the posts and attach with 2-by-4 brackets. Install 2-by-2 balusters evenly spaced on the rails.
Stairs
Stairs with railings and handrails don't need to complicate a DIY inexpensive deck project. Measure and calculate the number of steps and step risers. Mark and cut the stringers, then install using stringer hangers or 2-by-12 joist hangers.
Add posts, stair treads, railings, and handrails to finish. Read about deck stair measurements, layout, and plans with railings and handrails.
---
References
---