Do you feel sad because your bathroom is super small? Do you wish to have the beautiful designer bathroom like your favorite celebrity? And do you think that your small bathroom is too boring? Why don't you go ahead and fulfill your dreams of having a designer bathroom? Even a super small bathroom can be designed or renovated to give a superb look.
It is quite understandable that the small space makes it quite difficult for you to place everything in a large way. And setting up things to fit the limited space becomes like a crossword puzzle.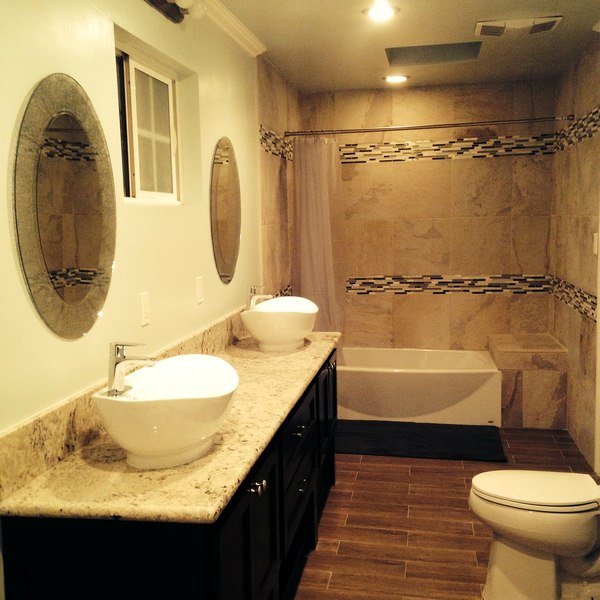 How Can You Maximize the Use of Your Small Bathroom?
Let's discuss some particular steps that can help you to set up a beautiful bathroom even within that small confined space.
---
Read Also:
---
Install the sink at the corner. At times, even the pedestal sink blocks the available traffic lane in your bathroom. So, if you place the sink at one corner, it works better than a sink fitted across from this shower. The closing and opening of the shower door create an awkward walk-around condition.
Hang a shower curtain that moves back and forth. It can help you to save space, which you would have otherwise required for installing a glass door. Shower top combos which are easily available can fit into this kind of superb small spaces. Some of the shower tubs are designed specially to fit small bathrooms.
Floating vanity can serve the best because they are not just visually appealing, but at the same time, they can make the bathroom space appear bigger. On the other hand, floating vanities frees up the floor space for keeping small essentials.
Tight spaces can lead to sharp corners becoming a hazard. If the corners of the vanities get in the way, opt for the rounded style. Round cornered vanities are the perfect option for a square space.
The use scale pattern can trick the human eye by making the available space appear bigger than the original size. The square footage will always be the same, but it will just appear bigger to the eyes.
When space is small, using a mirror that is stretched across the wall can enable more than one person to use it at a time. After all, every inch matters when the available space is less than the usual space conditions.
Do You Need Professional Help?
Above, you have read just a few tips and tricks for making your small bathroom look bigger. Bathroom renovation does not always demand huge expenses, and one needs to act tactfully to ensure that everything can be arranged within the limited budget. If you face any problem in planning the layout for your bathroom renovation, you can go ahead with expert help.
A professional and experienced bathroom renovator can help you in preparing the blueprint as well as execute the entire task in a timely fashion. You can get in touch with Home Reno Direct for professional assistance.
To know more tips about bathroom renovation, you can stay in touch with us. For receiving the latest ideas on home renovation techniques, you can subscribe to our channel immediately!