With weatherproof garden furniture, you can enjoy the first rays of sunshine in spring and warm summer nights in the garden, on the veranda, or on the balcony.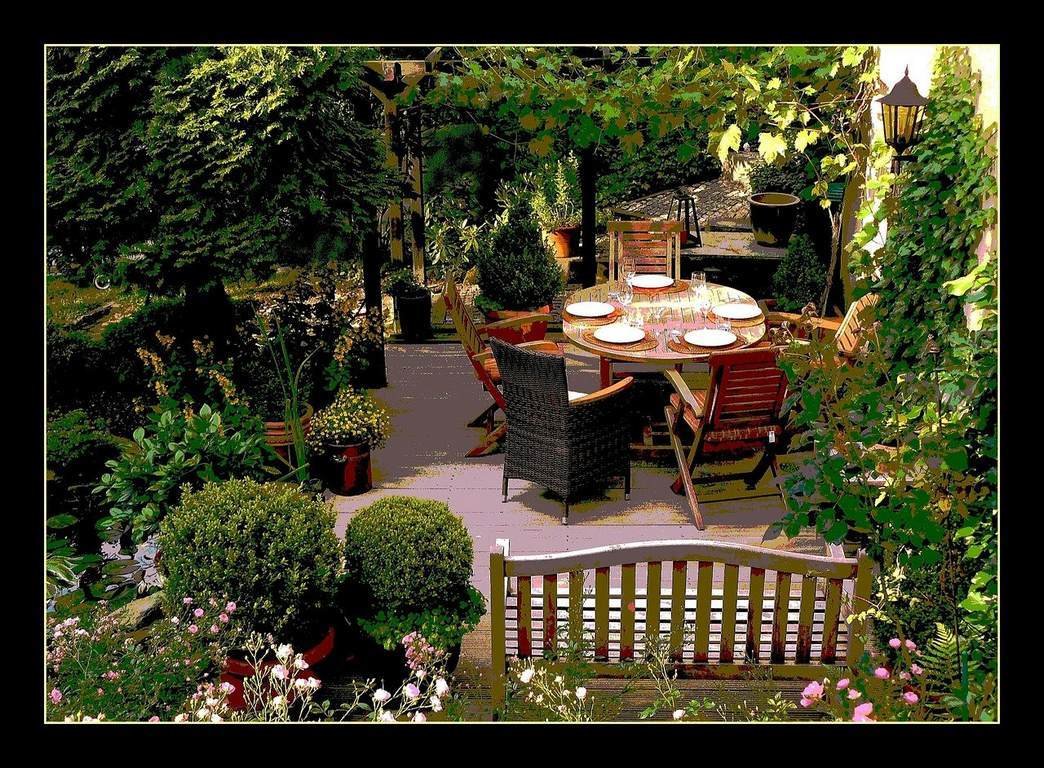 Whether it's a Wickerpark lounge chair for relaxing, a large-format dining table, or a practical folding chair: the choices are practically endless!
To ensure that you can enjoy your garden furniture for years to come, there are a few things that you need to consider before purchasing your decor. In particular, the type and quality of the material you choose directly influence the longevity and maintenance effort.
In this buying guide, you will get to know the latest garden furniture trends and learn how to select suitable pieces of furniture for your outdoor space.
Garden Furniture for Small Patios and Spacious Lawns
There are a few basic things that determine which garden furniture you should choose. Whether you want to relax on the balcony, set up a cozy spot under your beloved fruit trees, or a dining area on the terrace: be sure to calculate the space you need. On a small wooden terrace, bulky furniture not only looks out of place but also makes maneuvering more difficult.
So, first, you should think about where you want to set up a table, chairs, or loungers. Then measure the targeted area and pay attention to the dimensions when buying the garden furniture.
There are also space-saving variants among the loungers that you can use to furnish your terrace. For example, most deckchairs can be folded up and the backrests can be removed with ease.
In a spacious garden with a large lawn, on the other hand, you have more freedom and flexibility to play with various types of decors. Large seating areas offer plenty of space to relax; with various seating and loungers, you provide variety so that the beautiful hours in the garden never get boring.
However, do not overload the free area be sure to leave enough space to walk around and enjoy the great outdoors.
---
Read Also:
---
Modern Garden Furniture: Which Material is Best?
Another thing that you need to consider when deciding which garden furniture to buy is the material.
Garden furniture is made for outdoor use. Nevertheless, there are big differences in terms of weather resistance and ease of care.
Some garden furniture has to be put in a shed or under cover when it rains, while others can spend the entire winter outside. So, when you buy a piece of outdoor furniture, be sure to check what material it is made out of.
You should also consider your existing furniture if you want to introduce new trends in your garden space. You can usually easily combine natural materials such as wood, rattan, and wicker.
The easiest way to purchase a complete suite of the same style or a set is to purchase all of your decors from the same reputable manufacturer, like Wickerpark in Toronto.
Weatherproof Wooden Garden Furniture
Wood is an absolute classic, both for indoor furniture and for garden furniture. Each type of wood has a different effect: the color nuances range from the light brown tones of hornbeam to the delicate yellow tones of spruce to dark brown teak.
Wooden garden furniture is usually oiled to protect it from the elements. After all, wood is one of the least weather-resistant materials.
Moisture in particular affects it and carries the risk of rotting. UV radiation causes it to fade or turn gray. Softwood is more susceptible than tropical woods, like Robinia.
This is why regular care is essential. Garden furniture made of wood is only weatherproof if it is stored after use and its protective layer is renewed about twice a year.
Rattan and Wicker
Braided garden furniture continues to be trendy. Rattan made from palm trunks looks particularly natural. However, it is sensitive to moisture.
The artificial imitation wicker is more weather-resistant. There are special brushes and cleaning agents to make cleaning the close-meshed mesh easier. Pay attention to the braid structure, because each has a different effect.
Low-Maintenance Plastic
Plastic chairs and tables are extremely durable and weatherproof. Raindrops roll off them and they often have a UV protective layer. Only dirt and frost can damage the material. Plastic garden furniture should also not be left outside unprotected over the winter.
The team at Wickerpark recommends using robust tarps during the winter season but for the best results, store them in a basement or garden shed. The water-repellent surface can be cleaned of dirt with a wipe.
Plastic garden furniture is available in many shapes and colors. Handling plastic garden furniture is also easy because plastic furniture weighs very little and can be moved around without any problems.
However, it should also be noted that garden furniture made of plastic looks less natural and cozy compared to wood. Some perceive garden tables, seating furniture, and loungers made of plastic as foreign objects in the garden landscape they just don't fit into the natural environment as well as patio furniture made of wood.
Additionally, they usually offer less seating comfort. This is partly due to the fact that the plastic cools down faster. Matching seat cushions can make plastic garden chairs more comfortable.
Polyrattan Garden Furniture
If you are a fan of rattan furniture, then you will also like poly rattan garden furniture: these are not made of the popular natural material, but of high-quality plastic. However, this does not detract from the external impression.
The poly rattan models are particularly suitable as lounge furniture as they offer plenty of seating comfort. Furthermore, they are particularly easy to care for wet, heat, cold, and direct sunlight can hardly harm poly rattan furniture; they remain beautiful and robust with each passing day.
However, the disadvantage is the weight of poly rattan furniture is relatively heavy. Changing the lounge furniture from time to time is therefore difficult.
If you don't want to leave it outside all year round, you should also take into account that the quite bulky, heavy furniture, unlike plastic or wooden balcony furniture, cannot simply be folded up.
You, therefore, need enough space at home to store the poly rattan garden furniture for several months.
Metal Garden Furniture
Whether it's a silver shimmer or a colored coat of paint: garden furniture made of steel or aluminum is weatherproof and is particularly suitable for a modern style.
On the downside, they warm up quickly to ambient temperature, which can be uncomfortable when you sit down. However, a parasol can minimize the risk of overheating.
Furniture made of aluminum is particularly light, while stainless steel constructions are heavier. Usually, alloys make this furniture weatherproof.
Nevertheless, minor damage such as scratches or a detached layer of paint must be repaired to prevent the formation of rust. Otherwise, the material is easy to care for and robust.
Furniture made of metal or stainless steel is often also available in combination with other materials for example with wood. This is how you combine the advantages of stainless steel with those of wood. This combination is a good alternative, especially if you prefer something cozy to futuristic.
Garden Furniture Trends: Stone, Ceramics, and Concrete
These materials can hardly be surpassed in terms of robustness and stability. Their patinated, glazed or smoothly polished surfaces are highly abrasion-resistant and scratch-resistant.
When it comes to garden tables, ceramics are becoming increasingly popular. This should come as no surprise, as the material is practically made for outdoor use. It is extremely weather-resistant while also looking elegant.
Additionally, it does not heat up as quickly as, for example, granite. Seat cushions and tablecloths make the hard seats and table tops comfortable.
Arranging the Garden and Terrace with Furniture: Seating to Relax
When it comes to seating, the height, width of the seat, and additional components (like armrests) determine the level of comfort.
Whether it's a lounge chair for reading the newspaper in comfort or plastic shell chairs for a barbecue party: the area of ​​application is decisive. Garden furniture such as lounge chairs in a fashion color or in a rattan look is particularly trendy and comfortable.
The following types of popular garden furniture are perfect for outdoor spaces:
Stackable plastic shell chairs: Plastic chairs with a closed seat shell are particularly practical. They are made of durable and low-maintenance material. Most plastic garden chairs have armrests. They can be stacked quickly so that you always have several chairs ready for a family celebration.
Garden benches: The classic garden furniture offers plenty of space for sitting together.
Bistro chairs: The woven or left open backrests and curved shapes of these chairs look elegant and give a terrace the flair of a street café. Bistro chairs are also stackable. They are usually made of wood or metal.
Folding chairs: When not in use, these seats can be folded up and put away in just a few simple steps.
High-back chair: It doesn't always have to be a lounge chair. This type of chair also has a generous backrest and at the same time enables an upright sitting position.
Lounge chair: When it comes to seating comfort, these counterparts to the classic living room armchair can hardly be surpassed. They are often made of rattan or wicker.
Relaxing Lounge Furniture
Are you wondering which garden furniture is perfect for a nap in the open air? Lounge furniture from Wickerpark helps you relax and is available in a large selection:
Loungers: There should not be a lack of loungers in the lounge area. They are mostly made of rattan or wicker and have a removable mattress topper.
Some have casters so you can easily move the loungers into the shade. Some models can even be converted into a chaise longue using height-adjustable backrests.
Sofas: These living room furniture classics are also available as weatherproof garden furniture. They have a sturdy frame, but also an upholstered set so you can sit softly. The upholstery can usually be removed for cleaning.
Deckchairs: Collapsible Garden loungers with weatherproof covers are particularly practical. An area for laying down the legs, armrests, and padding in the neck area should not be missing. Infinitely adjustable back and leg sections are very comfortable.
Hollywood swings: They were once considered stuffy, but in recent years they have blossomed into real trendy garden furniture. A canopy protects against sun and rain showers.
Hammocks: You can literally let your soul dangle in them. There are hammocks that can be attached between two trees or on a stable balcony railing, or together with a hanging frame.
Garden Tables Offer Invaluable Storage Space
Whether for serving delicious meals, for storing reading material or garden utensils: a table should always be there in the garden, on the balcony or on the terrace.
It doesn't matter whether it's round, square or with rounded corners: the main thing is that the storage space is big enough. Some tabletops are wide, others are long. Depending on this, a table is suitable, for example, as a side table for a garden bench or as a banquet table.
Dining tables: They are constructed higher so that eating is comfortable. The table top should be large so that there is enough space for dishware and cutlery. It is important to have a low-maintenance surface from which cake crumbs and water stains can be quickly wiped off.
Extendable tables: If you have invited guests, you can quickly and easily convert a small extendable table into a banquet table.
Side tables: This type of table is lower, so it complements low lounge furniture beautifully. Some versions have compartments for storing tools and offer an additional work surface as a workbench.
Serving tables: If you regularly eat your meals outside, you can save yourself the hassle of carrying things back and forth with a serving table. This table offers plenty of storage space for crockery, cutlery, and everything else. In addition, he often has roles.