When's the last time you invested in new office furniture? Did you actually purchase it or was it hand me down furniture from your college days? Or was it the desk and chair that was just sitting there when you started your career?
If any of these sound familiar, you are probably long overdue. Whether your office is in a professional setting or in your home, it's time to consider an upgrade.
Creating an updated workspace can provide many benefits. It's important to set personal and professional goals and It's no surprise that designing a professional workspace is a key to success.
---
Read Also:
---
Productivity
New office furniture is crucial to your productivity. The first and most important step in an office makeover is cleaning out what you currently have. What have you been stockpiling in your office? The desk drawers, cabinets, and files that you are now using are most likely jammed with items you don't use and more importantly, you don't need.
The first step in finding new furniture is determining how to work simply and efficiently and omitting clutter is a great way to accomplish both. Taking a few steps to streamline what's in your office space will help promote more efficiency and less waste in your office.
There are several reasons new furniture will help individual and team productivity. Most cities offer several options to shop for new and used furniture. For example, you might be surprised to know that used office furniture in Houston is easy to find.
Relevance
Another reason to invest in new furniture is to maintain relevance in an ever-changing work environment. If your desk has space for a PC and sliding keyboard tray and you've been using a laptop for the last 6 years, you have the wrong furniture.
With as much time as you spend working, your environment should lend itself to being convenient, appropriate and functional. The technology we use in our workspaces has changed drastically in the last decade. Does your office furniture meet those needs? Newer office furniture is made with today's changing office environment in mind.
The way you work is most likely different than it was even 5 years ago. Perhaps a table and chairs might be more effective than a desk. Bookshelves may or may not be important in your line of work. The important thing to think about is that your work environment should be complementary to your work style and promote a productive and relevant workspace.
Start by asking yourself some key questions about your work routines. Do you study or collaborate? Do you write or research? Do you seek comfort or structure? All of those concepts are important to consider when furnishing your office space.
Investment
As well as form and function, it simply makes good business sense to update your furniture. New furniture is a solid investment. It shows that you are dedicated to your work and that you take it seriously. Additionally, office furniture is a business expense, so it's tax-deductible.
Selling or donating your old furniture is another way to increase your gains while upgrading your assets. As well as looking great and increasing productivity, new furniture usually comes with a warranty, so there's an added benefit to buying new in case anything were to break, it could easily be replaced at no charge.
Of course, purchasing new furniture is not only a financial investment, but it's also an investment in your team. Furniture that works properly and looks great shows your team members that you care about them and the work they do for you. New office furniture is an investment in morale and teamwork.
Health
Besides functionality, new furniture is going to be better for you physically. Chair design has improved greatly. There are endless options from standing desks to ergonomically correct chairs that help improve posture and wellness as you work. Some designs even promote fitness by being able to engage your core or put in steps while working at your desk.
Cognitive health is also extremely important while you work.  Today's work environment is increasingly stressful and taxing. Managing the complexities of demanding schedules and tasks can be a bit easier to tackle with the help of new furniture that assists in balancing your stress and emotion as well as those physical benefits.
New furniture can help you feel better about your job. Good furniture design that fits your unique design preferences can lift your mood in the workplace and those that work with you as well.
Environment
If you strive for an environmentally friendly workplace, there are several ways to achieve this. Current furniture trends offer several renewable recycled furniture options on the market. Or if you just can't financially afford to purchase new furniture for your office right now, you can achieve some of these benefits simply by updating or repurposing gently used furniture.
With the goal that one day you can afford new furniture, sometimes it's better to repurpose what you have first to understand exactly what you want when you do decide to make the leap and buy new furniture.
Another way to put new life into your office without buying all new is to start with small effective accent pieces such as motivational or repurposed artwork. Energy-efficient, design-friendly lighting, and personal items are all ways to make your office space more inviting, productive and comfortable.
Proper lighting and organizational accessories are small details that can profoundly change the efficiency and feel of your office environment. Details such as these can also serve as conversation starters and motivators for both clients and employees.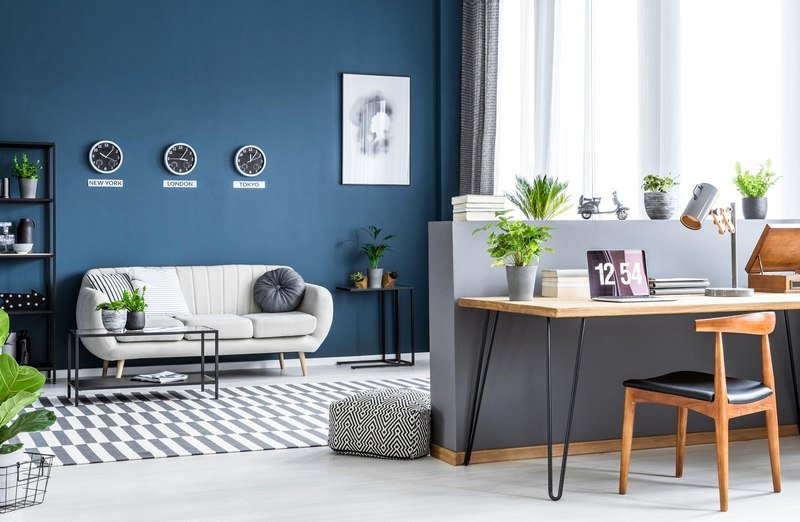 Conclusion
If you think your current office furniture is good enough or unimportant detail, think again. New office furniture could be the difference between making ends meet and taking your business to the next level. Whatever the benefits are that you hope to gain, an office makeover is a real consideration within your grasp.
Whether your goals are to be more focused or stress-free or to contribute directly to your bottom line, an investment in your workspace might be exactly what you need. Providing a top-notch environment or maintaining relevance in an ever-changing world are also factors one should consider when creating an optimal workplace. And new furniture could be your first step in the right direction.