Home renovation can be a daunting task. This is especially true when you buy a dilapidated house at a low cost to restore it. With land and home prices soaring higher than ever before, it is common practice for people to buy old homes that require work and personalize them to suit their own aesthetics.
Fixing up a home requires attention to various aspects- woodwork, painting, attaching fixings, etc., amongst others.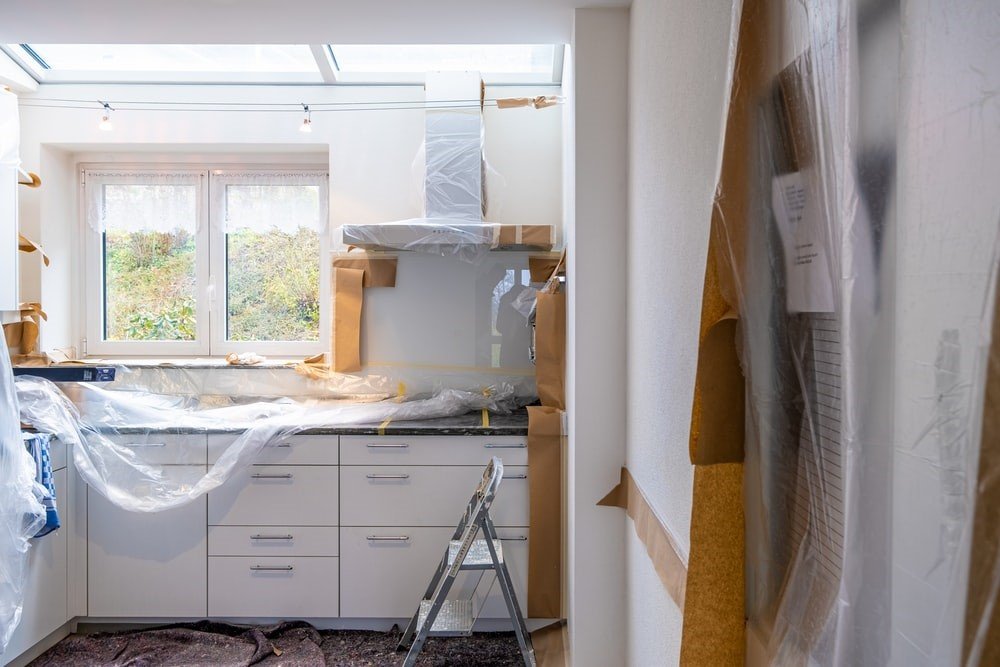 If you're considering following the footsteps of countless other millennials or have already bought an old home ready to be renewed, you must be prepared for any task that requires your attention. To be able to make any fix in your home, you need a toolkit that is packed with every machine and gadget you'll need.
What Gadgets and Tools Do I Need for Home Renovation?
1. Measuring Tape
A sturdy measuring tape is a necessity when it comes to renewing a house. Considering that most building and fixing work requires accuracy and precision, having the appropriate tape measure is a must. Ensure your tape measure has a mechanism that allows it to be held in place without retraction, so your measurements don't get messed up.
2. Drill
Drills can be an expensive investment, but you will realize while working that they're an essential addition to your toolkit. This tool is available in many types and with varying ends to serve different purposes.
Making a neat hole through wood, to nailing something to the wall- drills help with it all. We recommend investing in the best drilling machine in India as high-quality drills are durable and will remain a part of your toolkit for a long time.
---
Read Also:
---
 3. Speed Square
This tool has garnered a reputation for being difficult to use. It can take a while to learn exactly how to use one. However, for those who are looking to work with wood while renovating a home, it is vital to have a basic understanding of measurements and math.Since renovation often involves working with wood, having a speed square in your toolkit is a good idea.
4. Saw
This commonly known equipment is available in various forms for various tasks. Saws are beneficial for cutting wood or metal alike. They are also useful when trying to give rounded edges to various objects.
5. Hammer
While known widely as being an essential tool, ensure that you get a hammer with a ripping claw. This tool helps with any demolishing process. The ripping claw can help remove nails from walls and objects.
6. Pliers
Pliers are multifunctional tools. Primarily used for gripping surfaces that are otherwise harder to hold, you can use these to unscrew bolts and to hold heavy items. Pliers are also used for bending objects such as metal, wires, or cables.
Additionally, they come in handy when cutting nails or wires. Lastly, pliers work great as a tool for removing the insulating on wires without cutting the wire, hence allowing for the two wires to be connected.
7. Ladder
Renovation often requires climbing onto high places in order to reach various nooks and crevices on walls. Instead of risking a fall by climbing atop an unstable structure, invest in a high-quality ladder. Ladders are useful for indoor renovations and for any outdoor work. These are also a necessity for painting.
8. Demolition Bars
As the name suggests, these are metal bars used for the purpose of demolishing structures. Hammers can be small and hard to grip when it comes to demolition. These bars also have one edge chiseled specifically for prying objects, aiding the demolition process.
9. Lights
When renewing a home, it is very likely that you do not have access to electricity. It is also likely that during the daytime, there simply isn't enough light in the various parts of the house you want to work on. As renovation work requires care and precision, consider investing in battery-operated LED lights that are bright enough to show you any nook and cranny you need to access while working.
10. Backup Generators
Considering the number of electronic devices needed for renovation work, having powerful backup generators is an excellent investment. This way your work will never have to come to a halt and is a lot faster since electronic devices are often more efficient than manual ones.
Apart From the Aforementioned Gadgets and Tools, Consider Adding the Following to Your List of Things to Keep Handy While Working on Your Home Renovation Project
1. Soundproof Earmuffs
Powertools such as drills and saws can be loud when used. Continuous exposure to loud noise can be harmful to your ears. Invest in a good pair of soundproof earmuffs that keep your ears protected through all the work.
2. Tape
It goes without saying that tape is a savior in many situations. Whether it is for a rip or for holding a wire in place or for connecting two wires together, the tape is a must-add to your toolkit.
3. Mask
Another protective measure to keep you safe from flying wood dust, chemicals, and any other harmful or toxic substance, is a mask. We recommend you always keep a mask on when doing any kind of renovation work.
4. Pouch/toolbag
Finally, a toolbag or pouch that can be easily strung to your belt or tied around your waist is extremely handy. It makes tools and smaller objects like nails, accessible to you.
While these lists are not everything you could possibly need while renovating your home, they are an excellent reference to start at. Always take a full and proper look at any property or object you are looking to renovate and note down everything you need to fix.
From this list derive the tools you will need and have them ready before you start renovating. This way, you don't have to interrupt your home improvement projects as you will have easy access to every tool or gadget you might need.