The roof is a significant component in your home. It plays a vital role in keeping all of your valuables and entire household safe from severe weather conditions.
The roof can also warrant the safety of the household because it can keep elements out of the house. Undeniably, your home will never be complete without a roof.
This is the reason why as a homeowner, you should invest in purchasing essential roofing tools. Owning these will make it easy and convenient for you to repair and replace minor roofing problems.
Buying roofing tools and supplies can also save you money in the long run since you won't heavily rely on professional help.
Roofing Guide, Roofing Tools, and Supplies
There are a lot of roofing tools and supplies available in the market today. Regardless of where you're living right now, for sure, there are several local stores that sell these products.
However, if you want to get the most out of these tools and supplies, it's crucial that you know what to invest in. let the information below guide you on what roofing tools and supplies should you buy:
---
Read Also:
---
     1. Ladder
This one's a no-brainer. Since your roof is on top of your roof, you need to use a sturdy ladder to check it up close. A ladder is a requirement for you to make accurate assessments with your roof's condition and diagnose if there are any problems.
A ladder will also make it easy for you to thoroughly check everything that is associated with your roofs such as your home's gutter and chimney. This capacity will enable you to detect the problem at the earliest time possible.
When shopping for a ladder, make sure that you're spending money on a brand that has a good track record and well-known durability. Never risk your life by buying a cheap ladder thinking that it's a bargain.
     2. Hard Hats
Regardless of how big or small your home is, you should always check your roof while wearing a hard hat – and there should be no question as to why. Obviously, hard hats can protect your head especially since you'll be working off the ground. It can help decrease the chances of injuries, as well.
If you're buying a hard hat for the first time, don't heavily rely on the price or the aesthetics. When choosing hard hats, pick ones that are OSHA approved. Products like these are guaranteed high-quality which passed international standards.
     3. Steel-Toed Shoes
Checking your home's roof isn't an easy task. Aside from assessing your roof, you also have to ensure that you're actually safe while doing. A lot of factors make this task challenging such as the slope of the roof, height from the ground and other weather conditions.
This is the reason why steel-toed shoes should be part of your list. This tool will allow you to have maximum traction on the roof, protect your feet from injuries and prevent any damages to your new roof.
There are a lot of steel-toed shoes available in the market today. To narrow down your list on which product to buy, ask referrals from your social circle and read online reviews.
Doing this might be time-consuming and daunting, but it'll be significant to help you find the best steel-toed shoes which provide value to your hard-earned money.
     4. Caulking Guns
You can never repair or replace your roof without any caulking guns. Caulking guns are a handyman's best friend when it comes to sealing leaks and damaged in the roof. This is an important tool that can help you save money in the long run.
Once you're able to assess and repair roofing problems during the earliest time possible, you'll prevent the self from getting worse.
     5. Paintbrushes
If you're planning to repair or replace your roof on your own, you should invest in different kinds of paintbrushes. These are useful because you'll need them in painting and adding details to your roof, and applying the bulk caulk in different areas of the roof.
When buying paintbrushes, just make sure that to pick reputable brands and that you're also taking care of them after use. Proper maintenance is key to enhance the longevity of this roofing tool.
     6. Pneumatic Roof Nailer
Regardless of the type of roof your house has, you will also need nails. And although the conventional nail and hammer combination can be a great option for homeowners like you, this technique is time-consuming and daunting. This is especially true if you're planning to repair or replace your entire roof.
The solution? Top-rated pneumatic roof nailer. These tools are used to secure flashing and shingles to the roof. Unlike using the hammer, a roofing nailer can install a large number of nails in a short amount of time.
This tool expedites the process of installing shingles without compromising the quality of your output and your own safety during the process.
     7. Tear-off Bar
Shingles are important components of your roof. These are responsible for the strength and durability of your roof and your house. If you're eyeing to repair your roof on your own, you should invest in a tear-off bar.
As its name suggests, this tool helps remove the shingles in your roof in a faster and easier manner. You can steer away from too much manual labor with this tool.
There is a wide variety of tear-off bars to choose from today so make sure you buy one which suits your needs and budget. If you're still a beginner to DIY roof repairs, buying the most expensive model might not be the best choice – yet.
     8. Magnetic Nail Sweeper
When you repair your roof, you shouldn't only think about the roof itself; you should also consider the mess you're going to leave behind. If you're not paying attention to the scrap or wastes after the repair, your own safety and your family's can be at risk.
If you want to make the cleanup easier, consider buying a magnetic nail sweeper. Once you have one, you'll no longer have to pick up all nails individually on your own as the tool can do everything on your behalf. This will lessen your responsibilities after repairing a particular roof problem.
     9. Measuring Tape
All of your shingles are measured in order to fit in your roof. A shingle that is either too big or too small for your roof can compromise the strength of your roof. If you want your roof to serve its purpose in the years to come, always perform your repairs or replacement with a measuring tape.
This is one of the essential tools every handyman should have. You need to take accurate measurements of your roof and how many shingles do you exactly need in order to repair or replace it. If you solely depend on mere guesses, your roof repair or replacement will be unsuccessful.
     10. Tool Belt
Any repair you'll do on your roof can be a risky business. You'll be climbing on top of your roof, and one wrong move can result in injuries. One way of ensuring your safety is by bringing a tool belt the moment you climb in your roof.
You'll need different tools and supplies when you repair or replace your roof which is why you should always carry a tool belt with you. So, you should read this gatorback tool belt review. This will lessen the trips you'll have to make whenever you need another tool for your roof; you'll be able to carry everything the first time you climb up your roof.
     11. Cordless Combination Drill
Most roof repair or replacement projects will require you to drill holes. You'll need to have holes to put your shingles in place.
Doing this task manually can be dangerous and time-consuming. You'll have a hard time keeping your balance while manually drilling holes. Save yourself from this kind of situation by buying a cordless combination drill.
Since it's cordless, you don't have to worry about any wires being too short for your roof. This tool is also rechargeable which means that this can be used anytime, anywhere. This is considered as one of the most standard tools for a roofer at home.
     12. Bucket
A bucket is a common household tool that can do wonders for any roof replacement or repairs. This can help you carry heavy tools to the roof in one trip, mix different kinds of fluids, and other measuring tasks. When buying a bucket, make sure that you're investing in a durable brand.
It's Easy When You Know How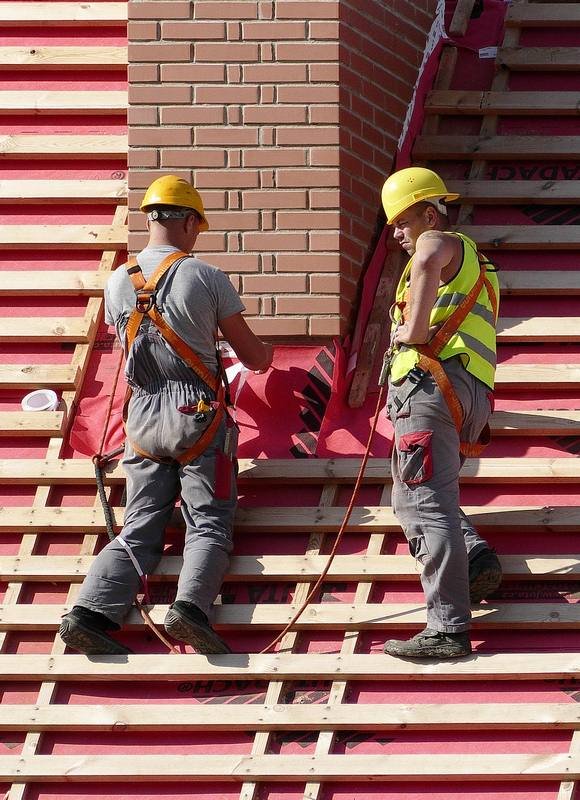 When you're a homeowner, you're not just someone who invests in a property; you should also become a handyman who is ready to do minor repairs around the house. For starters, you should have a background on how to repair leaking roofs, damaged shingles, and broken gutters.
These are minor tasks, but when done right, these can help you save money and maintain (or even increase) the value of your home. Start by investing in the right roofing tools and supplies and for sure, you'll be able to achieve the goal of having a well-maintained home!