The dreaded day has come and it's very clear; your roof needs replacement. No one likes shelling out the big bucks it takes to replace a roof but considering the benefits of roof replacement, it's a job that cannot be ignored.
Make sure your roofing investment doesn't become a roofing nightmare by following these steps to hiring the right roofing company.
Ask to Be Referred to A Roofing Contractor
Despite the giant leaps in technology, some things never change and one of them is getting a word of mouth referral.
What could be better than hearing about the roofing experience a friend, family member or neighbor has had with a previous roofing contractor?
Hear it directly from the horse's mouth. Was the estimator accurate with their quote? Did the company perform work according to the contract?
Were the workers on time? Did they work quickly? You can ask all of the questions that play important aspects of hiring the right roofing company.
While there are many different things that are important in a big job as big as a roof replacement, the most important questions should be geared towards the quality of work.
When there are issues with the workmanship of a roofing job, this usually spells out to you shelling out more cash for premature repairs.
Get a referral from someone you trust. The story they tell will usually provide you with vital information and insight that is sure to affect your decision-making process.
Do Adequate Research
Even though a company may come highly recommended, it's always a good idea to Google them and read about any news or reviews that they've received.
It's good to know whether something has happened since your neighbor got their roof replaced and doing your due diligence may save you thousands of dollars.
And it's not just the company that you have to trust because you will need to make decisions about the type of roof you build.
One basic, but the massive decision in the replacement process is choosing what type of shingle to use.
Knowing the quality of shingle brands, the type of material being used for flashing and other subtle details can give you more insight into the quality of work your roofing contractor is offering.
Sometimes you can catch on to a trend that's working really well for people.
You might even avoid something that's proven to fail.
An example of this is the discontinuation of the organic shingle due to its inability to last as long as was stated on its warranty.
Many people lost money when manufacturers refused to pay out on the warranties.
IKO (and a few others) went through thousands of lawsuits over faulty, decaying shingles and are STILL facing litigation today.
A little effort goes a long way and more knowledge is power. Put in the time to learn a little about the project and the company you're about to hand over thousands of dollars to!
---
Read Also:
---
Make Sure Your Contractor is Insured
There are so many low-quality roofing companies out there that you need to know your home and your property is protected when you hire a roofing contractor.
Every roofing company needs to have insurance to cover any accidents that could happen while performing work on your roof.
Make sure your roofing contractor has at least 2 million in liability insurance. It's common practice to ask a contractor for a WSIB clearance number. This is a certificate that shows that the company is up to date with its insurance payments.
Always check the dates on the certificate. Some low-life Larry's will show you a certificate that's expired just to get around the fact they don't have insurance.
If something DOES end up happening, guess who's gonna be paying? You!
Certifications are Signs of Good Roofers!
If your company is truly la crème de la crème, they're most likely certified in a number of different installation products.
For example, most shingle companies will list their "certified installers" according to the length of time the company has been installing its product.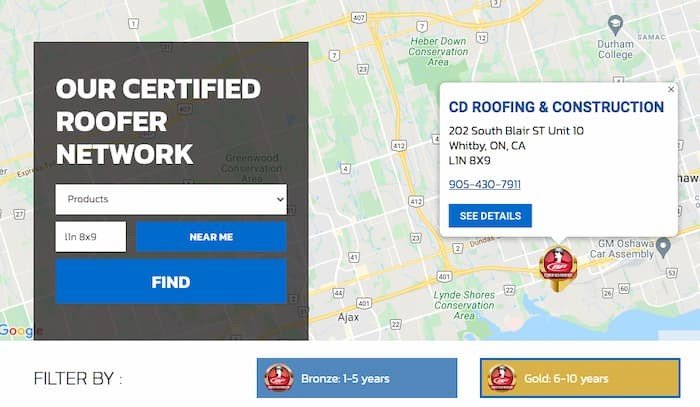 BP offers Bronze, Silver Gold, and Platinum levels of certification. Each level equates to the number of years of experience the roofing contractor has with the product.
It's not an exact measure of the skill to expect, but common sense tells us that the longer a company is installing the same product, the more time they have to develop the skill.
And in roofing, experience goes a long way.
You can ask for more than just shingle certification too. If you're getting skylights installed on your roof, ask for the certification your company holds with a specific manufacturer.
If you've already decided on a product, then it would make sense to hire a roofing company that is a certified installer so you get the best service and installation.
Get an In-Person Estimate
There are companies that can actually quote your roof replacement over the phone. They use software that provides accurate satellite imagery of the homeowner's roof which allows estimators the luxury of quoting directly from the office.
We say nay to that!
Get an in-person estimate from someone who's not afraid to meet you face to face. You want to be able to see the look in the estimator's face when they're quoting you to make sure they're not shifty.
It's also nice to be able to ask questions you need answers to and know that the company you're dealing with isn't afraid to give you their time.
Get a Contract In-Hand
NEVER do business with a roofing company without a contract. You need to have a written statement on the scope of work to be performed written clearly on your contract. Make sure the price you're paying is also marked correctly.
When push comes to shove, a contract provides you with some level of security on your investment because it will hold up in court.
A roof is not a cheap expense so make sure you cover your butt and get a contract that protects your investment.
Don't Cheap Out!
For many people, the price of roof replacement will be the deciding factor on which company they choose.
Just remember that INSTALLATION IS EVERYTHING! Don't cheap out and choose a ridiculously low-priced company just because they're priced low.
Choose a company that you know to be quality installers and get the job done right the first time.
You get what you pay for. In most cases, they're priced low because they don't provide quality workmanship and are using low-quality products. What's the point in getting a cheap roof if you have to replace it in five years!!
Make an Informed Decision
Hiring a company for roof replacement isn't the easiest task in the world, but with a little effort, you can make the process as easy as possible.
Make an informed decision when hiring your roofing company by following these seven steps and save yourself money in the long run.