Table skirts are a standard furniture accessory for catering companies and hotels. They dress up any table and let you take even the simplest of card tables to the dressiest of dining tables. Not everybody is going to need table skirts for everyday use, and often a tablecloth will do the job just fine.
However, if you are decorating a larger space and are looking for a simple, understated and consistent look for all the tables in the room, table skirts are really the ideal option.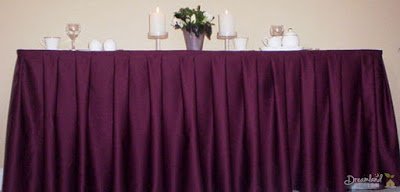 Dressing Up Your Table with Skirts
Weddings & Events
Perhaps the first thing a person will think of when someone brings up table skirts is a wedding.
Since weddings and other celebratory events, like barmitzvas, sweet sixteens, graduation parties and reunions, are often catered, a buffet table with a table skirt is a familiar site.
Most catered events just use folding tables to set up and then fancy up the scenery using table skirts. It really is an economical way to make your event look classy.
Dinner Parties
If you are throwing a dinner party and you know you won't have enough seating with your current home furniture, you can go to a party supply or furniture rental store.
You can get some folding tables and table skirts to furnish your home for the evening.
This will make it easy to set up and have a nice, tidy area for everybody to sit at whether it's inside or outside.
Using table skirts at a dinner party, no matter how casual or fancy, just really ties the look together and makes the evening a little more special.
Rentals Make It Easy
Renting folding tables and table skirts is really convenient since you don't have to think about storage. You can just pick them up when you need them and return them when you're done.
Skirts of All Sizes
It's not just dining tables that have table skirts. You can buy table skirts for coffee tables and end tables, too.
If you have older, scratched or damaged furniture, you can clean up your room just by buying some matching table skirts and hiding that old furniture.
If you are concerned about the skirts getting dirty or sliding around, you can also get some glass cut in the shape of your tables to sit on top of the skirts.
This is great in a living room since you won't necessarily need coasters since the glass will protect the table skirts from spills.