Everyone seems to have a tie-dye story from their childhood. It could have been a one-time thing at a birthday party where every kid made their own shirt. Or you had an entire tie-dye phase in middle school.
Maybe you never grew out of it.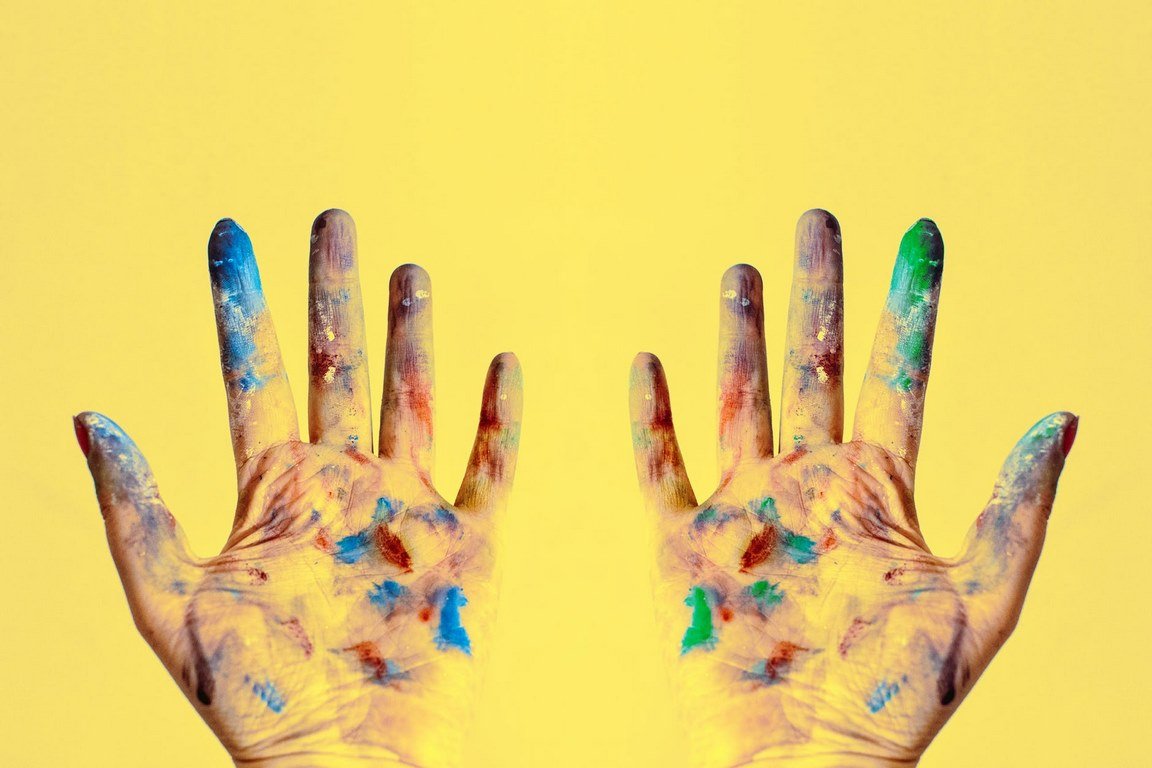 If you're ready to give your home a much-needed splash of colour but don't know where to start, we've got you covered. Here are five radical tie-dye decor ideas that you can add to your apartment right now!
1. Tie-Dye Walls
Let's start off with a bang!
You're sure to get your tie-dye fix if you cover your walls in it. There's so much open space on the walls to put anything featuring those signature bright colours and swirl patterns.
Since you can't tie-dye your walls the old-fashioned way, you'll need a few pieces to achieve the full effect.
Use removable wallpaper to create a funky accent wall on one side of the room. It's easy to put up, easy to take down, and it's sure to draw a lot of attention.
If that's a bit much for your taste, we understand. Not everyone wants a full wall of the rainbow. There are tamer ways to add tie-dye to your walls — though most tie-dye is anything but subtle.
Tapestries and wall art will make great additions to your space. They bring in vivid colour in smaller but still noticeable doses.
Don't forget about your curtains!
Because they're fabric, they're the perfect candidate for all your tie-dye fantasies, especially if you want to DIY your decor.
2. Tie-Dye Bedding
Looking for the perfect theme for your boring bedroom?
Tie-dye has you covered — literally!
Make your bed the undeniable focal point of your bedroom with a set of matching tie-dye bedding. There's no better way to brighten things up than a brightly coloured comforter.
If the tried and true rainbow is too abrasive for your senses, don't worry. Tie-dye comes in many forms.
The nature of tie-dying makes it incredibly customizable. Which means you can get your bedding in almost any colour or shade you want, even if you're not doing the tie-dying.
Everything from pastel rainbows to monotone colour schemes to black and white is available for your new bedding.
If you really want to get cosy under the brightly coloured rainbow from your youth, you can always tone it down with neutral sheets and pillowcases. It won't feel quite as in your face as an entire tie-dye display.
---
Read Also:
---
3. Tie-Dye Throw Pillows & Blankets
Continue the cuddling in any room of the house with your very own tie-dye throw pillows, and throw blankets.
Just throw them everywhere!
There is no shortage of throws sporting the familiar colours and patterns that you've come to love. You could probably walk into a store right now, head over to the home section, and pick up a tie-dye blanket right this second.
That's not to mention the ridiculous number of options available online.
When it comes to smaller items like throw pillows and blankets, tie-dying is a breeze. So if you're more inclined to DIY your tie-dye for a personalized effect, it'll be much easier than a tapestry or an entire comforter.
If you're having a hard time finding them in the colour you like, grab a few throw pillowcases and make them yourself.
That way, you'll have a matching set for your couch, bed, or sitting area — no problem!
4. Tie-Dye Kitchen Towels
We can't make this list without giving you any options for your kitchen.
Sure, you could hang art on the kitchen walls, but there's one specific place where tie-dye would be perfect that you may not consider.
Towels!
Just think about it — they're small, made from fabric, and add the perfect little touch of decor to your kitchen when they're not in use. You can hang them on the front of your oven or arrange them in a basket where they're easy to grab.
Dish towels, tea towels, and even dish rags are prime real estate for those rainbow hues.
Carry this same concept to your bathroom with tie-dye hand towels by the sink for everyone to dry their hands on. And yes, you can definitely have tie-dyed bath towels, if you really want them.
Who says you can't dry off in style?
5. Tie-Dye Accessories
Now we come to the finishing touches.
Accessories are to home as jewellery is to the perfect outfit. You could live without them, but they add that little something extra everyone desires in their lives.
You can't get much more extra than tie-dye.
There are people out there just as in love with tie-dye as you. Meaning there exist way too many accessories to name that you can find for your apartment.
Doing a brief search for tie-dye decor brings up plenty of fun options to fill the empty spaces in your home and your heart.
For example, you can get tie-dye lampshades, pennant banners, candles, paper lanterns, rugs, signs, cups, balloons, and napkins.
Get a few pieces or completely cover your apartment in tie-dye if you feel so moved.
Should I Buy or DIY my Tie-Dye?
It's up to you whether you prefer to buy tie-dye decor or tie-dye it yourself. It comes down to how much time you have and whether you're confident in your tie-dying abilities.
Both options have their pros and cons.
Shopping around for tie-dye means less mess, time, and effort on your part. The outcome is also guaranteed to look good, considering they're selling it to you.
Yet, you're not always going to find precisely what you want.
If you already have your tie-dye kit ready, you probably don't need much convincing on the DIY front.
Making your own tie-dye pieces gives you complete control of the colours and patterns used. That means everything will match perfectly, and you'll always get the pieces you want.
However, whether you're a novice tie-dyer or you've been doing it for years, there's always the chance something will come out wonky.
You may find it a waste of time and effort, or maybe you'll love it just the same.
And, of course, you can always do a mix of buying and making. It's the best of both worlds!
In Conclusion
Tie-dye is not just a fleeting fancy. It's here to stay!
Whether you're a lifelong enthusiast or just now discovering tie-dye, we hope this list gave you ideas that you hadn't thought of before.
These five tie-dye decor ideas only scratch the surface of the wonderful world of tie-dye. Once you dive in, you won't want to come back up again!
---
Author bio
Adam Marshall is a freelance writer who specializes in all things apartment organization, real estate, and college advice. He currently works with Traverse Commons to help them with their online marketing.