If you're a person who knows a thing or two about electric motors, then you may know about carbon brushes. But what you probably don't know is how they can be used in your home.
Despite their name being carbon brushes, they look nothing like the regular toothbrush or paintbrush. They don't have bristles, making it hard to understand why they're called carbon brushes in the first place.
However, it's probably because the old design of carbon brushes looked like the regular wire brush. That design, however, caused the breaking down and wearing out of the brushes due to their weakness in withstanding the pressure of electric motors. Instead, carbon brushes are rectangular, with either coils or springs above.
What's a Carbon Brush
Carbon brushes are electricity conducting devices that provide electrical current to stationary or commutator components of a motor. They're made from carbon alloy, doing their job of conducting electricity very efficiently.
For almost every electric motor to function correctly, carbon brushes are of pivotal importance as they have excellent conductivity, which is also their primary role in electric motors.
Aside from their excellent conductivity of electricity, carbon brushes also have superior self-lubrication and abrasion resistance, meaning that they slide effortlessly against steel and any other components, unlike other materials.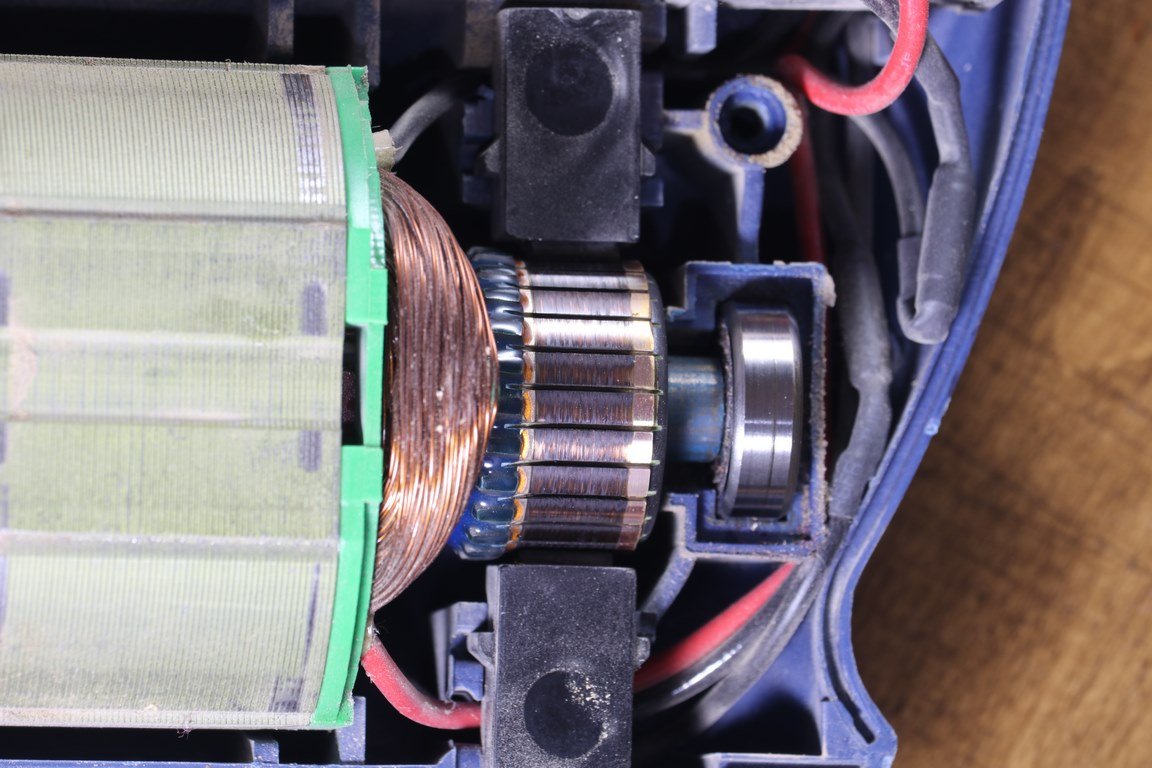 The durability of carbon brushes is better than that of any other brushes as they don't easily give in to changes, like extreme changes in temperature, which may cause any other type of brush to melt down or wear out easily. Carbon brushes are resistant to a lot of these factors, including fusing with other metals in the electric motor.
So, if you start seeing your home's electric equipment fail, then the first thing you need to look at are the brushes, as carbon brushes can be the reason behind poor power tool performance. Since they're what directs current to stationary parts of the machine, they need to be checked regularly and changed if damaged.
Doing regular cleaning on an air compressor can improve your carbon brushes' durability and maybe enhance their efficiency. Periodically checking for dust and dirt, which might slow down the work of the device, is also crucial to improving the lubrication of your brushes.
Despite carbon brushes being commonly known to be used for industrial purposes and automotive functions, they're also used for household purposes, and you'd be shocked to discover the things that you use almost every day that use these brushes.
So, if you're someone who's looking into how household appliances work, then you need to know how carbon brushes function in these appliances. As long as your electronic device has rotating or revolving parts, like those that are found in generators, as well as alternators, it's usually always a given that the device has carbon brushes. Such brushes work as a hyperlink for machines by connecting the motor's static and running parts.
Here are Ten Uses of Carbon Brushes in Your Home:
1. Hairdryer
For a hairdryer to work, it needs to have carbon brushes because it has revolving parts that need carbon brushes to conduct current. So, if you have a functional hairdryer, it's probably because its carbon brushes are doing their job efficiently.
2. Ceiling Fan
Since carbon brushes are in almost anything that's electric and has rotating parts, it's understandable that they're needed in ceiling fans as fans are always revolving.
The current needed to carry out that action is transmitted through carbon brushes. So, for a fan to cool you down effectively, it needs functional carbon brushes.
3. Heat, Ventilation, And Air Conditioning System
For your heat, ventilation, and air conditioning system to function well, the carbon brushes in it must be doing their job well since, without them, the whole system will die down. Since carbon brushes are great heat conductors, they're suitable for transmitting current in a hot body without melting from the heat.
4. Vacuum Cleaner
If the carbon alloy in carbon brushes is combined with lead, it creates a magnificent combination that's suitable for vacuum cleaners as they contain tiny cross-sections. Vacuums can work with smaller power input, hence, the need for a combination of lead and carbon for their carbon brushes.
5. Grooming Razor
Since this one is a smaller object, it uses micro carbon brushes to ensure that it works properly in transmitting current. Due to their splendid self-lubrication, carbon brushes make sure that there are no hitches when shaving.
 6. Pressure Washer
Pressure washers also need carbon brushes to function. These powerful appliances are much needed for your outdoor space makeover, and it's impossible to use them without carbon brushes.
7. Television
Can you imagine what it'd be like if there was no entertainment?  Well, if there were no carbon brushes to transmit current, then it sure wouldn't be there.
So, you should appreciate how you use carbon brushes in your home every day without realizing it through the television and any other audio appliances in your home.
8. Toys
Toys, as long as they're electric, use carbon brushes. So, next time you see your child playing happily with their toys, you should know that they're actually using carbon brushes.
Because carbon brushes aren't made as one-size-fits-all products, they're made with different materials and sizes to fit the areas where they'll be used. So, it's very much understandable that both toys and vacuum cleaners, gadgets of completely different uses and capacities, both use carbon brushes.
9. Washing Machine
Hand washing is usually not enough to remove stubborn stains and sweat from dirty clothes, hence, washing machines come in handy in such cases. This is because washing machines use carbon brushes as their current conductor, making it very easy to remove stains as carbon brushes soothe the machine's princesses.
10. Generator
Generators are heavy machinery, meaning that they need bigger carbon brushes. When they produce a lot of energy, they heat up, which would prompt any other brush to heat up, expand, or meltdown, but not carbon brushes.
Such types of brushes are meant to withstand very high temperatures without succumbing to changes in shape due to their extremely high melting point. This makes them a dire requirement for generators to function.
Conclusion
If you're a homeowner and need to know more about how carbon brushes work and how they work in your home, or, maybe, you're considering adding carbon brushes to your home, then this article should've enlightened you.
With the vast number of advantages they offer, it's easy to understand why one would decide to use them instead of other brushes.