If you are like most people, whether you want to admit it or not, you spend a lot of time in the bathroom. On average, people spend about 92 days of their lifetime in the bathroom.
That number can be driven much higher for those that like to enjoy long baths or showers occasionally throughout the week.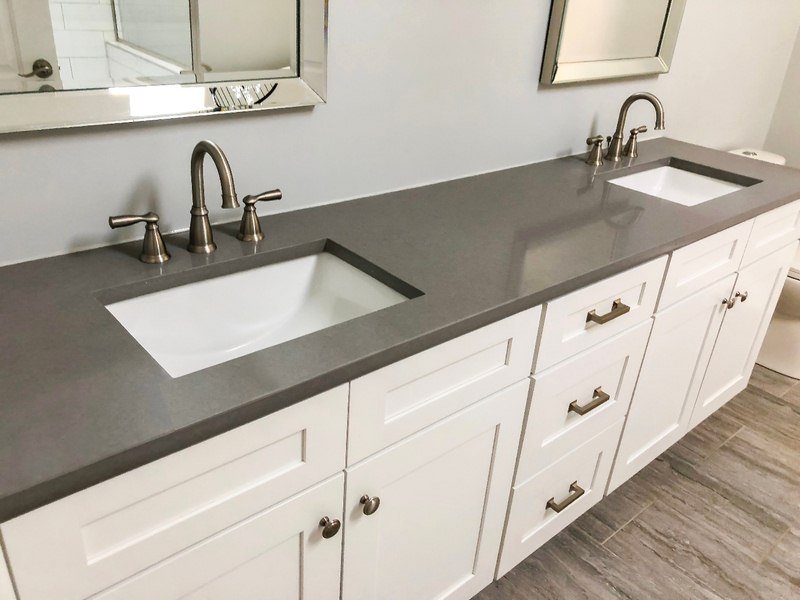 With this much time spent in one space, it is no wonder that homeowners focus theirs remodels on kitchens and bathrooms primarily.
Today's bathrooms are becoming more than just functional. Bathrooms boast design elements that can often make space look more like a spa than a toilet and shower room.
---
Read Also:
---
Dressing Up Your Bathroom With a Quartz Countertop
When building a new bathroom or remodeling an existing one, there are many decisions to make. Homeowners and designers alike (whether different or one and the same) need to consider fixtures, the shape of the overall room, and cupboard and countertop design.
Toilets are fancier than ever with homeowners opting for extra-large seats, voice-activated command, and so much more than what the traditional toilet entailed. Cabinets are being lifted off the floor and are set atop lovely mounts or antique wooden feet.
And in the past, homeowners had limited options for countertops, being limited to choices such as tile or laminate. Fortunately, now homeowners have so much more to choose from, and as a result, countertop surfaces too are seeing quite a bit of attention.
Stone countertops have increased in popularity over the years, with quartz rising towards the top. While granite tends to be the most popular, many home renovators appreciate the benefits that come with quartz.
Easily the room laden with more germs than any other, bathrooms creates the perfect environment for germs and bacteria to form and grow. With every flush of the toilet, every washing of hands (very few people wash their hands properly), sneezes and sniffles, and more, countertop surfaces need to be highly washable.
Materials such as granite and marble, though both beautiful and popular, are quite porous and are more difficult to clean, which means that those germs are harder to wash away. Even the smallest of scratches or cuts in the surface create breeding grounds for things you don't want to think about.
But with quartz, it's smooth, non-porous, and highly durable material is an excellent option for creating a washable, sanitary, and elegant bathroom. Though no bathroom can be 100% free from germs, with quartz, you can rest assured that cleaning will be far easier than with other surfaces.
Quartz Countertops are Highly Stain-resistant and Durable
Unfortunately, sometimes no matter how careful we are, messes and spills happen. Homeowners are known to use hair-colorants, self-tanning products, nail polish, and other messy items in the bathroom.
Thankfully, because quartz countertops are manufactured to be less porous than natural stones, they are also more resistant to stains. For this reason, homeowners don't have to worry if they accidentally spill their coffee on the bathroom surface in the morning, though their linen jacket is an entirely different story.
Related to the superior stain-resistance of quartz tops from Marble.com is the durability of the surface. The durability of a countertop surface is almost as important in a bathroom as it is in a kitchen.
Items tend to get dropped on bathroom surfaces quite frequently, often because homeowners are in a hurry, or their hands are still wet from a bath, shower, or a recent hand-washing.
Dropping hair-dryers, flat irons, and various containers on the countertop will happen far more than you expect. And if you are a parent, then you know that children and teens just aren't all that cautious. Thankfully, quartz is made to stand up to daily use and a bit of abuse.
Homeowners Appreciate the Low-maintenance Required of a Granite Countertop
You've probably already formed this sense in your mind, but quartz is quite low-maintenance overall. While it may be a given considering its durability and stain-resistance, it is vital to note how easy it is to maintain a quartz countertop.
It can get easy becoming confused about what types of cleaners can be used with various surfaces in your home. But with quartz, you are safe to use just about any kind of cleaning detergent or hand soap.
Abrasive chemicals should not be used with quartz, however, as this will, over time, wear away at the finish and will lead to scratches.
In reality, all you really need to clean your quartz countertop are soap and water. Unlike more natural stone surfaces such as granite or marble, quartz does not require regular sealing, oiling, or maintenance. And to be clear, you should never have to seal your quartz countertop.
The Style of Quartz Will Remain in Vogue for Decades to Come
Because of the clean lines and consistent coloring that is associated with quartz, you can assume that your quartz countertop will be just as stylish ten or more years from now as it is today.
Contemporary and minimalist designs are back in fashion, and really never go out of style. As quartz can be manufactured to fit a vast array of colors, shapes, and styles, it makes it a smart choice for homeowners.
Though quartz is often more expensive than its natural stone counterparts, it is actually quite an economical buy. Due to it's stain-resistance, low-maintenance, and durability, investing more upfront in your quartz countertop over granite or marble will likely save you money in the long run.
These other surfaces (especially marble) require significantly more maintenance over time, and that often comes with a cost.
Resealing alone such always be done by a professional, and the cost needed for that could easily be saved, or better yet, invested in a unique quartz coloring that will set your bathroom apart. All in all, quartz has the upper-hand in bathroom surfaces, and homeowners that decide to go with quartz rarely, if ever, regret their decision.