Nobody ever warns you about how challenging it is to design a kitchen. The reality is, no matter how much space you have to work with or how big your budget is, you will be faced with endless options and hypothetical scenarios when it comes to this renovation.
To help you avoid analysis paralysis, here are five important checkpoints for designing a modern kitchen.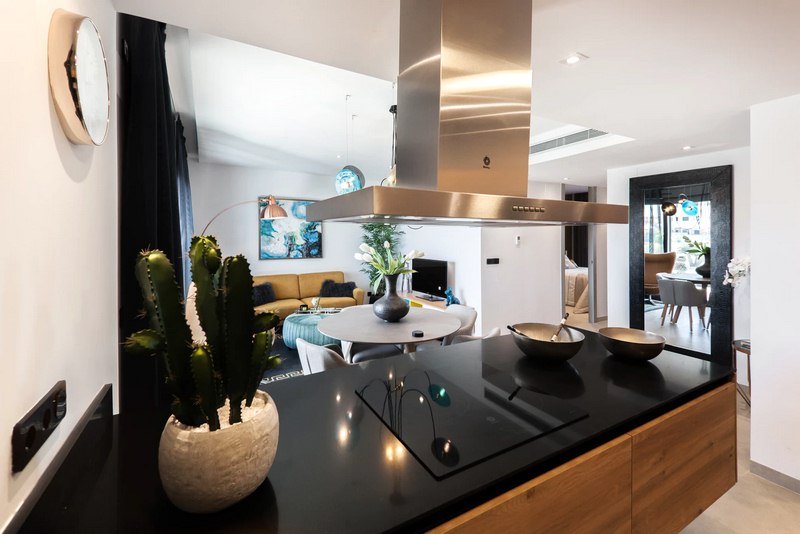 ---
Read Also:
---
Choose Induction Cooktops
Simplify one big decision by choosing a quality induction cooktop for your new kitchen. These are the cooktops preferred by commercial kitchens for a reason: they are safer, cleaner, and faster to use than any alternatives.
Using electromagnetic energy to cook food, the cooktop itself does not heat up, and there is no flame. So, this is perfect if you have curious children or countertop-loving cats in your household. Just make sure you invest in high-quality induction cookware as regular pots and pans are not always compatible with induction stoves.
More Kitchen Lighting
When choosing lighting fixtures for your kitchen, don't stop at a few large ceiling lights. Think about each of the different spaces you use for storage and cooking and ask yourself, how much better is it when it's well-lit? The most effortless way to guarantee a sleek, modern design and vibrant kitchen space is to get many small LED lighting fixtures to place where needed.
Your areas of interest should include over cabinets, inside cabinets, over any cooking surfaces, over shelves, and inside any other storage areas like a pantry!
Be Generous With Counter Space
Regardless of your budget, if you are designing your kitchen from scratch, the counters are not a place to save money. This doesn't mean they need to be super-large, especially if you are a small household, just be sure to account for movement, cleaning, and food clearing when deciding on your counter space.
Once you have the right size in mind, consider adding an extra centimeter or two – you will never regret having a more comfortable space as opposed to a cramped one!
Proper Ventilation
The air space in your kitchen is not a feature that can be overlooked. In addition to making sure there are adequate windows and entryways, having a good range-hood is a must to remove airborne grease and smoke from your cooking environment.
You have plenty of options when it comes to the design and placement of your range-hood, but as long as it is overhead and functional, your new kitchen will be in the clear.
To liven up your space, even more, you can consider planting some windowsill herbs. They serve the double function of refreshing your meals with their unique flavors and the air you breathe with their natural fragrances.
The Right Flooring
Flooring is usually not the first thing you notice in a new kitchen, but it affects everyone who enters the space. Be sure to consider safety, cleaning, and maintenance when choosing your kitchen flooring. This is one of the most high-traffic areas of a household that deals with temperature changes and all kinds of spills and waste.
So, you want your floors to be sturdy enough not to stain or show signs of wear early. Non-porous and non-slip flooring, like tiles or stone, would be your best bet.
Your final design is always up to you and your household's needs, but hopefully, you're able to lighten the load by ticking off these five checkpoints.