A rug has the power to instantly change the look and feel of a space. Rugs not only enhance a space's aesthetic appeal but also serve several utilitarian functions, such as keeping your home warm and minimizing noise.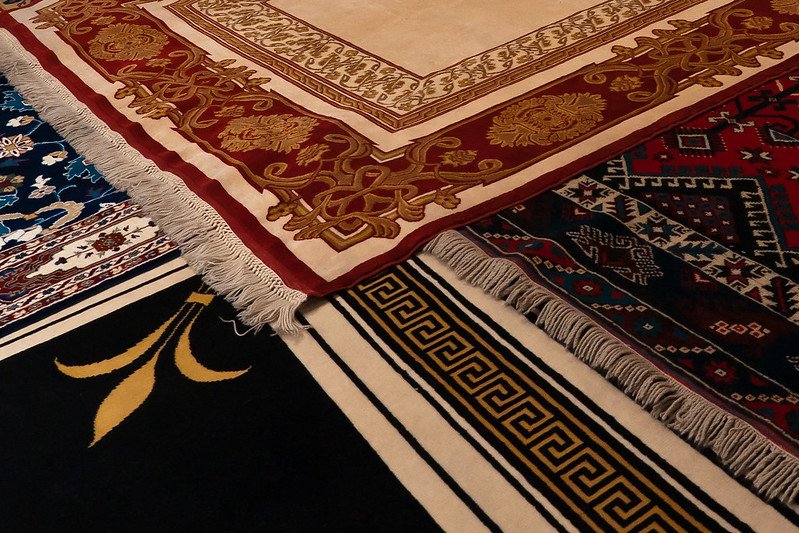 Many people who move into a new home now consider purchasing rugs for their floors because they don't come pre-carpeted. Choosing a rug for your home can seem like a no-brainer when it comes to the aesthetics of the room.
A rug is one of the most adaptable pieces of furniture you can buy for your house. It's a style savior and a flaw concealer all in one, thanks to its ability to enhance and conceal simultaneously. Why should everyone own at least one rug? That's exactly our position.
When it comes to adaptable rug producers, Oriental Rugs is at the top of the heap.
Shape and Dimensions
Finding a rug that is the right size for a space is critical when it comes to selecting one. It's a bit of a Goldilocks situation. You want a rug that fits, whether tiny or large.
Make sure there is enough floor visible between the wall and the rug, but also make sure there isn't anything too little underneath your coffee table, like a postage stamp. To be safe, choose a rug that may either contain the key components of a room or act as a separator between built-ins.
Make sure the front legs of your couch and nearby armchairs are on your rug if it is against a wall. An area rug that covers the entire floor and leaves room around it is ideal in a room with a floating seating area.
The size of the table in your dining area might serve as a guide. The rug, whether round or round, should have a circumference of at least 24 inches on all sides so that even a pushed-back chair can be accommodated.
Rugs that cover the entire bed and night tables, as well as a few inches on either side, are ideal for a large bedroom. Rugs should cover around one-third of the bed's base in smaller rooms; alternatively, consider placing small area rugs on either side of the bed to achieve the same effect.
For the kitchen and the doorway, use a narrow runner or a smaller piece (such as a 2′ x 3′ or a 4′ x 6′).
In the outdoors, you'll want a rug that's 12-24 inches shorter than the circumference of the space you're covering.
---
Read Also:
---
Stylishness and Materials
It's possible to describe a rug's aesthetics using a seemingly infinite number of terms. But more often than not, the material it's created from dictates the piece's design. According to a rug expert, the following are the most prevalent materials:
The Natural Fibers of Wool, Cotton, Silk, Jute, and Sisal are Only a Few Examples of These Materials
There are several advantages to using wool carpets, such as their ability to hide filth and their durability.
They are more expensive and will need to be cleaned professionally.
Dyed silk rugs may flow when wet.
Acrylonitrile Butadiene Styrene Polyester
Inexpensive; easy to clean; usually not stained.
Recurring spills or pet mishaps can cause mildew and bacteria contamination, necessitating replacement sooner than with wool or natural fiber carpets.
Synthetic silks include Viscose, Bamboo Silk, and Banana Silk.
Conveniently priced, busy patterns help hide blemishes.
Fibers can be damaged by water or oil spills because of Viscose's ability to absorb moisture and oil.
Taking Care of Rugs
As a result, you'll want to think about cleaning and maintenance before purchasing because it's inevitable. Vintage or antique items are more likely to last than newer, less expensive items that may not have as much structural integrity.
Spot clean, steam clean, or vacuum synthetics. Most of these materials are stain-resistant, although they may appear dirtier because they collect dirt and oil.
In wool or revival Rugs, natural oils (lanolin) prevent spills from reaching the fibers. A toothbrush dipped in dish soap and water worked wonders on my hand-knotted rug stain. The fibers can be damaged if you scrub too hard.
Hire a professional to remove stains from cotton and silk to avoid damaging the fibers further.
Adding a Rug Pad to the Floor
Once you've found the rug of your dreams, the most important thing is to make sure it will last for years to come. A rug pad is therefore required.
Cushioning heavy furniture and protecting the floor from harm is only one of the many benefits of stair runners.
A rug pad with a strong grip is best for high-traffic areas like the bathroom or kitchen, while a cushioned rug pad adds an added layer of velvety comfort in bedrooms and living rooms.
Final Words
Rugs are one of the few items in a home that can so easily serve as a decorative unifier. A rug can add an unequaled level of appeal and mystery to a room, whether it's the inspiration for the area or the last touch.
There are, of course, constraints and hurdles to obtaining the perfect rug. There are a lot of aspects to consider, and having a seemingly infinite amount of possibilities doesn't make the selection process any easier.
Give Oriental Rugs a check!