One of the first things that people notice when they arrive at your home is the garden and the facade. Potential buyers and estate agents call this, curb appeal.
Not everyone is a keen gardener, and many people do not put an emphasis on their gardens. One effective way to transform a backyard, or the front lawn, is to plant a tree.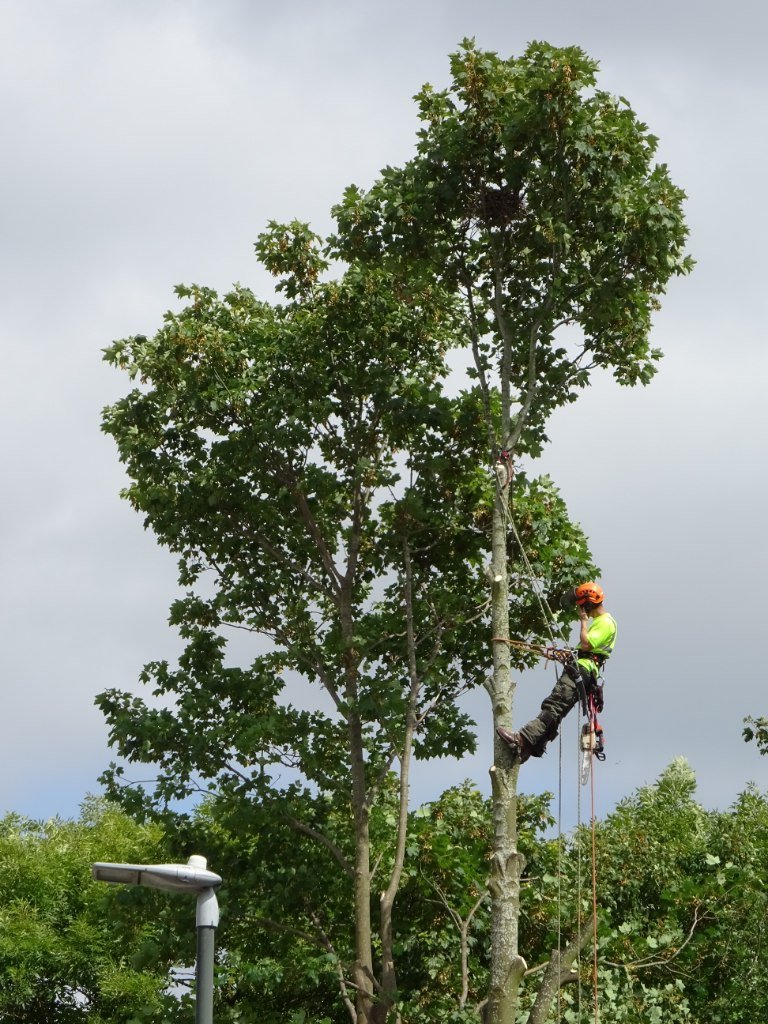 Fruit trees are an effective and beautiful way to improve the general look of a garden. They grow quickly and can mature and produce fruit within a few years. The addition of trees in your garden is one way to create a healthier home by bringing nature in.
Trees come with a multitude of benefits, including improving the local ecosystem and creating oxygen. However, they need care and attention.
Minor tree care such as pruning for smaller plants can be done by yourself. But, for bigger trees, or more extensive problems, you will need a tree surgeon.
Why Should You Use a Local Tree Surgeon?
A local company is always better to use especially when it comes to any sort of garden maintenance. A local tree surgeon needn't add on travel costs. However, with a company from further afield, they may add on extra charges.
A local tree surgeon will be able to arrive quickly if you have an emergency. Normally a quick search on Google will bring up any local tree surgeons, and a simple tap on the Click Here button should set you up for an appointment.
This can also give a little bit back into the community, a small local tree surgeon may work independently and will be looking to support their family. Your neighbors may be able to recommend a local tree surgeon too if they have had work done in the past.
---
Read Also:
---
They Will Spot Problems and Address Them
Tree surgeons are highly trained, qualified, and experienced. They are trained on how to spot potential problems, such as disease, and to come up with a plan of action.
Storm damage is one of the biggest problems for trees. If a bad storm comes through, it can leave a tree damaged, and potentially, hazardous.
This creates a danger for your property including your home and car, and it can also be dangerous for you and your family.
Diseases can make trees unsightly, and some types can even kill a tree. A trained tree surgeon can inspect your tree and diagnose the illness. They can then treat it, or if necessary, fell the tree.
They Can Help You to Add Dollars to Your Property
So, when you consider the trees in your garden, has it ever occurred to you that they could quite possibly be adding value to your home? This is not what springs to many people's minds, and one mistake many people make when with a new home is to remove unwanted trees.
Trees add thousands of dollars to a property. One study in Portland found that trees on the street but nearby a property added over $7,000 to the value of each home.
A local tree surgeon can tell you whether a tree is dying and whether it should be kept longer, or if it has to go. They are trained in how to remove dying or dead trees. Which if left, can become not just an eyesore but indeed, hazardous.
Potentially, trees can cause damage through their roots if they are close to pipes, and foundations, or to electrical cables or the home, if branches are left unchecked. Trimming branches or pruning is a job for the experts only.
Tree Trimming Is Dangerous
Every year, hundreds of people decide to trim the branches on one of their trees, and they meet an accident. You may think you know everything to know about trimming trees, but a local tree surgeon will be far more capable.
Although you may be a very competent DIY enthusiast. Or perhaps, you tend to all your garden's needs. But, tree trimming can be deadly.
Over 500 people die each year while attempting to cut back branches. Trimming tree branches can involve considerable heights, heavy and dangerous equipment, and even power lines. Not to mention that tree branches can weigh a lot.
Summary
A quick look on the internet should bring up qualified tree surgeons in your local area. In the case of an emergency, perhaps with a damaged and hazardous tree, only a local company will do.
Check for accreditation and certification. Perhaps a sign that they belong to something like The International Society of Arboriculture, or something similar.
Check they have insurance, and that they have been in business for a good length of time.
Tree surgeons can assist with a variety of problems, from disease to felling, from tree stump removal to pruning. However, sometimes only a local company will do, especially when you are in a hurry.