It is no secret that kitchens are costly to maintain. Cabinets often get more wear and tear than other items in the home because they are used on a daily basis. A lot of people these days want their kitchen cabinets to look new. This can be a costly and disruptive project, so many people opt to refinish their cabinets instead.
The question is: which one is better? While there are definite benefits in both if your budget allows for it, a new kitchen will have a lot more options for design, and it will be easier to create the exact kitchen you have always wanted. The main thing is that you have a dry place to store your pots and pans.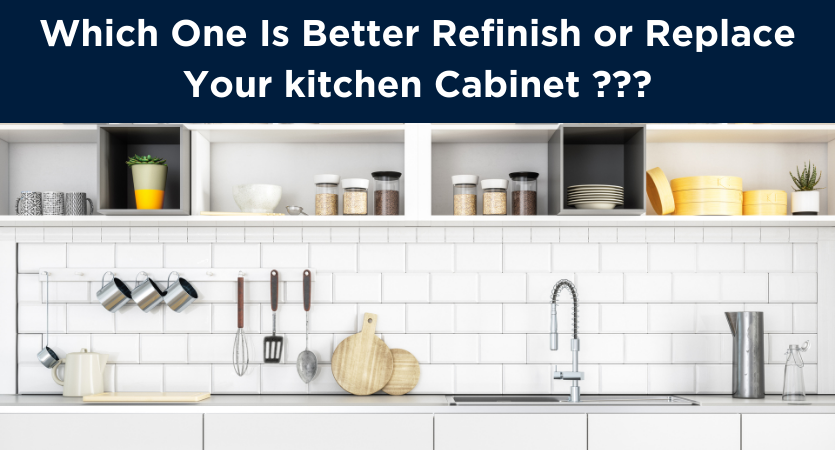 If you are considering refinishing or replacing your cabinets, there are several things you should know before making your decision.
Refinish or Replace the Kitchen Cabinet – Which One is Better
To know which one is better, we need to know the advantage and disadvantages of Refinish or Replace The Kitchen Cabinet. Let's check those out.
Advantage of Refinishing the Kitchen Cabinet:
Most homeowners want their kitchen cabinets to have a beautiful finish that will last for several years. Kitchen cabinet refinishing will boost the look of your kitchen instantly.
Refinishing The Kitchen Cabinet Help You to Save Money
Refinishing Kitchen Cabinets is a popular choice for homeowners, as it saves you money upfront by making your kitchen look brand new without paying a contractor. The process of refinishing cabinets may sound daunting to some homeowners, but it is actually a fairly straightforward process.
Before deciding to refinish cabinets, three potential factors should be considered: the time and cost of a professional job, the level of difficulty you want to undertake, and how much work you're willing to do upfront.
Refinishing a cabinet will usually cost half as much as replacing it and can be done in a day. For a few hundred dollars, you could get your cabinets looking like new again!
---
Read Also:
---
We Can Save Wood, Forest, and the Environment
According to some experts, replacing kitchen cabinets can lead to deforestation. The wood used for the cabinets is cut from forests, which are cleared to make space for farming or other uses. If you are interested in saving forests and using renewable products, then refinishing your kitchen cabinet is a way that can help you to do just that.
Reinstalling a new kitchen cabinet can have a great impact on the environment. The wood used to construct the cabinets is taken from the forest, and replacing a single cabinet has a significant environmental effect because it involves cutting down trees and using energy-intensive manufacturing processes.
You Can Save Time and Do Not Need to Remodel the Kitchen Again
There are many different reasons to refinish the kitchen cabinets. For example, you may want to update the look of your kitchen or even reduce the amount of time it takes to update them. Refinishing the cabinets will also help to save you time, keep them looking new, and reduce wear and tear.
Many people do not realize how easy it is to refinish hardwood cabinets themselves without the need for hired professionals. However, refinishing cabinets is best when you want to make a long-term change with few expenses.
With this method, you can update your kitchen without the hassle of remodeling everything in the room. A fresh coat of paint and some new hardware will typically do wonders for an outdated kitchen.
The disadvantage of Refinishing the Kitchen Cabinet
Oftentimes, homeowners renovate their kitchen cabinets to give their kitchen an updated look. However, it's not always worth the money and hassle of refinishing big-ticket items like your cabinets. If your home is small, with just one or two kitchens, then refinishing will seem like a great option.
On the other hand, if you have multiple kitchens in different rooms, you will not enjoy the new look of your renovated kitchen fully.
However, it will not give an exact new look and the taste of new kitchen cabinets models.
Advantage of Replacing the Kitchen Cabinet
Help You Feel the Real Taste of The New Model and Look
In order to have a comfortable and enjoyable kitchen, some renovations need to be done. Replacing your kitchen cabinets is one of those renovations that can help your kitchen feel newer and cleaner.
With all of the options available these days, it's easy to find cabinets that fit your needs and taste. You can even find ones that mimic other things like marble or metal- the possibilities are endless!
It Gives You Enough Options Such as More Space, Ease of Maintenance, Etc.
Kitchen cabinets are a necessary component of any kitchen, and they can serve a variety of purposes. When it comes to replacing your kitchen cabinets, there are many options available to you. If you go with a new construction home, for example, you can choose from all sorts of different cabinet designs and colors.
This will allow you to customize the look and feel of your kitchen without having to do any remodeling or wait years for permits and such.
New cabinets are an easy way to add more storage space to your kitchen. Cabinets come in different sizes and shapes, allowing you to find the right one for your needs. If you want to replace your kitchen cabinet, you will need to measure the countertops and buy a cabinet with at least that much clearance.
Some people like to replace new cabinets because they are easy to clean and maintain.
The disadvantage of Replacing The Kitchen Cabinet
Some people say that replacing your kitchen cabinets is the best option to keep your kitchen looking good. However, this will cost you more money than refinishing your existing cabinet. Replacing the cabinet also leads to deforestation, which is not beneficial for our environment.
There are also other ways to make your old kitchen cabinets look new again without costing an arm and a leg. These include painting them or simply re-shelving them in order to get rid of the clutter.
Final Words
In conclusion, replacing your kitchen cabinets can be a good option because it will make your kitchen feel new again. Refinishing your kitchen cabinets is also a viable option and can make them look better and last longer. Consider both possibilities and weigh the pros and cons before making a decision.
Cabinet refinishing is a good option for those that would like to save money and time. It allows for customization and adds to the value of your home, and I think it is great for most people.