As a way of making our lives comfortable, we fill our homes using a variety of decor. Some of them are fashionable while others are practical. And then we have other decor items you strongly feel your home can't be complete without them.
This is where the mirrors come in. Almost every home has them and we know their importance. They are essential when it comes to checking our appearances, ensuring our teeth are clean for many reasons.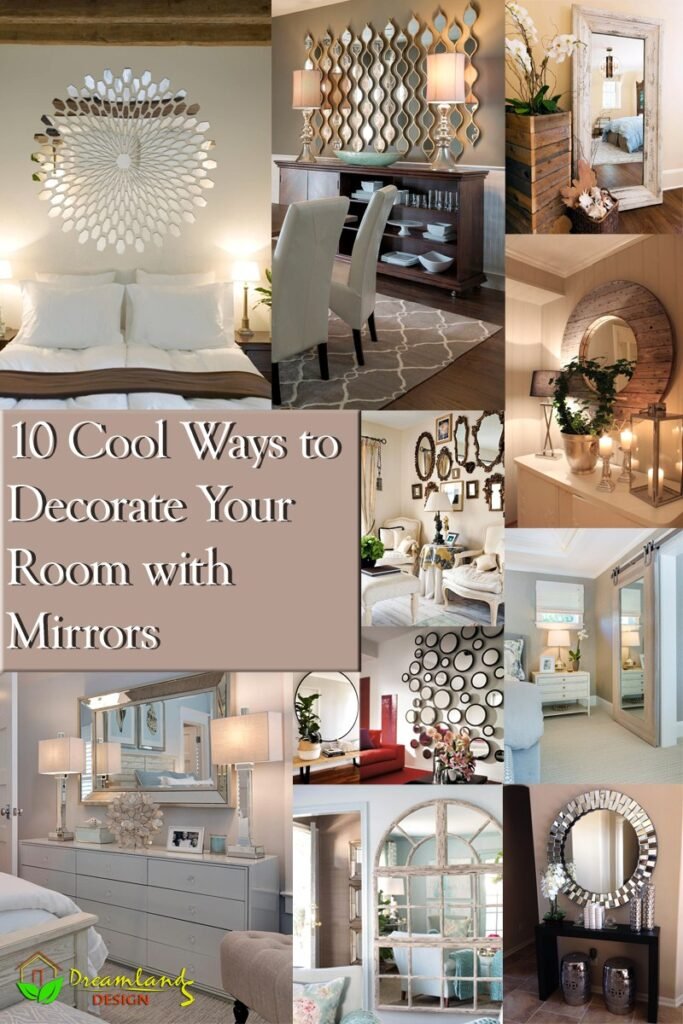 10 Cool Ways to Decorate Your Room with Mirrors
When we talk of design, Mirrors can be useful in opening up space, employing reflections to enlarge your room despite its small size. We miss the big opportunity when we only use the mirror for its functional purpose forgetting its fashionable side.  Let's have a look at the amazing ways to decorate your room using mirrors.
 A Mirror with a Splash of Color
We hardly consider using mirrors to add a decor of color palettes to our rooms. However, using an appropriate frame with a little imagination, all that is possible. You need to paint the mirror frame and there you will have a touch of your favorite color right in the room.
Combine both orange and bright yellow colors when painting. All this will give a big splash in a contemporary, eclectic room complete with fascinating, vibrant pieces.
---
Must Read:
---
Mirrors in Startling Places
Functional mirrors are commonly used in floors and walls. However, using the mirrors as a design feature unwraps a complete realm of options. For instance, you can have the doorways mirrored in a gold polish giving the room a new layer of attractiveness as well as enough warmth.
Geometric Statement Mirror
When it comes to mirroring decor for your lovely room, don't narrow your frames choices. You can select from the rectangular frames, round or even the one with curled edges. These types of frames are the best in matching with any kind of setting. Don't also confine yourself rather go for those bordered frames.
This kind of decor communicates as to who is the boss in your house. It forms a gold frame which is large. The outcome is an amazing geometric pattern that is so appealing making the reflective surface on focus appear like an addendum.
Bathroom Wall Mirror
It is common to have a mirror decor in the bathroom sink. However, having a mirror behind the tub breaks the functional use of a mirror making it stylish. To make it more elegant, combine it with chandelier and a self-supporting tub. For sure, this vintage mirror wall complements a touch of old world charm to your washroom.
---
Must Read:
---
Over-sized Floor Mirrors
If you love more reflection, this can be a good idea to start with. This enormous ornamentally framed mirror functions well on a variety of settings. It creates more space by giving the optical illusion thus making the room look beautiful. In addition, it also gives you the much space you need in your room.
Gallery Wall Mirrors
You can add a taste to your gallery displays and wall using well-crafted mirrors. To make it work, ensure they are presented as the central attraction. If you have a home office, bring a pair of well-designed mirrors and verge them on both sides using wall art. To give out the image of a complete display, have identical framing together. Adding a round mirror above will give out the best shape adding visual interest.
Mirrored Kitchen Backsplash
You can add some decor to give your kitchen a new look by the mirrored backsplash. This idea comprises of tiles carefully organized in a brick construction. A mirrored backsplash is an artistic, current update of a decent kitchen.
Bedside Mirror Art
This state-of-the-art set up consists of hexagonal mirrored tiles. The tiles are fixed right from the wall all the way to the floor. Well-designed displays like this make the room look interesting and unforeseen while still giving space for simple accompaniments, such as the missing tiles. All this will give a display with an extra touch of appeal.
Mirrored Stairs
Make a wall collection of mirrors of diverse profiles and dimensions on the wall of your stairway. Instead of your usual boring dim staircase, they will have a bright and chic look. You need to carefully monitor your steps as you keep admiring the mirrors while climbing.
Wardrobe Mirror panels
Be creative and change your wardrobe panels into elegant looking mirror panes. It will add more optical space to your room making it brighter. There you have the most creative ways to add decor to your room using mirrors.