Modern styling is beautiful with its simple and clean lines, sparing use of color, and gorgeous sense of space that it can create in a room.
Even if you live in a log cabin you can make the interior of your home sleek and modern if you so desire!
There are many ways to access a modern design sensibility in your home, from adding modern furniture to the room to pulling in the right set of colors and accent rugs and pillows.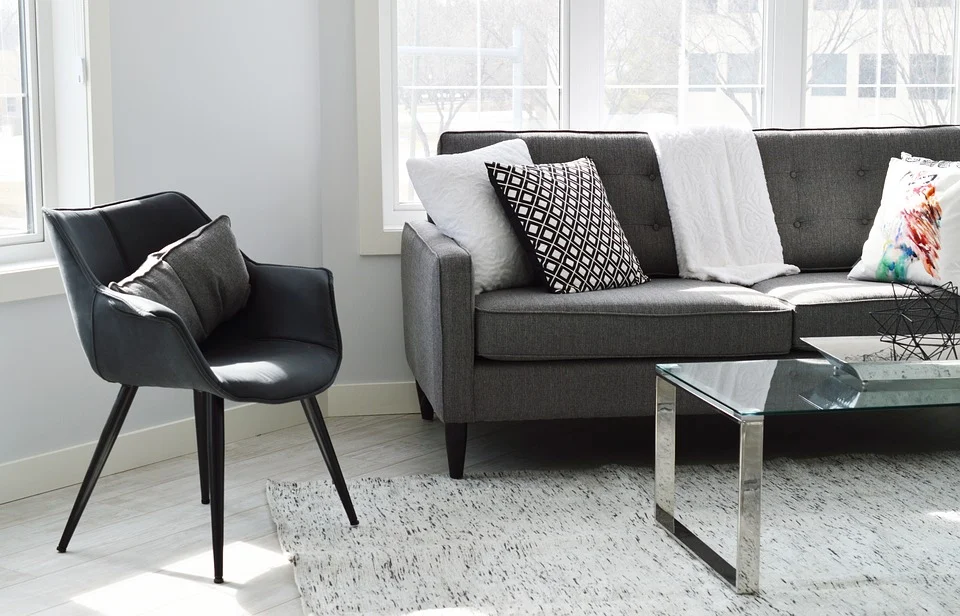 If you are working on a home design project, or are building a new house and have been considering modern styling for the interior of your home, there are so many styling choices that you need to make that you might feel overwhelmed.
Thankfully, there are some good basic ideas that are the foundation of any modern styling design arrangement that you can follow to get you started.
Read on to learn more about ways to add a modern touch to your home décor.
Modern Home Décor Touches
1. Pops of Color
Modern styling is all about minimalism, but you can use color in tasteful places in the room to communicate a modern sensibility.
Add a blue chair or a red sofa to your otherwise neutral room and you will have created a touch of modern styling in that one selection!
You can also keep the beige sofa, but buy colorful throw pillows and paint an accent wall a bright color.
These touches of color will spruce up a tired room and give it new life while also communicating a swanky, chic modern taste.
2. Vintage Furniture
Antique furniture and vintage designs are always a big part of modern styling makeovers. If you love art deco, you can add some pieces that call back to that style era to your room, and instantly you will have moved in the direction of modern home décor.
If antiques are your thing, pick a few pieces and sprinkle them through the room to add a sense of older styling without removing the other more modern choices that are in the room.
Modern styling is all about contrasts. You want hard and soft, old and new, bright and neutral to live side by side in a modern design plan.
---
Read Also:
---
3. Black and White
There is nothing more classically minimalist than black and white colors throughout a room. You can buy white furniture and add black rugs and accent pillows, or you might make all the furniture white and do with black and white flooring or paint schemes.
Black and white is a classic modern theme choice that never goes out of style and it will make your style go from boring to modern in a snap!
There are many ways to work the black and white theme choice into your home, so make sure to look at lots of examples to get ideas before you start making your house modern with this color theme!
4. Simple Furniture
This is one of the most common ways to make a room design feel modern. You will always want to consider picking furniture without many embellishments and with simple, squared-off lines when you are designing a modern room.
Even tables and chairs can be purchased with simple, clean lines. This lack of stuffing and excess styling will immediately make a room feel modern and open and spacious.
Modern styling is all about taking away unnecessary things so that you can focus on the shape of the room and the shape of the few items that are there inside of it.
5. Add Wall Art
Modern styling can be added in small touches around the room with modern or cubistic art pieces hung on the walls.
You might want to keep your furniture that is not necessarily modern in styling, but you can surround it with modern pieces that will bring a touch of the right sensibility in key locations.
Complete this with a simple color scheme in your pillows on the couch and the rug on the floor, and you will be able to take not-so-modern styling to chic and upscale in a snap.
6. Add an Electric Fireplace
If you want to elevate your room in one simple step, invest in an electric fireplace heater with simple design accents and you will have a modern room that everyone will ooh and aah over.
Fireplaces just make a room complete, and there are lots of electric options that save you the mess of a real fireplace.
Electric fireplaces can be made in many styles, so pick one with a chrome or reflective finish to complement your modern styling in the rest of the room.
Electric fireplaces are key features in many modern styling arrangements and they are an easy way to elevate your room without having to change most of the rest of the space.
Modern Styling Choices Never Go Out of Style
Modern styling is always a beautiful choice and you can never go wrong if you decide to go minimal or to add modern styling choices to your home.
This styling choice looks beautiful in any kind of space and stands the test of time.
If you love simple lines and basic shapes for your furniture and your art, you will be so happy that you went with a modern styling plan for your whole space.
This is a great way to open up space and make it seem brighter and less cluttered and it can also make upkeep on your home much easier.
Modern styling can be a lot of fun and it is a great way to bring in your own personal style in small, discreet touches that don't take over the entire room.
When you add some modern styling touches you will feel like you are living in a brand new house without having to move!