At times a bathroom can feel lackluster to a point that the time spent there feels like it is not worth it. You only want to take a quick shower and get out of there.
This space should complement the style and design of your home. However, this does not limit you on the renovation options that you have.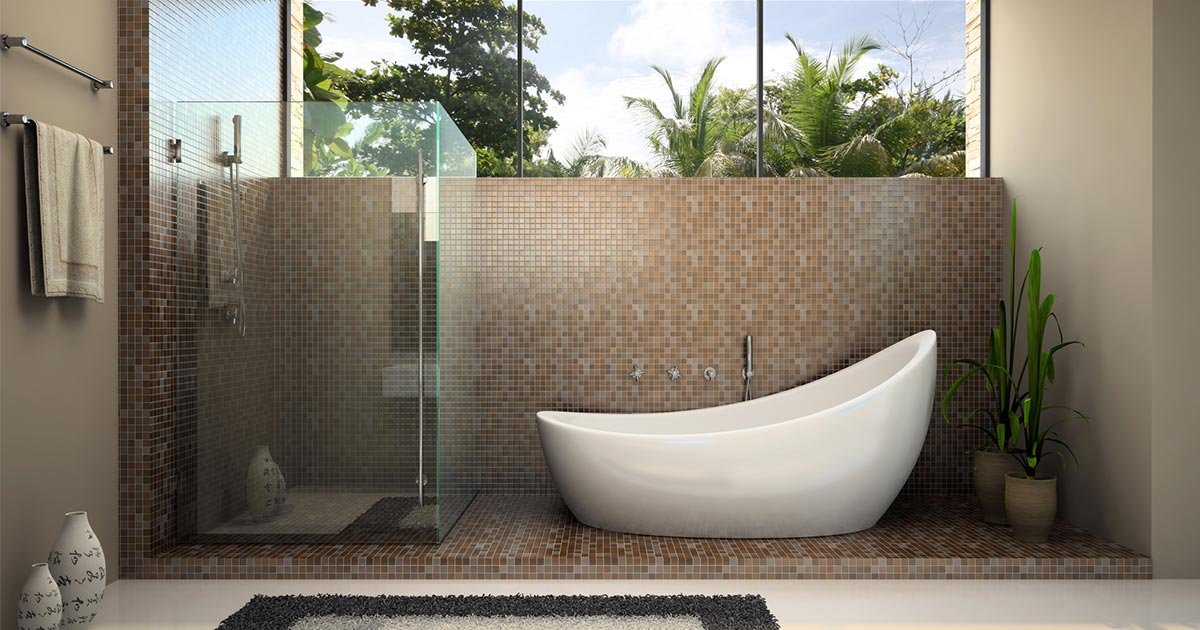 It feels great when your bathroom matches your lifestyle and provides an experience that you have always wanted to achieve.
Fortunately, there are numerous bathroom ideas that you can use to achieve astounding modern effects. Here are a few below.
Include Beautiful Views of a Private Garden
There are so many possibilities when it comes to bathroom renovations. You do not need to own a big or country home to enjoy nature as you take a shower or bath. How is this possible?
An expert will draft up a design for remodeling, which will include a private garden (if one does not already exist) and your new bathroom. These two areas will be separated by a glass panel.
This will allow you to see the beautiful garden and enjoy the tranquility anytime you use the bathroom. This goes exceptionally well when you have a Jacuzzi or a bathtub.
Floor to Ceiling Windows
When looking to remodel a bathroom, you can opt to incorporate floor-to-ceiling windows. This design comes with plenty of advantages, such as beautiful views of the surroundings.
It is even more important when there are panoramic views. Besides, it also allows natural light.
You might be concerned about the privacy that comes with such large windows. However, different kinds of glasses can be used such as tinted glass, to ensure that you cannot be seen from the outside. If not, you can always use drapes, curtains, or shades.
---
Read Also:
---
Industrial Style Remodeling
You could be skeptical about going industrial, but this is an astounding idea. This look will always be specific considering its uniqueness.
You can draw plenty of inspirations from bathroom sinks, rustic cabinets, vanities to utilitarian faucets.
A Shower Stall with Skylight
Apart from windows, another way to gain natural light in your bathroom is from a skylight. It is an addition that is not only impressive but adds a unique showering experience under the moonlight.
Look out for a 'venting' or operable skylight, so heat buildup in the bathroom will not be a problem.
Spa Bathroom
Everyone loves the feeling when they step into a spa and have a treatment done. When sprucing up your bathroom, you can create your own intimate spa-like space.
Luxury may not be in abundance in this case, but at least you will achieve what you need.
This is best when you have a large bathroom but no need to worry if not. You can change a few things such as curating candles, treating your towels with a favorite scent, and being creative with storage space.
A marble countertop, Jacuzzi, freestanding traditional bathtub, dimmer lights, and a chandelier will all go a long way in creating your own private spa bathroom experience.
Multi-Colored Finish
Perhaps you prefer a colorful bathroom. With all the different colors available, this will not be a hard nut to crack.
Besides having differently colored lighting, you can achieve this with multi-colored marble counters.
Keep in mind that the color scheme will depend on the house concept, the aesthetic appeal that you look forward to, the feeling you want around, and the style preferred.
Colors add life to your bathroom and resonate with your character. Whether you prefer a classic or trendy, the colors should be relaxing. Those that make you comfortable and brighten your mood.
Remember that the colors should have a direct and immediate effect on your mood and attitude.
Install a Steam Shower
For a modern bathroom, and if you like the spa experience at home, a steam shower would be a great addition. It is excellent in detoxification, enhances circulation, and soothes anxiety.
It helps in releasing stress and boosting your skin health. This explains why, for centuries, steam has been part of treatment options.
An experienced bathroom contractor can create a shower cabinet during remodeling. In the cabinet, there can be an overhead shower fixture.
Once it is turned on, vapor falls. It feels like a warm rain that you have full control of. Depending on preferences, you set it to a mist or increase the hot water vapor.
It is relaxing and cleans the body as required. Imagine having a steam room in your home! This will be your small spa.
Vintage Bathroom Fixtures
As you remodel your bathroom, whatever result you prefer, always go for something timeless. Vintage bathroom fixtures are classic and add style and class perfectly.
From towel rings, faucets, to showers, there are numerous vintage bathroom fixtures options.
One of the most versatile and durable materials for this option is brass. For example, you can opt for an antique brass mixer, faucets, and hand shower. Also, you can install shiny tiles and incorporate brass tones.
Solid brass will also increase the value of your home since it is high-quality material.
Large, Free-Standing, and Sunken Bathtubs
Whether you choose a fiberglass, acrylic, or ceramic freestanding tub, this will transform the bathroom significantly. If you want something a bit more unique, you can go for wood, natural stone, or metal tubs.
With a modern design, you can get rectangular, square, and even oddly shaped ones. If a free-standing one does not work for you, go for a sunken one.
The latter is built into the floor, unlike the one placed on it. The design for a sunken bathtub is also cheaper and gives seamless aesthetics.
It brings a feeling of being far away from home on vacation.
Conclusion
Bathroom remodeling ideas for modern space are endless. Being on the lookout for the latest designs will give numerous options.
From sunken bathtubs, solid brass fixtures, multi-colored finish, steam shower, industrial style remodeling to half bathroom, half garden options, there are many astounding ideas.
To achieve the best results of an idea you might have, hire an experienced bathroom improvement contractor.
Whatever your imagination of a perfect bathroom is, can be turned into a reality.