Best Home Organizer Products for Each Room — The best home organizer products keep you and your house in order, without any fuss or clutter.
Products that can keep any room of your home in order can vary in price, and some might look good, but don't offer much in the way of the actual organization. So what are the best ones to look for?
Best Home Organizer Products to Get Your Home in Order
Finding the best home organizer products is not just about organizing, it is about something that looks good, ties in with the decor, and truly gets your house decluttered.
The best products to organize each room of your home are looked at here including clear corner storage for bathrooms, modular storage for closets, a magnetic spice rack for the kitchen, a giant LEGO block storage box, and a customizable drawer pegboard for the kitchen, or to organize a craft room.
Pegboards – Kitchen, Craft Room
One of the best home organizer products you can buy, as well as being the most versatile, is a pegboard. The more traditional types of pegboard are perfect for garden organization, although there are newer, more stylish wooden options that allow you to organize your kitchen drawers too.
The Hardware Hut, offers some great drawer storage products, including the interchangeable pegboard system. You simply place the mainboard into your drawer, and customize it to your needs, using the simple drop-in pegs that come in the set.
This way you can create much more room, without the confines of "regular" spacings that come with other drawer organizers. These are also brilliant when decorating and organizing a scrapbooking room.
Giant LEGO Brick Storage – Playrooms & Kids Bedrooms
Due to their nature, kids' areas of the home are without doubt the most cluttered. You can make it easier for your children though, by making storage options more appealing and user-friendly when looking at playroom decorating ideas.
For lovers of blocks, you can't go wrong with the new giant LEGO Brick Storage range. Available in a multitude of different colors, kids will know for sure what belongs in this box as it is a giant block of LEGO that is really a box – there is also a giant LEGO storage head available too.
Just like real LEGO, these boxes can stack easily on top of each other too, so your kids can play a giant game of blocks even when everything is tidied away.
Modular Storage System – Bedrooms
We could all use a little more closet space; often it isn't the amount we have, but how it's organized is the key. Conventional wardrobes have a rail and a shelf, and very little else. By using a modular storage system, you can maximize the space you have, as well as customize it to fit your needs.
Decorating with wire shelving is no longer just the domain of kitchens and home offices. By looking at what you need the storage for and ordering only the storage that this demands, can you keep clutter to a minimum and organization at a maximum?
The space taken up by a conventional wardrobe can be effectively doubled in terms of its usage of space by using a modular storage system. You can either keep it open (pictured) or simply select the storage items that suit you and incorporate them into your existing closet.
Corner Organizer – Bathroom
It's important to keep the smallest room of the house as decluttered and organized as possible. There is a multitude of options, but the best home organizer products for the bathroom make effective use of the space available.
Corner storage units are ideal for making use of a neglected space as well as not interfering with the general feel and space of the room.
You don't even have to install a wall-mounted unit, just make use of a corner by a sink for organizing your small toiletries, such as this clear corner organizer.
As it's see-through it has the advantage of matching to whatever your decor is too. There are also coordinating tissue boxes, jewelry, and make-up organizers in the same range.
---
Read Also:
---
Magnetic Spice Rack – Kitchen
A kitchen is one place that benefits not only in aesthetics when it is organized, but also makes the process of working in a kitchen much more efficient. Spice racks tend to take up a lot of space for something that you may not use that often.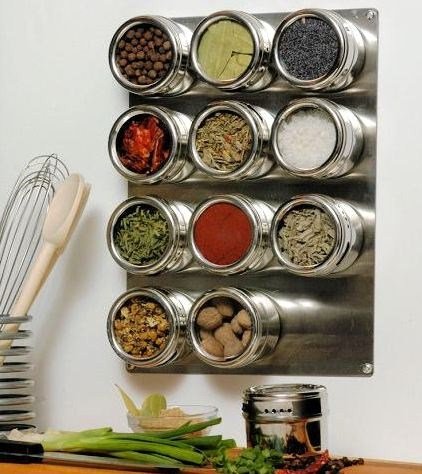 Consider making use of a forgotten space in your kitchen, including a magnetic spice rack. These are easily affixed to the side, or inside of a kitchen cabinet, underneath a cabinet, or as it is magnetic, straight onto the front or side of your fridge (whoever thought the outside of your fridge was a storage area waiting to happen!).
The clear lid design makes identifying spices and herbs a breeze too definitely one of the best home organizer products around. Try shopping around for smaller versions of storage and organizing solutions for the home, and make use of spaces that are otherwise neglected to install them.