We all need more space in our homes, whether it's tripping over toys in the playroom, a cluttered bedroom, or just the need to be more organized and clutter-free, household storage solutions are a must. Stores can charge a lot for something basic, but we can do better.
For more garden storage solutions, you can find more inspiring ideas from this Best Outdoor Garden Storage Box – Buyer's Guide from our partner website.
DIY Home Organization for Hallway
A hallway is usually either a wasted space or crammed full of junk – there is a happy medium. This area of the house is one of the best for fitting in storage, whilst still looking unobtrusive.
Whatever size of the hallway you have, storage that fits closely to the wall with plenty of nooks for shoes, umbrellas, and knick-knacks, is easy to fit in.
If you can't find one like the one pictured, then try buying plain wooden boxes, and attach them together with a strong bonding solution (No More Nails, for example).
You then have complete control over the size and formation of the boxes. This can then be painted to coordinate with your hallway's color scheme.
For those of us with even more limited space, a quick and easy DIY Organization Ideas for Small Spaces is to buy small baskets, make a loop out of rope, cord, or ribbon, and attach it to the basket to be hung on small hooks on the wall – try giving each member of the family their own personalized basket, to keep small items in their place.
DIY Home Organization for Living Room
Living rooms need to be cozy and inviting, instead of cluttered, so the real key here is organization. Buying products that have a dual purpose is a great way of incorporating storage, without anyone realizing it's there.
Footstools that lift up, to reveal a storage box underneath, a TV stand that has plenty of cupboard and drawer space is a must for keeping DVDs and games tidy, you can even buy coffee tables that have built-in drawers or a lift-off top.
For household storage solutions: DIY organization ideas for small spaces that put everything out on display, you really need to take advantage of any alcoves and nooks in your living room –perfect if you have an odd-shaped great room.
Shelving can be pushed back into the alcove to put candles, vases, and books out on display, or you can use them to store pretty boxes, that keep other items hidden away.
---
Read Also:
---
DIY Home Organization for Kitchen
A kitchen, in its very nature, already embraces the storage solutions culture, with cabinets, pull out pantry units, and racks that keep pans out on display.
But if you still need more space in this room make sure you utilize the space to the full:
A simple DIY organization ideas job is to make two storage solutions out of one –fit hooks, small shelves, or rails to the inside of cabinets.
Install floor to ceiling cabinets in some areas to make full use of the space.
Use the tops of units to store items that you don't use very often.
Decide what could live elsewhere –the utility room and garage could house washing solutions and recycling bags for example.
DIY Home Organization for Playroom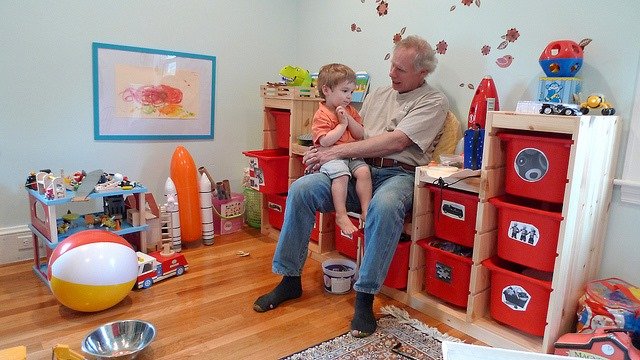 Ok, so the playroom is never going to be a room that is kept tidy. But it does minimize accidents and lets your little ones find things easier.
If there is a place for everything (even if it doesn't stay there long). It depends on your playroom decoration and theme, to a certain extent but using items that are dual-purpose is definitely a good technique to use.
Storage boxes that have a seating area over the top of them mean toys have a place to go, and you have a place to sit and read with your child too.
Putting images of toys, or words and letters for them to learn, with a related themed picture, also let your child know where to find something, as well as teaching them too.
Wall-mounted shelves, that are affixed high on the wall, give the room more of a feeling of space, as well as keeping items out of a child's reach.
DIY Home Organization for Your Bedroom
Although it is just meant to be a place to sleep. A bedroom can often become a room to store bed linen and duvets, outdoor clothing, and sports equipment too. This is the room where calm and relaxing should be the order of the day. So how can we combine the two:
If you don't have a divan bed (a bed with built in drawers). Then consider investing in storage boxes on casters that can slide underneath the bed.
In a small room, sliding wardrobe doors are a good idea that takes up less room, and you can take this one step further by making them mirrored doors, to create the illusion of more space too.
Fabric storage boxes, painted wooden boxes, or attractive hat boxes are all household storage solutions, that look good as well as performing a function. If you don't have built-in wardrobes make use of the room on top of them to store the boxes.
Consider making a headboard, that doubles up as a storage space too. All you need is to pull the bed away from the wall and consider how much space you can utilize behind it. Using this is a starting point, a simple open-ended box can be made out of ply-wood. Either add a small hinged door, leave it open at the top for easy access, or cover it with a coordinating fabric – A DIY home organization for storage solution created with ease.
Low-level shelving is another easy DIY home organization job to fit, that is more in keeping with the feel of a bedroom, and can even double up as a bedside table.
DIY Home Organization for Your Bathroom
A bathroom is a room that is so easy to look cluttered, even if everything is in its place. Plenty of units, and hidden storage solutions, help to create a more streamlined look to the smallest room in the house.
Create a simple household storage solution by purchasing a cheap box frame or cabinet carcass, and affixing it to the wall, with a mirrored door. It looks just like a mirror but has hidden storage behind it.
Hideaway items like towels, and children's toys, unless you present them nicely on open shelving as a finishing touch.
Corner storage units take up minimum space but offer plenty of hide-away options.
Look for bath units that have hidden storage within them. Modern designs have an extra section at the end of the bath for lift up or pull out storage.
Installing a faux wall in an odd-shaped bathroom. Makes it feel more logical and ordered, whilst still giving space for storage, behind the wall.
Whatever your storage dilemma, in whichever room of the house. There are DIY Home Organization and DIY Organization Ideas for Small Spaces for you.
Other than this, visit Organized Lifestylez for more such ideas about home organization. Learn more about Organized Lifestylez by clicking on the link.