While some people opt to expand their living spaces by adding rooms or moving to larger homes, this isn't always an option. The good news is that there are plenty of ways to make your home more functional, even if you have little space to work with.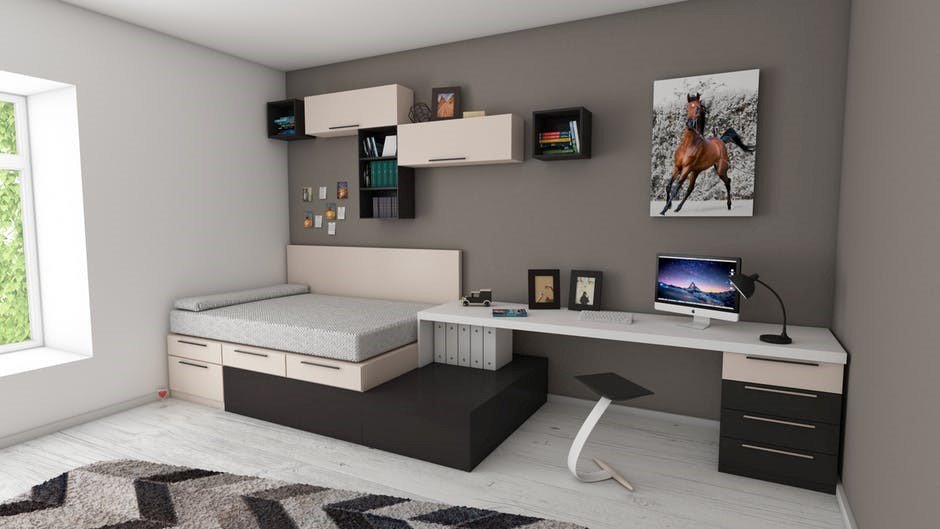 Adding multifunctional furniture for small spaces is one of the best options for getting more storage and display space. Keep reading to find out more.
Importance of Multifunctional Furniture for Small Spaces
Multifunctional furniture can be a great way to maximize space. Depending on the design, such furniture can incorporate several different functionalities, such as providing storage, seating, and working space.
This is particularly useful for small apartments or home offices, where living and working in the same area can be challenging.
Due to the flexibility, it provides, multipurpose furniture is not only an essential part of making even the smallest spaces livable, but it can also make those spaces more aesthetically pleasing.
Therefore, investing in multi-functional furniture can be a wise decision if you're looking to save space and money.
---
Read Also:
---
List of Space-Saving Furniture
To maximize a small space, multifunctional furniture should be your go-to. The multifunctional table is vast and includes multifunctional sofa desks, storage ottomans, wall beds, and much more. Some of the great choices of multipurpose furniture for small spaces are:
Wall Bed
A wall bed, also known as a Murphy bed, is a foldable bed fixed to a wall. It can be folded vertically to save space when not in use. A wall bed allows freedom in two directions, enabling you to utilize two different functions in the same area.
For example, during the day, the user can utilize the area for activities such as studying or working and quickly and easily unfold it during the night for sleeping.
People with small spaces can benefit greatly from wall beds, as they provide the necessary sleeping surface at night and a functional space during the day.
You can also add desk to murphy bed. Wall beds are low maintenance, making them a convenient and viable option.
Storage Ottomans
An ottoman can be used as both extra seating and a storage unit. Most storage ottomans feature a top that flips up to reveal a space for various items. This makes them perfect for small spaces since it's like having two pieces of furniture.
The extra storage can eliminate clutter and help create a clean and organized space. Another benefit of storage ottomans is that they come in different shapes and sizes. This means they can fit into any room while still providing an ample amount of storage.
They are also available in various colors, textures, and materials, so you can easily find something that fits your interior decor.
Convertible Couch
These versatile sofas come in various styles and colors, making it easy to tailor your design to fit your needs. Many of these couches feature cleverly designed components that allow them to easily convert into a bed, providing seating and sleeping arrangements.
This multi-use furniture also offers added storage space, perfect for making small living spaces appear more organized and clutter-free.
Storage Bed
Storage beds provide optimal storage room beneath the bed. This eliminates the need for a box spring or trundle bed and frees up plenty of floor space.
With the strategic installation of cabinets, the storage beds can be utilized as space-saving nightstands and desks. Selecting a bed with a headboard that has integrated shelving can add even more storage space with the addition of baskets and boxes.
The lightweight design and compact look allow for easy maneuvering and furniture rearrangement as needed.
Nesting Table
Nesting tables are versatile and functional and take up little space. The nesting design means using one set of tables for multiple purposes. You can group them for a larger flat surface or break them up for an even smaller surface area.
The tables can be conveniently tucked away in one compact package when not in use. These tables come in various shapes and sizes, each ideal for creating the perfect multipurpose living space. They have a sleek aesthetic that fits any home decor style.
Staircase with Shelving
It combines the purpose of a staircase with the convenience of shelving, providing optimal dual use. Not only does it provide access to upstairs and downstairs, but it also offers additional storage.
This allows homeowners to hold books, knickknacks, decorations, or even canned goods, making it the perfect combination of utility and style.
It allows users to save room by getting a two-fold furniture piece, and its design is compact, allowing for the storage of items as you ascend or descend the staircase.
Its unique design makes use of otherwise wasted space, allowing homeowners to get more out of their small space, creating more room to relax, move, and work.
Mirror with Shelving
Mirrors with shelving are esthetically pleasing since they provide plenty of extra lighting and can open up the room to make it feel more spacious. They provide the maximum in storage, with both the shelves and the walls around them hosting your items.
This can be an ideal solution for a small room since you can use the shelves to keep your belongings and books without wasting valuable floor space.
Mirrors are also functional as they illuminate reflection, allowing you to get ready in any space.
All in all, these pieces of furniture are great for creating a large amount of space and functionality in a limited area.
Shop Now
In conclusion, multifunctional furniture for small spaces offers multifunctional of more than one piece of furniture. Investing in parts that fit the available space, are high quality, and can be adapted for different purposes will pay off in the long run.
Get the most out of your tiny home, and shop for multifunctional furniture today!
If you enjoyed reading this article, check the rest of our blog for more!