Want to get the best interior ideas for your kitchen space? By reading the article, you will get inspired by a whole list of interesting and fresh ideas to make your home look fabulous and stylish.
These Interior Design NSDGROUP solutions will make you fall in love with your cooking space.
1. Scandinavian Style Kitchen
Want to immerse yourself in a minimalistic and reserved Scandinavian-style kitchen? If you are a fan of conservatism and enjoy simple designs, this design style will be of great use for you.
All the details combine without any extra unnecessary details. It will be a unique and interesting solution for your home area.
Want to try some new and fresh ideas? A Scandinavian style is perfect for everyone.
Photo: Interior Design NSDGROUP
2. High-Tech Kitchen Idea
Are you bored with all these sweet and curious designs? You can choose a high-tech alternative.
This option is a great idea for busy people who appreciate the functionality and more space in their kitchen.
Simple design and no extras will make the use of your kitchen more comfortable.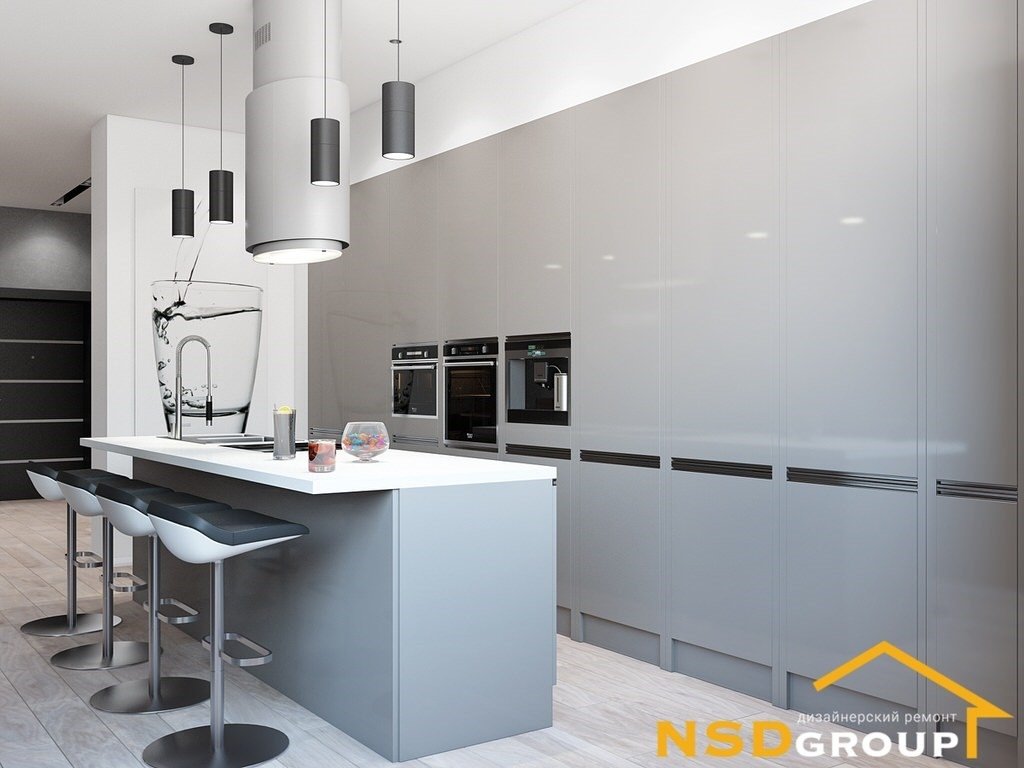 Photo:https://nsdgroup.com.ua/en/str-dragomirova-lcd-novopechersky-yard-apartment-for-a-foreigner/
3. Pleasant and Soft Style
If you want to make it cozier, you should opt for a more soft style. No strict details.
Everything is designed in calm shades to make the kitchen look calm and comfortable. You won't leave this place for no way.
Photo:https://nsdgroup.com.ua/en/lcd-zarechny-126sq-apartment-with-panoramic-views/
---
Read Also:
---
4. Bright and Juicy Design
If you want to enjoy every morning at home, this sunny design will be a perfect choice for you.
Bright accents will make all the difference to your mood. It looks simple but juicy details add some chic to the style.
Photo: https://nsdgroup.com.ua/en/lcd-sky-land-sunny-apartment/
5. Modern Style Kitchen
The mix of juicy colors with a combination of reserved grey shades will change the way your kitchen space looks.
This is a great alternative to simple modern style variations. Yellow parts accompany the red spot in the center. It looks stylish and convenient in use.
Photo:https://nsdgroup.com.ua/en/lcd-lipinka-one-piece-dress-for-a-couple/
6. Chic Style Kitchen
Want to add more classic lines and motives to your interior design? A marble kitchen table and the painting on the wall will transform your living area and make your guests amazed by the exquisite design idea.
Photo: https://nsdgroup.com.ua/en/lcd-cristal-park-97sq-for-a-married-couple/
7. Chic Minimalist
Want to get more stylish when eating your breakfast or cooking dinner? You should opt for a chic alternative design.
You won't be loaded with huge and sophisticated details. Everything will be in one unique style with some deviations to make the kitchen look bohemian.
Photo: https://www.hola.com/decoracion/galeria/20200128159136/decoracion-interiores-casa-moderna-minimalista/1/?viewas=amp
8. Stylish Touch
Have you ever wanted a ticket in warm shades? With this great design idea, you will create the warmest and coziest place to meet with guests and invite friends.
Warm brown colors make the whole interior lighter. The marble surface and an intricate pattern on the tables make the design idea a great choice for different people.
Photo: https://3ddd.ru/galleries/gallery/springtime
9. Have a Small Space?
If you have a small kitchen space, but still want to make everything look chic and stylish, this design idea is for you.
Colors are nicely combined to create variations of milky and caramel shades. Doesn't it sound tasty?
Photo:https://www.homebook.pl/artykuly/1558/jak-oddzielic-kuchnie-od-salonu-pomysly-dla-otwartej-kuchni
10. Spacious Kitchen Room
Sometimes we just want to go to the kitchen, drink a glass of water and enjoy a simple breakfast in complete silence.
If this is your choice, you will appreciate this simple kitchen design style. A bright yet calming deep green color is a nice way to start your day.
Photo:https://www.idealhome.co.uk/news/magnet-create-painted-kitchens-225343/amp
11. Laconic Kitchen Style
Black colors and simple lines will never compete with other kitchen styles. This design idea wins all the points.
The variations of a Black color make the design look expensive and solid. It is well-combined with a soft texture which brings elegance to the whole house.
Photo:https://www.cosentino.com/en-au/case-studies/black-beauty-a-bold-kitchen-with-silestone-negro-tebas-by-vicello-kitchens/
12. Village Style Living
Want to relax and have some rest from the noise of the city? This night-sky color and velvety surfaces are perfect for calm interior design styles.
A subtle touch of nature and the prevalence of deep colors is a préfet combination to play into your mood every day.
Photo:https://www.simodesign.com/wp-content/uploads/2019/07/Braeburn.jpg
If you want to make your cooking space look pleasant and adore everyone who steps inside, you should pay attention to the overall style.
With unique and well-developed design solutions your kitchen area will shine and look anew.