Planning a kitchen renovation is not a walk in the park. It's something that requires careful consideration, patience, and knowledge and might even require consulting an expert home renovator.
But there are some great ideas out there on how to plan a kitchen renovation and these step-by-steps will take you through everything from what questions to ask to where you should start and end.
Planning Kitchen Renovation Step-By-Step
Set your Budget
You should have a rough idea of the amount of money you have to spend before you start. It's best if your renovation budget is broken into sections so that each time something needs fixing, you don't have to look for more money.
Selecting Your Material
Have a look at some kitchen design blogs or Pinterest boards to find out what materials are trending at the moment.
Check out what materials suit your budget as well as what people in your social circle are choosing.
Where to Start
When deciding where to renovate first, it is best to choose the area of your kitchen that is most used. If you have an island in the middle, then you could consider starting there. Or maybe start by replacing those old appliances (which you may have chosen when moving in) with new ones.
Choosing Appliances
Appliances are an important feature of any kitchen, as well as a focal point, so they should be given careful consideration before purchase.
There are many appliance brands to choose from, as well as a wide choice of price ranges. When buying new appliances for your home, it is best to buy energy-efficient appliances which may help qualify for government rebates.
If you renovate in such a way that you'll have to reroute utilities, a reputable home renovator is essential, as they have expertise in hiring licensed contractors with valid permits.
Tiling
Tiling can make a great flooring option for optimum cleanliness and durability. If you are purchasing tiles, make sure they are the right ones and that they will suit the space.
If you are out with a clean slate, look carefully at where you plan to place your stove and decide if it might not be possible to clear away some of the old tiles from around the room.
A slate floor costs more but comes in an endless variety of colors and patterns, so it can be used for everything from kitchens to bathrooms.
Fitting & Planning Your Layout
After deciding on the style of your kitchen, it is time to start working out your layout. It is best to draw up a basic plan on paper and make sure you have enough room for everything.
You should also ensure that you have an adequate waste disposal system in place before you start tearing down old tiles or cupboards.
Removing the Old
At last, it is time to start removing the old stuff but don't get carried away. Remove only what you have to and keep everything else intact.
This will save you time later on and will make for a better-finished job. Always work from the outward in and keep everything neat at all times it is important to put things back where they came from so that there is no confusion when you come back to your kitchen in various stages of renovation.
---
Read Also:
---
Benefits of Kitchen Renovation
There are a lot of benefits to a kitchen renovation. If you're still on the fence about doing a kitchen renovation, it's best to make step zero a run-through of all the benefits. Here are a few that stand up.
Increase the Value of Your Home
Kitchen Renovation can increase the value of your home by increasing your home's marketability.
The ideal location to improve your kitchen is in a home near a good school, shopping malls, and parks.
Increase Convenience
Kitchen renovation can increase convenience by providing better and more efficient cooking options like the kitchen sink, which makes washing all your dishes easier.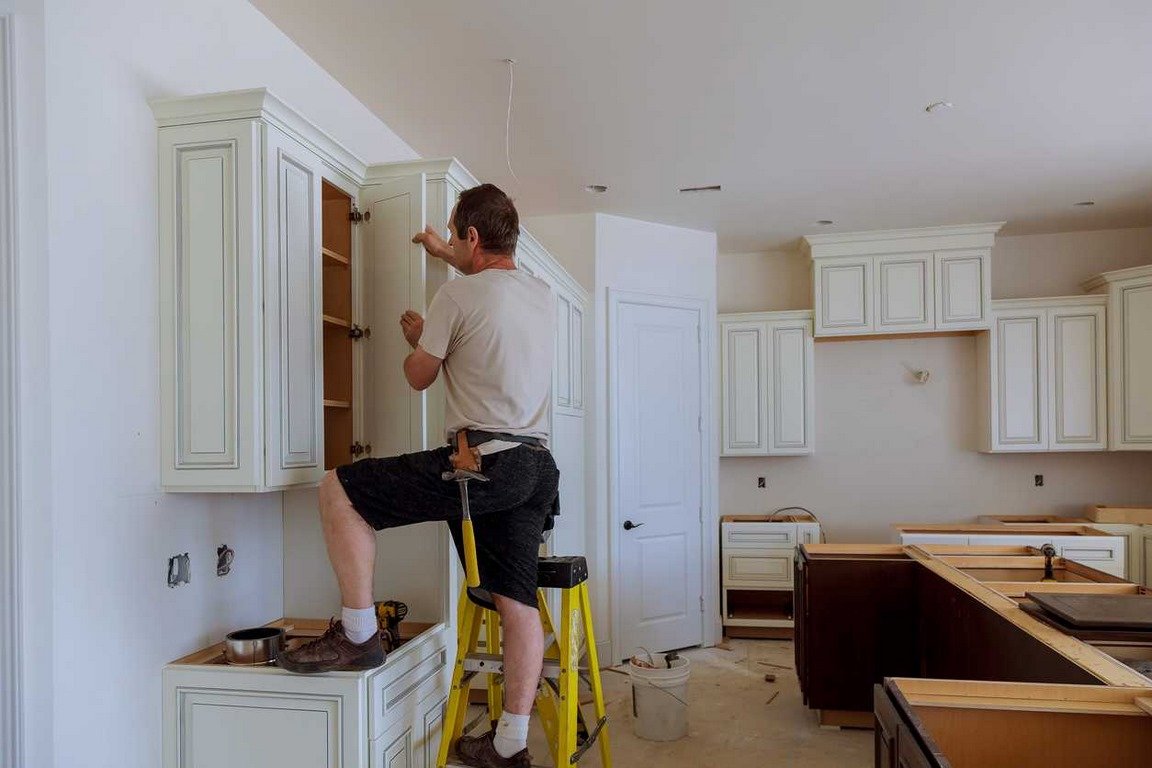 Improving the Space
The kitchen is the most important part of our home. The modern kitchen maximizes space and is designed to accommodate a variety of cooking tools.
Improve Hygiene
It can also improve hygiene in your kitchen by making it hygienic by installing a proper ventilation system that keeps the area free from dust, smoke, and harmful air.
Saving Time
By renovating your kitchen, you can save time by improving the kitchen's layout, which will make it easy to move around, and also a better storage system.
It can also save time by installing power tools like microwaves which will reduce the time taken for cooking.
Reducing the Cost
The kitchen renovation is one of the most cost-effective ways of improving your home because it upgrades your kitchen and improves its value rather than buying a whole new house.
Increasing Convenience
Kitchen renovation can increase convenience by providing better and more efficient cooking options like the kitchen sink, which makes washing all your dishes easier. So there you have it! You can now get ready to plan your project.