When you envision a house, what are the first features you think of? Chances are, you conjure up an image of a facade, windows, and doors.
The doors can really make or break a home. Not only are they your first line of defense against intruders, but they're also something that gives your house personality. So the ones you choose are extremely important for both security and aesthetics.
If this has gotten you thinking about new doors for your home, then keep reading. We'll give you some things to think about so you can choose the right ones.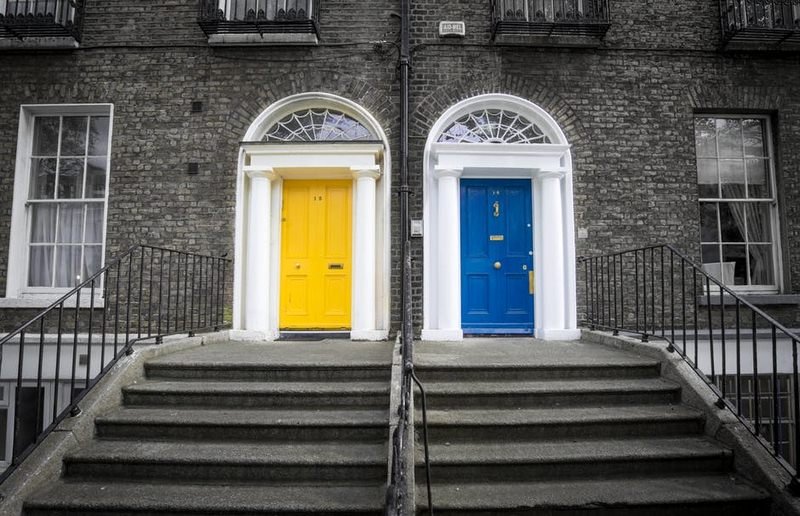 The Material
Here, we'll explore a few materials and show you the pros and cons of each.
---
Read Also:
---
Wood
Most front doors are made out of wood since they're sturdy and have beautiful, unique patterns. They give a luxurious look and hollow ones can last 20 or 30 years.
If you want wooden doors that last longer, consider getting solid core ones, as they can last up to 100 years. These also provide better security since they're harder to kick down or through.
The downside to choosing wood is some can be pricey, such as the solid wood option. Also, they may expand and contract with the weather, which can cause them to wear down more easily. Lastly, they're one of the least energy-efficient options, which means your utility bills may go up.
Vinyl
For those who have a small budget, vinyl is the material to choose. However, it's not a very good long-term investment, as they only last about 20 years.
Also, since they're hollow, vinyl doors aren't a very secure material. Typically, you'd use them for screen and storm doors, so choose an outer door made of a different material for maximum security.
Fiberglass-Composite
Fiberglass doors are more expensive than vinyl but cheaper than wood. Perhaps you love how wooden doors look, but can't afford to get the one you have your eyes on. You can get a reasonable substitute with a fiberglass-composite door.
The plus side of choosing this material is it can last for over 100 years. This means they matchwood in terms of durability.
You can get either hollow or solid fiberglass doors. Hollow ones are cheaper but will break more easily. You may want to spend a little extra money for the solid option for upgraded security.
Steel
Steel doors offer the best security and they can outlast wood and fiberglass. They're extremely sturdy and also won't warp whenever the weather changes. Plus, they can be almost as cheap as fiberglass doors.
The one downside to this material is it can look harsh, especially if your home's aesthetic is more natural. While steel certainly isn't as beautiful as the other options, if budget and security are your top concerns, then this option may be the optimal one for you.
The Design
As you may already know, front doors don't just come in a plain, solid panel. One of the most basic options is the color of your door; make sure you choose one that goes with your current color schemes. If you want to go for something fancier, you can choose one that incorporates several hues.
After choosing the color, then you should consider the designs and styles. Here are a few to think about.
Decorative Glass
Decorative glass can be a nice touch to your front door. It can break up the monotony of solid material, whether it's wood or fiberglass. Plus, it can let in some natural light.
For the decorative glass, there are many styles and designs within this category. You can go as simple as a single pane or as complicated as multiple panes in different colors and artistic glazing.
One thing you need to be aware of with decorative glass is it may lower your security. Burglars can smash the glass and possibly gain entry to your home.
Carvings
If you enjoy how decorative glass looks but are deciding against it due to security concerns, you can get carvings on your wood door instead. These can also be as simple or as intricate as you'd like.
Carvings on your wood door can add depth and dimension to it, not to mention more beauty as well. It can elevate your home's elegance and give it better curb appeal.
Panels
For those who don't want a simple, solid door, panels are also something you can get. This is another design that can add depth and dimension to your front door.
While most people get paneling done in the same shade as the main material, you can also pick different tones to give your front door a unique look. By choosing bold colors, you can make your door one all the neighbors will be talking about.
If you want to get a good idea of what contractors do for these jobs, then take a look at this door installation checklist.
Get Fantastic New Doors for Your Home
Your door is the first thing your guests see, so make sure you have something beautiful for them to view. The ones you choose can also make all the difference in your home's curb appeal, which can then get you a better selling price should you decide to move in the future.
By using our guide on buying new doors, not only will you be able to choose doors that suit your personal taste, but also won't go over your budget. Make a small investment now, and you'll see what great value new doors can bring your house in the future.
For more interesting articles, please check out our other blogs.