Learning how to decorate country-kitchen style does not have to be difficult, if you make some very basic decisions early in the process. While country kitchen décor and ideas abound, mixing and matching takes a bit of finesse.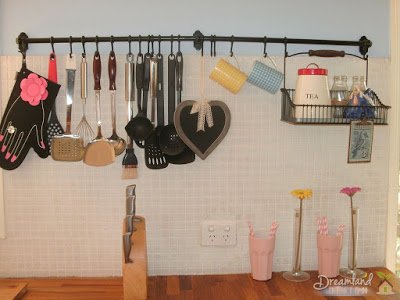 How to Decorate a Country Kitchen
The Country Kitchen
It is a well known fact that kitchens are frequently the hub of activity within a home. Cooking, eating, socializing and even quiet reading can take place at the kitchen table. In a world of glass and chrome, country kitchen décor adds an element of homeyness that modern designs have all but eliminated.
Quintessential elements include the furniture, decorations, curtains, light fixtures and little whimsical elements that tie together the décor. Prior to learning how to decorate country-kitchen style, it is crucial to decide on which country to emulate. For example, a French country kitchen features different elements than Italian country kitchens.
While the former embraces airiness, blond woods and blue as well as burgundy hues, the latter glories in open fires, wood-burning stoves, dark woods and bold reds. Mixing and matching different country kitchen design ideas is not generally a good idea, since it tends to prevent the actual tying together of the elements.
Basic Elements of Country Kitchens
Wood is an important element in the country kitchen. A wooden table with matching chairs or benches is an excellent start. Butcher-block is an acceptable countertop. Convert some kitchen cabinet doors to hold glass or chicken wire inserts. Behind the glass or wire should be the fine china or ornamental glass bottles. For the sake of economics, choose the central kitchen cabinet that coincides with the main focal point of the kitchen – or the one that directly opposed it – for the display.
Bring back the cookie jar, sugar bowl, bread box and pepper mill. For an Italian country kitchen, invest in a red-and-white checkered tablecloth. Basic white works fine in a French décor theme. A hanging pot rack may be too much in a very small space, but in a larger kitchen it is an essential element of the country feel. Suspend cast iron cookware for the Italian feel and copper cookery items for the French accent.
A Word on Roosters and Flowers
Wall bordering, accents and also country kitchen curtains frequently sport roosters. Although a decidedly down-home element, overdoing the rooster design turns an authentic country kitchen into a caricature of itself. Avoid this country kitchen decor cliché by using floral décor for the decorative knickknacks and prints. In fact, do not forget to frequently place a vase of fresh flowers onto the kitchen table!
French country kitchens would be incomplete without cobalt blue bottles that are added for ambiance and dried lavender that is hung from the windows. The Italian style expresses itself in the display of wooden cooking utensils and garlic wreaths hung up. Add a couple of salami sausages for added visual appeal.
Once you discovered how to pull off a kitchen remodel and decorate a country kitchen, you will revel in the feelings of comfort and welcome it provides. The odds are good that before long you might consider continuing the country theme to embrace the other rooms' décor as well.