It's no secret that Americans take their lawn care seriously. Every year, Americans spend nearly $30 billion on landscaping efforts.
While landscaping and lawn care are top priorities to a lot of people, there are many Americans who don't know as much as they'd like about caring for their lawn and improving the appearance of their yard.
Are you part of this group? Would you like to know more about how to do landscaping properly during each season of the year? If so, then you've come to the right place.
Read on for some seasonal tips that will help you keep your yard looking fresh and inviting all year long.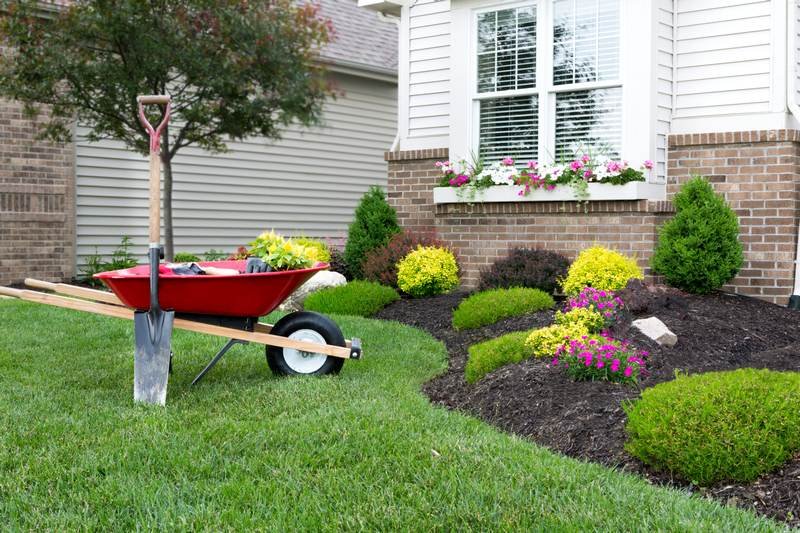 ---
Looking for the best dump cart for lawn tractor? Click the link to find your best choice.
---
How to Do Landscaping in Spring
The spring is all about welcoming warmer temperatures and getting your yard ready for planting. Take a break from checking to see options for new window treatments and start prepping your yard for longer, sunnier days.
Here are some must-do landscaping tasks you ought to complete during the spring:
---
Read Also:
---
Inspect Trees and Shrubs
Take a walk through your yard and look at your trees and shrubs. Look for damaged or broken branches and prune them yourself or call a professional to come and prune them for you.
Test the Soil
Now's the perfect time to test your soil, too. Make sure it has the ideal pH balance and a good nutrient profile.
Fertilize the Lawn
Depending on the type of grass you have in your yard, spring is a good time to fertilize. Look into your grass type and do some research to see when fertilization is needed. If you do decide to fertilize, look for a slow-release fertilizer that promotes better nutrient absorption.
Get Ahead of Weeds
Consider applying a pre-emergent weed control product now, too. It's much easier to prevent weeds early on than it is to try to get rid of them once they've fully popped up.
Clean up Planting Beds
Get rid of old leaves and debris in your planting beds. Add a fresh layer of mulch, too, to keep the soil moist and plant roots cool.
Inspect the Irrigation System
Finally, be sure to inspect your irrigation system. Make sure everything is in good working order to keep your lawn hydrated as the weather warms up.
---
How to Do Landscaping in Summer
If you prepare your yard well during the spring, you'll have less work to do in the summer. You'll be able to just focus on maintaining your yard's current state.
Some landscaping steps you should definitely take to maintain your yard during the summer include:
Set a Mowing Schedule
If you want your home to look nice during the summer months, you need to make mowing a priority.
Set mowing scheduling early in the summer (or late in the spring) and stick to it. If you have a hard time remembering to mow the lawn, consider hiring a professional to come and mow at regular intervals.
Water at the Right Time
Never water your lawn during the middle of the day. This wastes water. Wait until later in the day or water early in the morning before the sun comes up.
Watch for Weeds
Keep an eye out for weeds, too.
If the weed prevention product you used in the spring is working, you shouldn't have to worry too much about weeds. Watch out for them, though, and make sure to take care of any that show up as soon as possible.
---
How to Do Landscaping in Fall
Your fall landscaping is all about winter-proofing your yard as much as possible. Fall can be a busy time for landscaping, but it's also an important time.
The following are some tasks to complete in the fall in order to preserve your lawn during the winter:
Pull Weeds
If you pull weeds now, you'll have fewer to deal with next spring. Take care of any lingering weeds before it gets too cold outside.
Rake Debris
Rake your lawn regularly and get rid of leaves, twigs, and other debris. This will ensure you have a healthier lawn next spring and summer.
Fertilize
Don't forget to fertilize your lawn again in the fall. This will give it the nutrients it needs to make it through the winter.
Keep Your Lawn Short
If your lawn is too long, the grass may become matted when winter rolls around. Keep it trimmed to about two or two-and-a-half inches in length.
Turn off Water Lines
Finally, don't forget to turn off your water lines from the outside. This will prevent freezing and potential damage to your sprinklers and irrigation system.
---
How to Do Landscaping in Winter
Most people don't realize that there is such a thing as winter landscaping. In reality, though, there are some important steps you can take in the winter to prepare your lawn for the spring, including the following:
Apply Mulch
Add mulch to your planting beds as the weather starts to cool down. This will keep the roots of your plants warm.
Prevent Water Loss
Apply anti-transpirants to your plants and trees. This helps to reduce water loss and keep the leaves healthy.
Protect Against Snow and Ice
Remove snow from low branches as necessary. Be sure to tie together branches that might be susceptible to heavy snow loads. Be careful not to pile too much snow on top of your plants with your snow blower!
Protect Young Trees
Wrap wire mesh around young trees. This helps to keep them safe from small creatures that might try to gnaw on them during the winter months.
---
Need More Landscaping Tips?
There's quite a bit to keep in mind when it comes to figuring out how to do landscaping properly during each season of the year.
If you keep these guidelines in mind, though, you'll have a much easier time handling the ups and downs that come with caring for a yard all year long.
Do you want to learn more about landscaping? Are you looking for inspiration to spruce up your yard and make it more inviting?
Whatever landscaping information you need, we've got you covered.
Head to the Landscaping section of our site today for all kinds of helpful articles on everything from fencing options to landscaping on a budget.