Everybody loves having the best of the furniture pieces in their home, but all good things come with a price. You may have the perfect bathroom and kitchen care routine, but how do you keep your beloved furniture dust free?
In case your house is loaded with wooden furniture, then the struggle is real, and we could relate to your plight. The wood is like a dust magnet and takes an eternity to have it all neat and clean.
We understand how it feels when even after a rigorous cleaning session, there is always a layer of dust plastered pretty much everywhere. While it is a constant dilemma, let us assure you that it is preventable if you think logically-its a combination of dirt, pollen, and other outdoor particles. A little smart approach can make things better for you.
Well, we bring you quick, time-saving hacks that will help you in keeping the dust monster from invading your house. All you have to do is follow this guide, enjoy skipping the dust duties and yeah, don't forget to thank us later.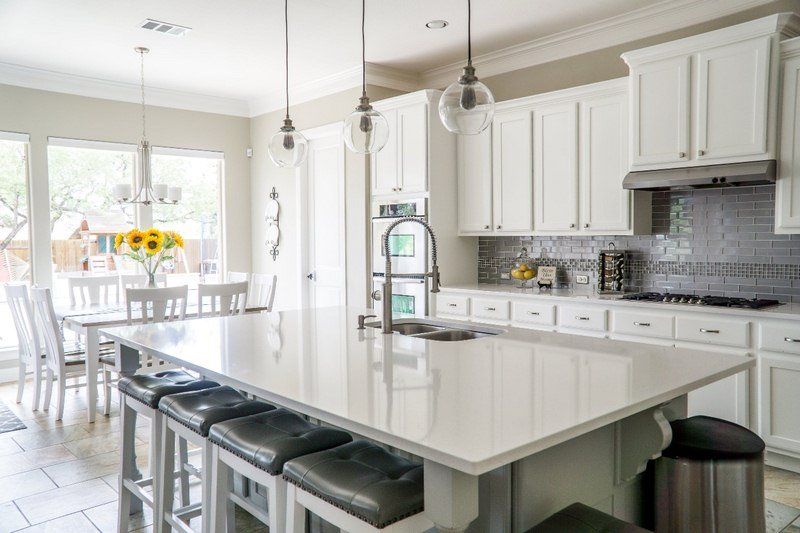 ---
Read Also:
---
The "Keep it Outside" Policy
Because most of the dirt comes flying from the outside, you should probably keep the windows and doors shut for good. We don't mean that you end up suffocating yourself, but try to keep them closed as much as possible.
In addition to this, use the wall to have a "no-shoe inside" zone board put up. It also contributes a lot to all the dust you see here and there. Also, buy a quality doormat to be placed right at the entrance.
Set a Spot to Groom Your Pets
First and foremost, try to limit access to your pets in your home. The petting and all the cuddly sessions can be the reason behind that dust build-up. The brushing you do can also be one reason as it massively produces errant hair and dust.
Therefore, you must set a particular spot where you groom your pets and do not let them enter or roam everywhere in the house. Try constructing a separate shelter for them and groom them outside or in a bathroom. It will also help you in cutting down the cleaning time by half.
The Dusting Measures
You may not have given this a thought, but if you use feather dusters, it likely starts shifting the dust elsewhere around your home. Rather than using a feather duster, it is in your best interest if you use a damp cloth or a moist towelette for all the wiping and cleaning.
Also, since there is mostly wood furniture at homes, towelettes help to leave them squeaky clean. Wood furniture requires high maintenance in terms of cleaning.
So, since you cannot possibly change all the furniture, we would recommend you to switch, the cabinets to at least reduce the cleaning burden. If you are looking for an option that can handle everything from cabinet replacements to new design modifications and appliance applications, then cabinet refacing in Concord might be the answer for you.
Regularly Change the Sheets
The bed becomes a nest where dust accumulates between the fibers of the sheet's fabric and the dead skin off your body sheds. There are a few homes that unintentionally end up neglecting to change their bedsheets for long.
Therefore, take this point as a reminder to keep the sheets and bedding in rotation every week. Other than this, make sure you clean pillows, pillow covers, mattresses, and comforter regularly; preferably once a month. Also, make it a point to get a new cushion every six months.
The Oil Technique
It is a fantastic technique to delay the dust from settling onto your furniture. All it takes is just three ingredients which we are sure every household has. Well, you will need 1 part olive oil, 1 part vinegar and 1 part turpentine oil.
When you apply this blend, it will make the wood less sticky and shinier. This phase is called "feed." After this, it gets rid of all the dust and prevents any more dust settling in for the next eight full days.
Vacuum It Out
They are one of the handiest domestic tools ever. Nothing purifies the air and effectively cleans the floor better than this. If your vacuum has High-Efficiency Particulate Air filter, then it is a plus point because it ensures that it traps every iota of dust and other allergens.
It then makes sure that they are not released back into the air again at any cost. Moreover, since we talked about pets, then it is pertinent to mention that vacuum even manages to scrape off stubborn pet hair pile-ups from the carpet.
Discard Paper and Fabrics
The fabrics and newspapers tend to shed fibers that contribute to dust. We would suggest that you discard any clothing item no longer in use. In case you have some seasonal clothes, we would recommend you store them in a storage box.
Similarly, don't let any old newspapers, magazines or books from piling up. They make room for excess dust accumulation and add to the cleaning time. Hence, make sure you regularly recycle them for your good. If you want to keep them, then make some room at the outside.
Air Purifiers
For this to work effectively, you need to install air purifiers in every room of yours. An air purifier is a permanent solution for dust removal. It controls the dust on a non-stop basis. Such devices pull in the dirt and put a stop to their returning to the room.
As a result, what is left is a dust-free home for you to enjoy. As was the case with a vacuum cleaner, invest in an air purifier with comes in combination with HEPA.
Dust the Broom
Seems illogical? Well, just because brushes are known for cleaning the dirt off doesn't mean the brush itself shouldn't undergo cleaning. If not, then rather than getting rid of the dust, it will instead build it even more.
Hence, it is good to have it run through a bath of bleach or ammonia periodically. If it consists of nylon or synthetic bristles, then consider washing them with just warm water and bleach.
Say a Big No to Carpeting
As much as it makes the room a visual delight, they are pretty high maintenance and a full-fledged breeding ground for dust. Even if you vacuum it daily, it may just not seem enough. Therefore, it is best to avoid carpeting the floors and choose other options. For instance, hardwood, vinyl, or linoleum are some excellent options to fall on.
If this is something you do not like, then opt for tile flooring. We would say, go for anything but carpeting. It will save you a lot of money and, of course, time which cleaning soaks up in itself.
To sum up, it is somewhat impossible to have dust vanished from your house, but the tips above can help you in keeping it to a bare minimum.