Going for a vacation is a great experience that every person should consider after a long period of work, and an aquarium owner is no exception. This will be the time to relax and relieve all the ups and downs of stress.
If you have made a decision to go for a vacation, you need not worry as there are mechanisms available to ensure your aquarium is in good condition. Even on your vacation, you will need maintenance on the aquarium. That will help keep your aquarium in good condition when you are away enjoying it.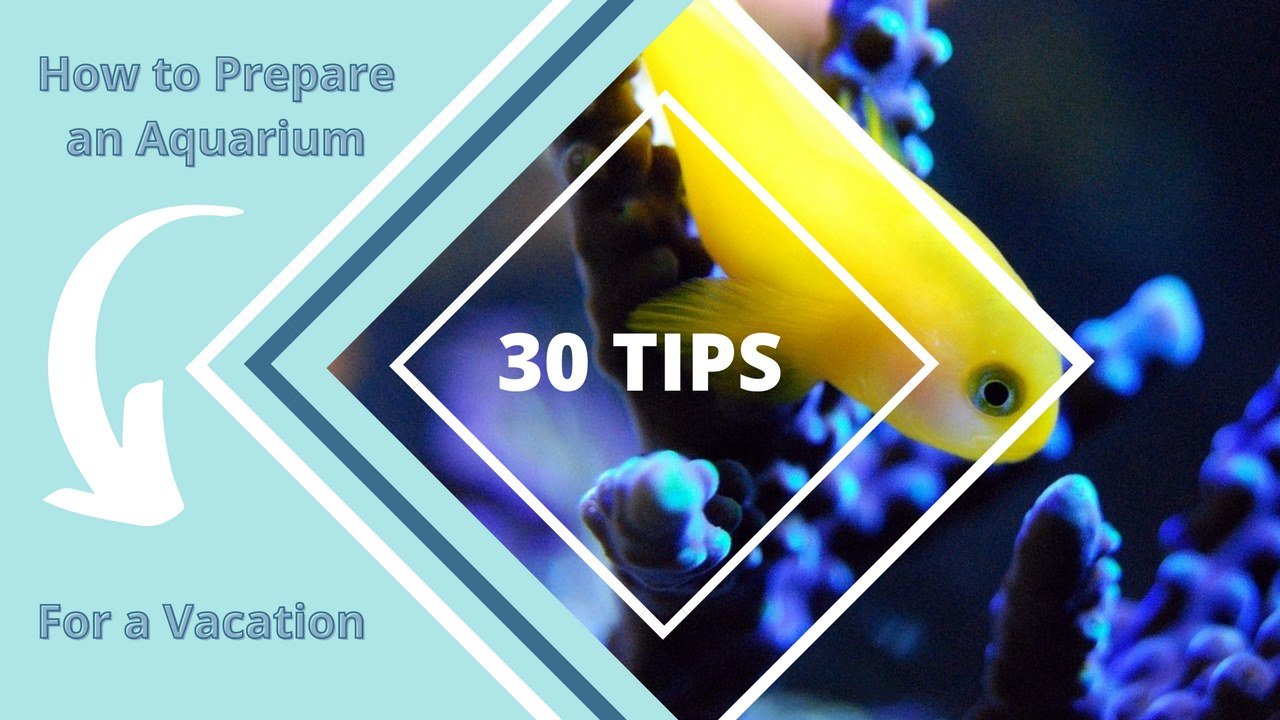 I have gone on several vacations, even outside the country, for up to 6 weeks and met my aquarium in good condition. I always ensure that I have a great aquarium controller that made me feel safe about my aquarium even when I was away. Another great idea is to have a self-sustaining aquarium that requires much less maintenance than typical ones.
In this article, I have some excellent tips on how to easily prepare your aquarium when you are going for a vacation.
Two Important Consideration Before You Prepare the Aquarium
How Long Do You Intend to Go on Vacation?
The first question you need to know is the period you will spend on your vacation. It is for two weeks, three weeks, a month, or even two months. You need to know the time you will spend so that you plan very well for the work that is required of you.
With the short vacations, there are minimal tasks that you are required to perform compared to the long period vacation. You need to ensure that your dosing containers are full, and this will give your Aquarium one of the best experiences.
For the long vacation, i.e., more than a week, there is a lot of work that needs to be done so that your aquarium will survive. Also, ensure everything is in line to give your
Consider the Time of Year You go on Vacation
Before you decide on any method to use for your aquarium, you need to consider the time of the year you will be away. For example, if it's summertime, there are those items that you will need to keep your fish safe and in good condition.
You will need that there is an adequate temperature in the kind of water you are using. This will greatly ensure that your house does not become an ice cube and that the fish will enjoy for the whole period even when you are away.
It would be best if you considered the below tips before you can go on your vacation.
30 Tips to Prepare the Aquarium for a Vacation
---
Read Also:
---
1. Consider Purchasing a Timer for Your Lights
Lighting is something to put into consideration while you are making your decision. If you do not have a timer, it's high time to get one. This will enhance the turning on and off of the lights. It is one of the best things you can do to your tank, ensuring consistency for the aquarium.
2. Feed Less to Save on Cost
If you need to save on cost, you can consider not wasting too much food on the fish as they usually do not consume too much. They only need something that will keep them alive for the time being.
You need to have a feeder, which will help this become a reality. With a good feeder, you will only be required to set on when the fish will be feeding and a particular feed they will consume.
3. Check for All the Plugs in Your Tank
The first thing to check is if all the switches, valves, and connections are in the right order, this should be done one day before you can leave. Ensure that you do not touch anything else after checking for the equipment, so you may not interfere with it.
4. Make Use of an Automatic Feeder
There is an automatic feeder that will make your fish comfortable even when you are away. You are away, you should know that fish can go for a long period without food, and once you have a feeder, all the feeding programs are catered for.
The different automatic feeder has different features that will enable you to give the fish a great experience. It would help if you also came up with the food dosage that you will be giving to your fish once you are on your vacation.
5. Change the Filter Floss Before You Leave
To avoid so many problems that can happen to your fish, you need to change the filter floss more so if it is broken. It would help if you considered the duration of floss as some have a period upon which there is a need for changing to a new one.
Some can stay up to 10 days, and you can consider having a double.
6. Consider Installing a Roller Mat
If you are fond of changing the mechanical filter media in your tank, it is high time to install a roller mat, allowing you to go for weeks without much worry.
It would help if you got something that will always make you feel safe even when you are away. If more so, your stocks do not last for a long period, and they will help you prevent the detritus.
7. Cleaning and Servicing Your Skimmer
The skimmers may let you down or lift you depending on how you operate. If you long to go for a vacation, it is recommendable to clean and service the skimmers to not overflow easily.
The skimmers help in removing dissolved organics from water. They are great tools that everyone should consider having their vacation to be enjoyable.
8. Cleaning All Pumps and the Overflows
Before you can leave, you need to remove all of the powerheads to do away with the dirt and algae that might be invading it. Ensure the efficiency of every item that you are going to use whatsoever. Ensure that you are able to brush each and every item that will remove any forming.
9. Ensure All Skimmer Overflow Stays in the Sump
If you do not wish to cause a flood in your aquarium, you need to ensure that you drain all the overflows in the stamp again. It would help if you directed the overflow to a place whereby you are pretty sure that you are safe in terms of your aquarium.
10. Consider Pellets
If you have an auto feeder, the pellet will be your best. This is because it does not clump like any other kind of feed that is on the market. They can easily cause a clog that will eventually produce a very bad odor that can even keep the fish away.
With the pellet, you will never encounter any clumping of the feeds available.
11. Purchase a Thermostat Before You Can Leave
If you think that anyone can mess up with the room temperature, this is one of the devices that you should consider having. With the device, you can measure the temperature of the tank even when you are away. There are multiple thermostats that you should consider purchasing based on your needs.
14. When Leaving Your Home, Do Not Turn Off the Air Conditioner
You need to leave your house just like you are there; your aquarium enjoys the moment you are around and would love to get the same temperature they get when you are around.
13. Keep Away Family Members from Accessing or Adjusting AC
If you have close people to you who may visit while you are away, you need to ensure that you put a warning sign that they should not adjust the AC. They may long to interfere with it to save you power but may lead to even killing your fish.
14. Do Not Add Any More Fish in Your Place
If you long to go on vacation, it is not the time to have more fish; you need to leave only the number you have been conversant with. Adding more fish may easily lead to the death of your common fish as it may contain several diseases.
15. Ensure Tanks are Large Enough
This is actually a basic thing of fishkeeping. The fish tank you are using should be large enough to give your fish the most comfortable space. A spacious aquarium can make your tour tension-free, and it will serve you better till you come back.
16. Avoid Doing Things at the Last Minutes
When you do things in a hurry, you will always find that something is not adding up somewhere, you need to make sure everything is always set on time, and all maintenance is done a few days before you leave.
17. Avoid Adding More Equipment's
Most new equipment may be a problem at a point. You may find that they only work the first few days, then the break, to avoid this, ensure that you only maintain your usual equipment.
18. Have a Wi-Fi Camera
You can get a very cheap camera that you can easily monitor your fish with. The camera can be connected with your device so you can explore everything even when you are away.
19. Avoid Adding Too Much Water
Too much water in the tank will not necessarily mean that your fish are safe even when you are not around; you need to ensure you have a good amount of water to sustain the fish.
20. Have a Smart Battery Powered Air Pump
The power may let you down at times; you need to consider having a battery-powered air pump, which will always act as a power source once there is a power outage in your area.
21. Have Powerful Backups
If you have a good investment, powerful backups are something to invest in; you need to ensure that you have a backup system that is very great for you.
22. Install an Automatic Water Change System
Maintaining your water is a great experience that can be of great importance. With the system, you only need to click a button, and instantly water changes are made even when you are away.
23. Consider Having a Controller
In an aquarium, this is the most investment you need to consider having. It is expensive but will always save you on several requirements. You can use your phone to control it.
24. Consider Having a Flood Sensor in the Controller
You need to have a device that will easily tell when there is a certain problem with your device. The device can be set to turn off in case there is a problem there.
25. Preventing a Wireless Backup
You need to ensure that you have an internet connection everywhere and from time to time to ensure that you can get the designated result every time.
26. Consider Having a Professional Maintenance Company
If you are doing maintenance for all your tools, you should consider calling a company operating for a couple of years and understanding how this industry works.
27. Set a Team of Aquarist Who Can Help if There Need Be
If you are going for a long period, you can opt to have a team that you can depend on to make any changes that may need attention. Show the team what they might require to make your fish admirable.
28. Have Someone Near to Attend to Any Power Outage
It is common in most places that there might be a power outage; you need to have a team in place to attend to your needs.
29. Get a Tank Sitter Who Will Understand the Aquarium
It would help if you got some people who will understand your system and how it works. The people will need to know what to do even when you are away.
30. Keep the Current Settings of All Aquarium Equipment
Don't change any settings at the last moment, because you don't know the consequences. Run all the equipment in a stable setting at least for a week.
What to Do After You Return from Vacation
After a long or short vacation, you will be home. Ensure that you check on your fish tank before you can do anything to confirm that they are in good condition.
Check all the equipment and that they are in good condition like before. The following are some of the things that you will need to do;
Use dechlorinated water to refill the tank.
Performing at least 30 percent water change to remove accumulated toxins in the tank.
iii. Testing the Aquarium to check the quality of water
Observe if your fish is still alive.
Check all of the equipment to confirm that they are operating well.
Final Verdict
Preparing an aquarium is one of the best things you can do when you are longing to go for a vacation. It is a straightforward task once you have been able to follow the given guidelines.
Always ensure that you can avoid the don'ts given in this article so that you don't come back only to find that your fish are all dead. It would help if you found your place better than you left by ensuring that you have incorporated the best strategy.
Before you go for the vacation, you need to ensure that you set up your aquarium a week before. This will help you track how the project is going to run.
Practice the above tips and enjoy your vacation.
---
Author's Bio
Sujit Modak is the owner of the fishkeeping blog Aquarium Tales. He is an experienced aquarist. He successfully experimented with a complex ecosystem inside aquariums. Biotope aquariums and aquaponics are the fields of his interest. He shared his experience-based thoughts on how to prepare an aquarium before you go for a vacation.
---