American buyers are said to often make their first impression of a property based on its curb appeal. However, a lot of homes' outdoor landscaping is often underdone or overlooked during the home sale process.
So, if you want to maximize your property's value based on the state average where you reside, like New York, and sell it successfully, you can never go wrong with keeping a well-maintained and attractive landscape.
If you're still wondering how to sell a house in New York, these following landscaping ideas can make a difference to your home selling journey:
1. Shape Overgrown or Unsightly Shrubs or Trees
No matter what the season, it's always a great idea to tackle overlooked pruning chores since nothing says neglect like seeing dead and unkempt branches in your house's greenery. This won't only show how well your house is but also how well-maintained your garden is.
So, remove any dead plants from your yards, garden, and flower beds so that your potential buyers may focus on fresh flowers and new mulch. By getting rid of overgrown weeds and bushes, your visitors will likely remember your beautiful home, regardless of your landscape layout and design.
2. Keep Everything Clean
The most affordable landscaping tip to consider is to ensure your vicinity is clean. Most buyers tend to prefer homes with lawns. If you have a lawn, ensure that it's well-maintained and consider mowing it regularly.
Once you do this, you won't need to deal with weeds or dry spots, allowing you to impress your potential buyers with a neat and pleasing exterior.
3. Wash The Dirty Surfaces
Pathways, porches, decks, and some surfaces collect more dirt and grime and may affect how your buyers see your property. To avoid that, consider buying or renting a power washer to clean off dirty surfaces.
A power washer can do an excellent job in getting rid of mud, dirt, and muck accumulated on different surfaces like decks, pathways, and porches. The good thing is that it can be done without consuming much time and effort.
So, if you want to keep your landscaping looking more beautiful, washing the dirty surfaces will help you big time in selling your home.
---
Read Also:
---
4. Touch Up Mulch
No matter how big or small your lawn is, mulch is an inexpensive landscaping idea that can give your exterior a finishing touch.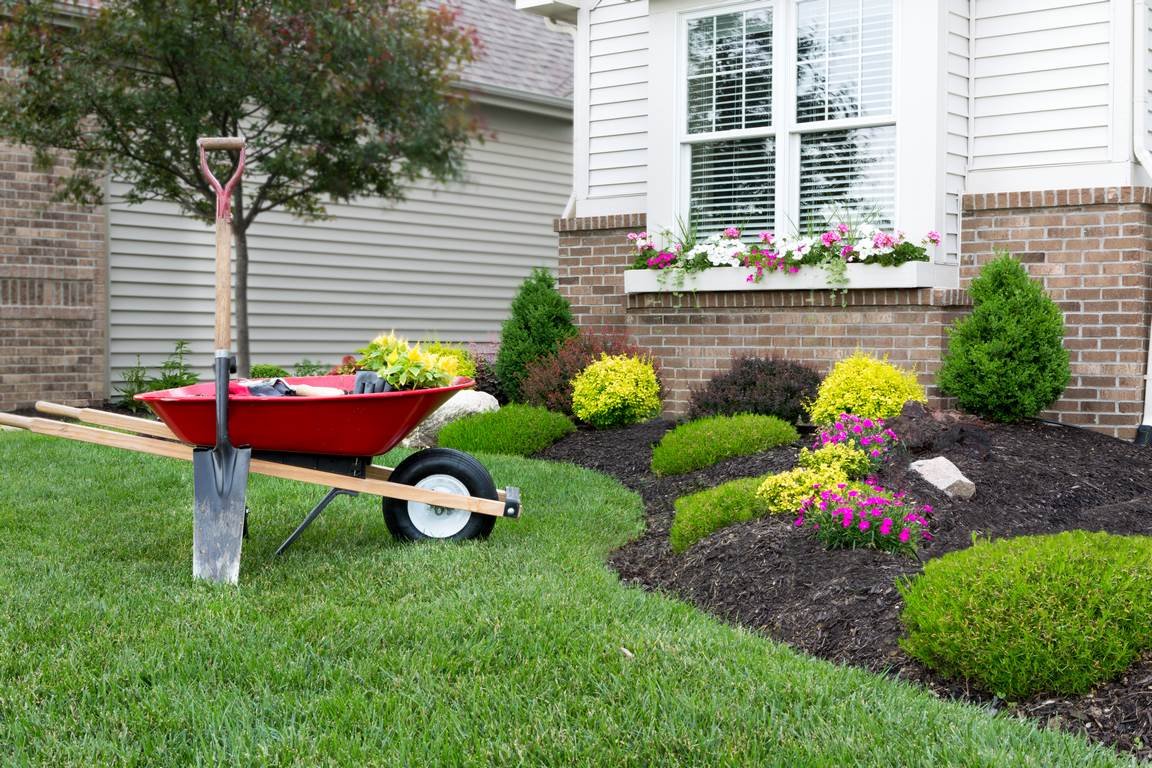 Just select a pine straw, a neutral-colored mulch, and some mulching accessories. Then, add about an inch or two layers over the top of your landscaping beds.
The mulch's contrasting color against your New York home may help add an upscale look to your property's exterior. It also shows buyers how you properly maintain and care for your home.
5. Add Lighting
If you want to highlight the curb appeal of your property, adding lighting to your landscape is an excellent solution. You may add solar lights on your pathways to light up your surroundings during nighttime.
This also ensures that people know how to get to your front door and where to go when visibility is low. You may even shine a light on your flower bed or beautiful tree to make your landscape more appealing.
6. Fill Gaps and Add Color
Adding more plants to your landscape may seem costly, but you can keep your expenses to a minimum by focusing on filling the present gaps and adding colors. For example, you can place colorful flowers in front of your house to improve your property's curb appeal by making it feel friendly and bright.
You can also plant bright and low-maintenance annuals to spruce up your garden bed. Combine these with your ground cover plants to fill the space with color and texture.
If planting in the ground isn't a good option for you, buy hanging pots and baskets and plant in them to spruce up your deck railings and porches. If your landscape is a bit barren, you don't need to dig out more flowerbeds.
Shrubs are the fast way to fill in some bare spots in your landscape. As a matter of fact, evergreen varieties can offer you beautiful colors throughout the year. Pick colorful or flowering evergreens to make a focal point with a better visual impact.
Avoid single plantings of different shrubs since they can make your yard look cluttered if you're planting shrubs. Depending on your preferences, seek the services of a landscape expert to plant shrubs in groups to make a more refined look.
7. Try Custom Landscaping
Another landscaping idea for selling a home in New York is custom landscaping, including everything from several plants in the right areas to a complete renovation.
Having a brand-new and customized landscaping design can have an excellent return on investment. The most desired design elements are the fireplace and fire pits.
If you prefer a small-scale installation, you can just pop in new perennial shrubs to give your house a wow factor and set your property apart from the neighborhood.
Conclusion
There are various things you can do to improve your home's landscaping and make it stand out. You don't need to break the bank to change your property's landscaping, but it's essential to use professionals to ensure that everything is in its proper place and trimmed appropriately.
With the above landscaping ideas and help from professionals, you can be assured that you won't have a hard time selling a house in New York.