Looking to revamp your space? If like most people, you prefer styling your room according to the current trends, these master bedroom interior design trends will inspire you to create a space you'll love.
From bold paint colors to beautiful lighting themes to gorgeous rugs, there is plenty to borrow. Whether you want to revamp a small bedroom or large room, read on.
1. Go for Bold Colors
Are your current bedroom walls on the bland side? According to home décor experts, unless you prefer a farmhouse-themed bedroom which is characterized by Sherwin Williams and Benjamin Moore's white color walls, go for bolder colors.
For this bedroom, the designer has opted for teal walls with gorgeous brown geometric wallpaper to break the monotony. Other ideas you can borrow from this space include the paintings, large white rug, and lighting.
2. Unique Lighting
Speaking of lighting, a modern piece could be what your space is craving for. This bedroom chandelier complements the bedroom décor style. The four bulbs ensure light is spread evenly in this master bedroom.
Also, if you love reading before bed, add two lamps for eye-level lighting. Subtle hints of gold add sophistication to the space. We also love the unique bed design that makes the space look glamorous.
3. Decorating Master Bedroom with Barn Style Door
Achieve a farmhouse country look by choosing a barn-style door. This type of door does not come with a door handle and hinges like traditional doors, instead, it has a sliding bar on top for easy opening and closing.
And for the complete look add a rustic bed and bench. Gorgeous painting on the background also adds rustic charm to this master bedroom.
4. Oversized Leaning Mirror
Here is an idea for anyone that likes a quick glance in the mirror before heading out. With its black frame, this leaning mirror allows you to look at your outfit and style it per your needs.
Metal frame adds industrial charm while the bold color contrasts the white bedding. A few throw pillows and plants add color to the bedroom. Rustic bedroom clocks make this space a whole lot gorgeous.
5. Unique Canopy Bed
To create an island of coziness, opt for a large luxuries rug and a canopy bed. Though canopy beds are not trendy, you can create a bold and edgy bedroom by borrowing this idea.
The decorator has opted for a bold, curved canopy that is easier to style compared to other designs. Also, a thick mattress ensures your space is cozy. And instead of a bed bench, we recommend you choose an ottoman with storage.
---
Read Also:
---
6. Accent Chairs
The interior designer of the master bedroom interior design trend idea above opted for ottomans instead of a bench and for this bedroom, the decorator opted for accent chairs.
Besides complementing the large light above, these accent chairs offer a nice place to sit while catching up with your latest reads. We love the sliding doors that lead to the master bedroom balcony.
7. Balcony Ideas for Master Bedroom
If your bedroom is blessed with a balcony, wall hanging plants are the best way to add color to the space. Notice the money plant that according to many cultures is associated with good fortunes.
The snake plant helps clean air. You can achieve this boho look by adding two mid-century modern accent chairs with boho throws and a large boho ottoman.
8. Include your Office
Want a corner office? I love this bedroom. And, the main décor idea you can borrow from it is a small office.
If you work from home and don't have the luxury of an extra room in your home, you can transform a corner into your working space.
You'll need a good chair, a desk with shelves and a lamp. You are good to go. The bold colors give this space an awesome vibe. We love the unique gold side table.
9. Add Color with Potted Plants
Use a few potted plants to breathe life into your master bedroom. A few indoor plants that you could include in your room include spider plants, money plants, and lady plants.
You can hang the pots or place them on shelves. The bedding and bedroom sofa add an outdoor vibe.
10. Walk-in Closet to Avoid Clutter
A large contemporary bedroom needs a spacious walk-in closet. Your master bedroom closet must include shelves for your shoes and racks for your clothes.
Use sliding doors to separate the two spaces. A few ideas you can borrow from the space include the cozy bench and long pendant light.
11. Beautiful Storage Ideas for Bedroom
I hate a cluttered room. If like me you prefer walking into a clutter-free space, consider unique side cabinets. This master bedroom decorator opted for gray storage cabinets that match the soft rug and lamps.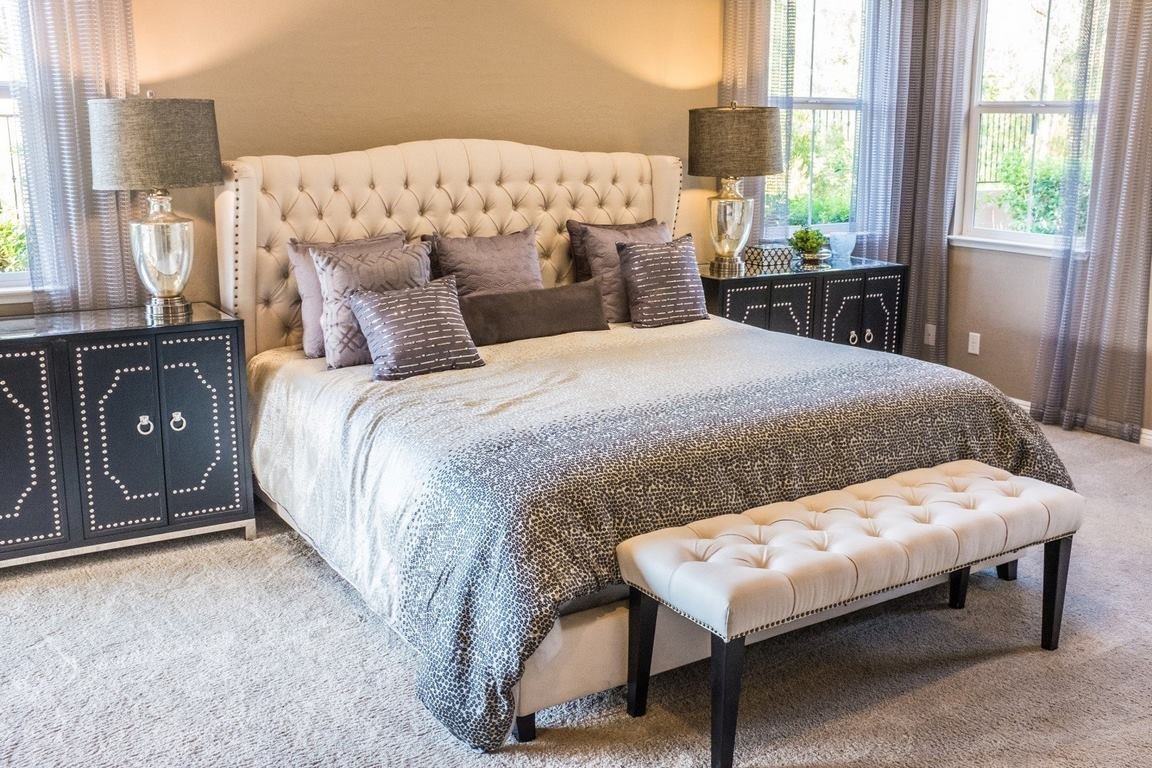 A gorgeous bed with a tufted headboard is a great addition to this space. Also, a beautiful tufted bench adds glam to this space.
12. Ideas for a Small Space
How do you make a small master bedroom look larger? One, go with neutral colors for your walls, snowbound or agreeable gray by Sherwin Williams are great for bedrooms.
Two, go for long curtains that give the illusion of a longer room and thirdly a large bedroom chandelier. Opt for colored pillows and curtains for a pop of color.
13. Wall Décor Ideas
Lastly, let's look at interior design trends for walls. From basket décor to paintings to wall clocks, there are a variety of ways you can add intrigue to your master bedroom walls.
You can opt for one large painting or a gallery wall made up of small wall décor accessories. Choose wall art that will soothe your eyes.
14. Use Indoor Wreath
Looking for a way to add a touch of spring to your master bedroom? Consider adding a spring wreath to your décor.
Hang it on the wall or on the door to bring in some fresh greenery and flowers. This can be a great way to incorporate the beauty of nature into your space and add a pop of color.
Final Thoughts
If you are like most people, chances are you'll spend more time in your primary bedroom than in other rooms in your house.
To make this room stylish without sacrificing on its coziness, consider any of the master bedroom interior design trends ideas above.
Whether you are looking to style a small room or large bedroom, these tips and décor tricks will help you end up with a space you'll love.