A pantry full of clutter is never a sight you want to see. It can be so frustrating when your pantry is disorganized and in disarray, making finding what you need difficult.
Pantries should be functional spaces and keeping them organized allows you to maximize their use and make them pleasing to the eyes.
The kitchen and pantry spaces are one of well-used spaces at home. The organization is key to maximizing this space.
Here are some tips and tricks that can help you maximize your pantry storage, such as using a pull out pantry cabinet. Read on to find out!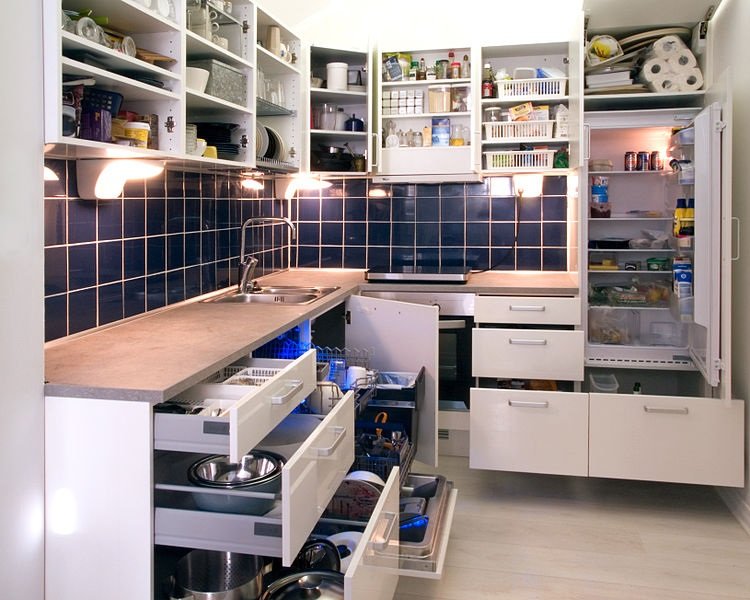 How to Organize a Pull-Out Pantry
Declutter
The biggest mistake when organizing your pantry is allowing things you never use to take up unnecessary space. These items tend to pile up and take more storage than those that you use, leaving your pantry cluttered.
What you should do is go through your cupboard and sort out your items. Create a keep and throw out the system to help you categorize them better.
Your first pile could be those you want to throw out. Damaged items and expired food and spices can go in this pile.
For the next one, look for any products that you are less likely to use anymore. The last pile would be for those that you want and can still keep. Repeat this decluttering process after every three months.
Form a Plan and Stick to It
Look at all the items in your piles after decluttering and group similar things. For instance, you can put all the large, canned products together and small ones in another.
You can also apply this to boxed items. Assign each of the groups their specific shelves, then stick and account for the system you want. This method will help you fix and organize the shelf spaces, keeping things you do not need out of the way.
You can also categorize your products and items by their use and functions. You can put all the spices together and the liquid seasonings on another shelf, depending on your kitchen and cooking routine. Make sure to put those items you frequently use at the front.
The height of your items should determine the depth of the shelves you need. Deeper shelves are required for taller products as they ensure enough support and guarantee that the items will not topple over. To reduce accidents, you can use soft-close slides because these provide stability.
Use Storage Containers
Storage containers provide divisions that reduce the time and effort spent on guessing where everything goes. Clear containers are the most effective and inexpensive choice.
These containers and bins take up less space and keep contents fresher than their original packaging. Additionally, you can effortlessly monitor whether the contents are running out. Designate a container for each (snacks, cereals, chips, pasta, spices, granola bars, etc.).
For solids, like butter and rice, use containers that suit their specific forms. Obtaining uniform container sets also efficiently upgrades how your pantry looks since uniformity is pleasing to the eye.
Attach Labels
Labels give anyone in the kitchen a much easier time in looking for certain items. It also makes containers look well-thought-out and complete.
Attaching name labels and the date of expiration helps a lot in keeping your stocks fresh and new. With it, you can easily monitor which items need replacement and have to be thrown out.
There are various means that you can use to label your pantry products. You can use stickers and label makers. Many online stores offer these kinds of tools now. A chalkboard is also a great choice as you can easily erase and change labels without much effort.
---
Read Also:
---
Tips for Maximizing Pantry Shelves at Home
The best way to ensure you are not under-utilizing your shelf space is through accessories. In this article, we listed several tips to help you maximize your pantry shelf area:
Purchase Shelf Dividers
Large flat items will be more accessible when kept on their sides than when heaping them on top of each other. Make use of tiny spring rods to divide these products in between.
You can also buy a wire organizer. It is easy to install and readily removable when there's a need to repurpose the shelf.
Baskets
For small items, the best way to keep them organized is baskets. Opened and loose bags of snacks tend to get all jumbled up and consequently making the space messy.
Putting them in a basket keeps them neat and easily accessible. Additionally, baskets enable you to store a lot of items together without them seeming cluttered and disorganized.
Can Organizers
Keeping cans can be quite troublesome as they come in different sizes. Stacking them on top of each other is not ideal either, especially when in large quantities.
A large can organizer is a quick and inexpensive way to store cans while preventing toppling overs.
Adjustable Shelves
One of the best ways to maximize pantry usage is through mounting adjustable shelves. Installing these allows you the flexibility to change and vary the height of all your storage plans.
These also provide you full extension capabilities to utilize every inch of space available. Changes can easily be attended to by simply sliding out the shelf and placing it in the new position you want.
What to do When There's No Pantry in Your Kitchen?
There is no need to worry even if you do not have a pantry in your kitchen. You could either use cabinet storage and make sure to maximize its space or build your pantry.
Since creating your pantry is not as easy as it sounds, we listed a few tips to guide you in maximizing cabinet space.
Utilize Every Inch of Your Cabinet Space
There is a lot you can do with the proper tools and accessories to utilize every inch of your cabinet space:
Rollout trays are an excellent way to allow hard-to-reach items more accessibility. They are ideal for lower cabinets for your pans and pots.
Arrange cabinets with cabinet dividers. Cabinet dividers let you organize multiple items neatly in sections. They are specifically good for any doorless cabinet.
For messy cabinet drawers, cutlery dividers are ideal. They can be easily installed in cabinet drawers and help in keeping utensils organized there.
With these, you do not have to worry about your cutlery falling out once you slide the drawer out. They will remain neatly placed inside.
Transform any cabinet into a multi-storage unit with pull-out cabinets. These allow you to add more sections to your drawers, meaning more storage space for you!
Pull-out Pantry Cabinets and Other Storage Solutions at Storables
Make organizing and maximizing your storage space fun and exciting. For all your storage solutions, check out and shop at Storables.com.
This shop offers a wide variety of products that will help you guarantee that you're using your space at its best!