Are you looking to upgrade the style of your bathroom? Have you wanted a modern look that radiates sophistication, elegance, and class? Well, you are in luck! I'll share all my tips on creating a sleek bathroom style for your home.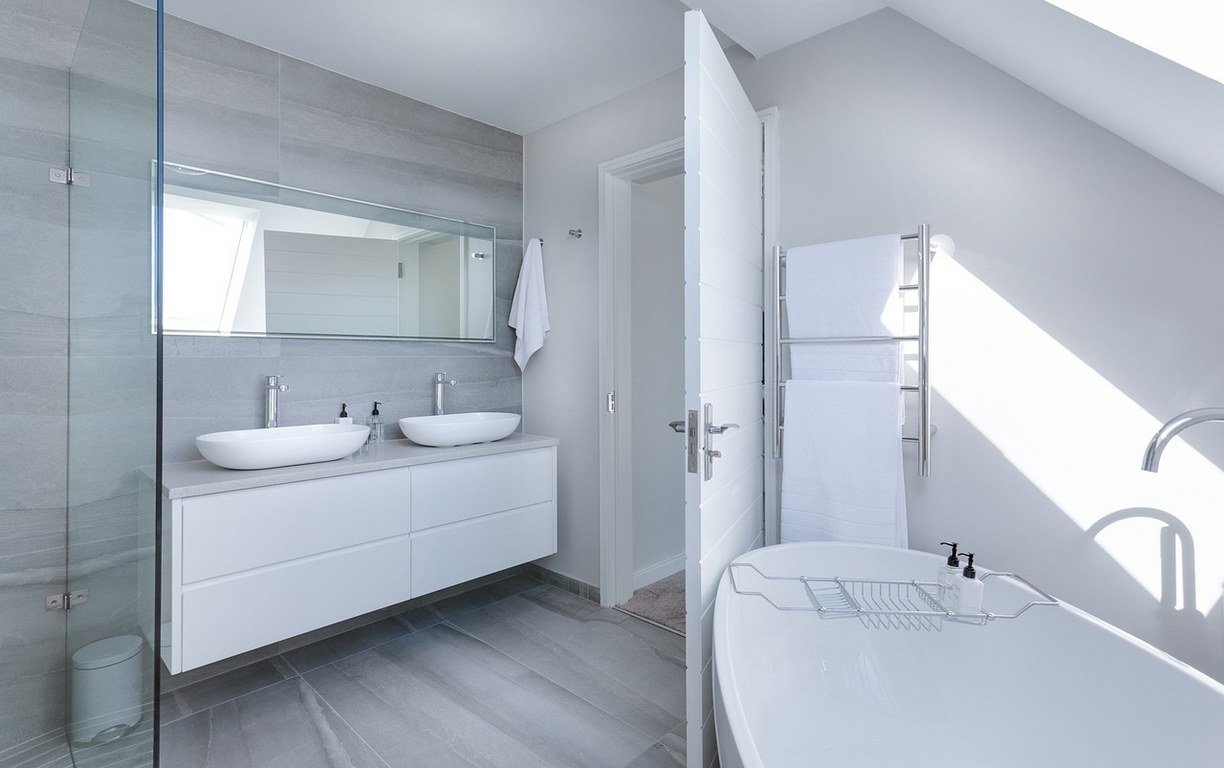 With years of experience renovating bathrooms, designing interior spaces, and styling houses I know exactly what works when giving your bathroom a makeover.
From picking out the perfect tiles to finding stylish accessories, we'll cover everything you need to know so that your newly renovated bathroom will have an ultra-modern look that'sthat's sure to impress! So let'slet's get started creating the perfect contemporary bathroom space is easier than ever with this guide!
Choosing the Right Color Scheme for a Modern Bathroom Style
When it comes to modern bathrooms, the right color scheme can make or break the entire design aesthetic. Color is important it sets a mood and influences how we feel in a space.
For example, warm colors like yellow create an inviting atmosphere, while cool tones like blue are calming and soothing. When choosing your bathroom's color palette, there are several factors to consider:
Lighting: The lighting in your bathroom affects what colors look best. Natural light makes bright hues appear vibrant, while artificial light makes them muted.
Fixtures & Furniture: It'sIt's important to contrast or complement the fixtures and furniture in your bathroom with the wall color for maximum impact.
Style & Aesthetic: What kind of style do you want to achieve? Are you going for a luxurious spa-like vibe or something more minimalist and sleeker? Your choice of colors should reflect this.
One great way to start selecting your palette is by picking out one "statement" color that is an anchor point for all other decisions. This could be bolder accent pieces such as wallpaper, curtains, or tiles whatever speaks most to you!
From there, choose two additional shades that fit within this statement hue'shue's family lighter and darker variations can help balance things nicely. Try not to go overboard, though having too many different shades competing against each other can overwhelm the eye. Pick neutrals that pair well together, with deeper accents only if necessary.
Once complete, don't forget about including some texture into the mix think towels, rugs, etc., which add depth without clashing with any existing elements.
Finally, remember, when incorporating new elements into an existing space, try them before committing full-on using swatches or removable wallpaper lets you test drive before settling if needed! That said, experiment until satisfied, but once settled, enjoy Modern bathrooms that offer a timeless appeal that stands the test of time so long as they are thoughtfully planned from the beginning!
---
Read Also:
---
Upgrading to Contemporary Faucets and Fixtures
Faucets
Upgrading your faucet is one of the easiest and most cost-effective ways to add a touch of modern style to your bathroom or kitchen. Today'sToday's faucets come in various shapes, sizes, styles, and materials.
There is something for every taste, from sleek and minimalistic designs to elaborate art deco pieces. Many faucets also feature convenient technology, such as motion sensors that allow you to turn on the water with a wave of your hand or foot.
In addition to style considerations, it's important to think about function when selecting new faucets. If you have an older home with shallow counters or sink bowls, you might consider shorter models that won'twon't protrude too far out from the wall.
For those who enjoy long baths or showers, look for models with extended-reach hoses so that you can easily rinse off without stepping out of the tub.
Since they are exposed to daily use and wear-and-tear quickly takes its toll on bathroom fixtures, it's important to consider durability when picking out your new hardware especially if this isn't often replaced! Look for finishes like chrome or brushed nickel, which will help resist fingerprints, smudges, and stains and protect against corrosion.
Fixtures
When upgrading fixtures in bathrooms and kitchens, some people opt for more traditional designs while others prefer contemporary ones; however, both options can still fit seamlessly into any decor!
When selecting smaller items like towel rings and toilet paper holders, go bold with unique geometric shapes we love brush brass finishes because they feel sophisticated yet modern at the same time.
If replacing light fixtures, always choose energy-efficient LED bulbs they provide superior lighting and last much longer than traditional incandescent bulbs, saving money in electricity bills over time.
When choosing larger pieces (like chandeliers), aim for statement pieces that will make an impact even when illuminated. Consider sconces above mirrors; these often double up as task lighting providing focused illumination where needed. You'll find a wide range of bathroom products at Plumb & Bath Store
Utilizing Frameless Glass Shower Enclosures for an Open Feel
A Unique and Modern Look
Frameless glass shower enclosures have become increasingly popular in contemporary homes. With the rise of minimalist interior design, many homeowners now prefer this look for their bathrooms.
These enclosures are crafted from thick tempered glass that has been cut to fit perfectly into your space, creating a modern, sleek, stylish, and practical look.
They provide an open feel to a bathroom and allow natural light to flow freely throughout the room while still providing enough privacy. These enclosures include options such as frosted or clear glass to customize according to your aesthetic preference.
Highly Durable and Easy Maintenance
Frameless shower enclosures are highly durable due to their thick tempered glass construction, which makes them resistant to scratches and hard knocks over time.
They also require minimal maintenance cleaning the surfaces with warm water or mild soap every few weeks will keep them looking brand new for many years!
Additionally, since frameless shower doors feature no frames or hardware around them, there'sthere's less chance of rust buildup over time which helps maintain its pristine condition longer than traditionally framed showers would have.
A Cost-Effective Choice
When considering renovating a bathroom on a tight budget, opting for frameless shower door installations can be a very cost-effective choice compared to other remodeling projects out there!
Depending on the size and model chosen (clear vs. frosted), these enclosure prices usually range between $500-$1500 – making them relatively affordable considering all the benefits of having one installed in your home!
Moreover, installing one tends to be simpler than other renovations because it requires fewer labor costs and materials, thus saving you even more money in the long run!