We get this question all the time… How much to remodel a bathroom? While there's no clear-cut answer, here are some stats worth knowing.
Bathroom remodels can range in price from $10,000 to $20,000 or more when done by a skilled professional. That said, simple DIY projects such as changing out fixtures or painting walls may cost as little as a few hundred or thousand dollars.
The experts recommend a bathroom remodel in the range of five to 10 percent of your house's overall value. If this sounds steep to you, bear in mind that a bathroom remodel comes with an ROI of 70 percent should you sell your property.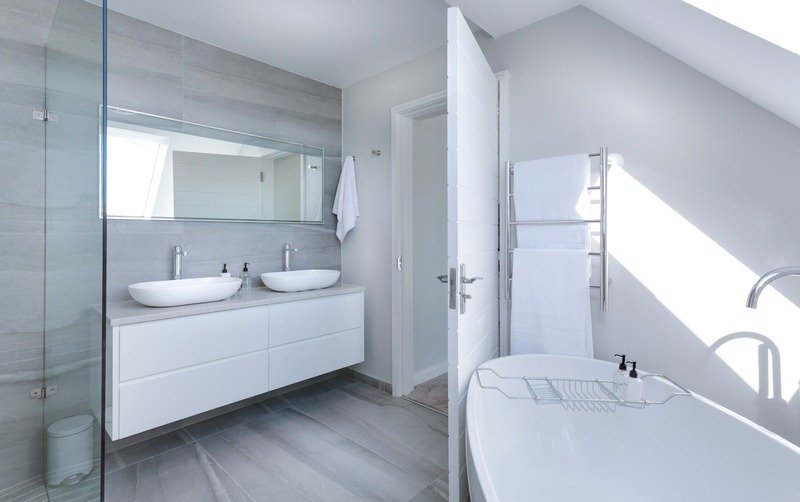 If you're ready to ramp up the functionality and appeal of your bathroom, consider these modern bathroom ideas from Bower NYC. Not only will they increase the value of your home, but you'll get to enjoy the luxurious amenities in the meantime. Some ideas are from healthyarea.org, a home improvement blog.
Modern Bathroom Ideas
The term "modern" means different things to different people. But there are a few overriding themes that predominate with this aesthetic:
The use of natural materials
Minimal to no presence of decorative flourishes
An emphasis on geometrical shapes
Basic or neutral colors
Lines should remain crisp and clean with a general embrace of design features such as space, light, and airiness.
Loved the Ideas? Want to get one designed for yourself? Go nowhere as we will bring you a list of the best interior designer in the UK in the near future.
Here are eight of our favorite design tips to get you started on your journey to a spacious, revamped bathroom space.
Inspiration
Before deciding on how you want to renovate your bathroom, spend some time looking at home decor magazines. Flipping through these publications will give you a better sense not only of what's trending but what's new in terms of innovations.
You should also consider touring some showrooms featuring the latest bathroom designs. This may prove as simple as visiting your local Home Depot or Floor & Decor where you'll be able to scope out wall colors, tiles, fixtures, and more.
You can also gain a wealth of ideas by picking up free pamphlets from the paint or tile section, which include mock-ups of the hottest bathroom trends. What's so great about these design books?
They provide order information should you find something that really catches your eye. Watching home decor shows, especially with a bathroom remodeling focus will also help. That way, you'll feel up-to-date on the latest and greatest options.
Flooring
When it comes to the modern decor theme for bathrooms, one standout decorating element is the flooring. So, you'll want to choose the material for your floors with care.
For a more attractive bathroom that also proves energy efficient, consider installing radiant heated flooring. It also feels great on bare feet.
Although counterintuitive, small bathrooms look better with larger floor tiles. If you go with ceramic tiles, look for a grade one or two.
Also, look for tiles that are rated slip and water-resistant. Finally, ceramic tiles do best when they have a coefficient friction rating above 0.60.
Most importantly, Don't forget the caulks! No matter how good your tile is! If the grouts and caulks you are using with the tiles are not good, the expensive decoration won't last long. See caulk review to select caulks for your flooring.
Walls
As with flooring, think of your bathroom walls as another crucial style element. Making a statement with your walls requires serious consideration. For one, you'll have to figure out whether or not you prefer painted walls or tiled walls.
If you choose painted walls, stick with basic or neutral colors. For a contemporary, sleek look, go with a monochromatic palette based on one color of choice. This will also make your bathroom look bigger.
Besides choosing the right color, make sure that your paint choice includes the proper additives to avoid the growth of mildew.
As for tiling your walls, you have a few options. First, there's wainscoting, which involves tiling halfway up the wall. Second, you can tile the entire wall. But this means a far larger investment of money than painting.
Classic white subway tiles make for a stunning look, especially as wainscoting. In terms of practicality, make sure that you use grout that's stain-resistant in order to avoid unsightly coloration over time.
Lighting
After renovating your flooring and the look of your walls, show off these improvements with choice lighting fixtures. Rather than an afterthought, remember that the best lighting transforms a space.
It brings colors to life and can make design elements stand out. That said, you also want to choose energy-efficient lighting fixtures.
The solution? Go with LED lights. They last 25 times longer than traditional lights and consume 75 percent less energy.
Some LED lighting companies have made successful forays into the art of mimicking natural light. The best employ technologies that allow the lighting to shift in color and intensity throughout the day based on actual sunlight levels and angles outside.
Tubs
Installing a tub in your renovated bathroom might seem pointless at first. Especially if you're not into candlelit bubble baths. But keep in mind the fact that you want your house to remain attractive to future buyers, too.
So, don't skimp in this area. What's more, a great tub makes a statement, and there is plenty of minimalist, modern designs to choose from. The right one will serve as the crowning glory to your contemporary bathroom.
Showers
You also have decisions to make when it comes to shower installation. Namely, do you want an open or closed shower?
While traditional-style closed showers have been the norm for decades, open showers come with serious design appeal. And for small shower ideas, open ones heighten the sense of space.
But if you're a fan of privacy or like feeling enclosed by your shower, then stick with a closed shower.
Besides the type of shower that you install, you need to keep water quality in mind. Adding a simple, inexpensive shower filter can do wonders for your health and well-being. There are few better or cheaper ways to pamper yourself.
Cabinets and Fixtures
Choosing the best fixtures for your new space will heighten your other design choices. But you should also consider things like how this space will be used and by whom.
For example, if the bathroom in question will see lots of hard use by children, then you'll want to choose different fixtures than if it's a guest bathroom that sees light traffic.
When replacing cabinets, make sure you choose ones that provide lots of storage space. You'll thank yourself later. Just remember to keep the lines of the cabinets, simple, clean, and crisp.
When it comes to bathroom fixtures, consider installing energy-efficient and water-efficient items, such as low-flow toilets to cut down on monthly costs.
Decor
Once you've created an airy, open, minimalist space, decorate it with a few key pieces. Consider adding pops of color in the form of unexpected accents such as bathroom rugs, bath towels, and plants or fresh cut flowers.
Standalone flowers such as orchids bring a sophisticated touch to contemporary furnishings. As do anemones, craspedia, and protea. And don't forget about the elegance of olive branches or live plants such as split-leaf philodendron.
Your Own Personal Oasis
Creating the bathroom of your dreams is easier than you might think, especially with the modern bathroom ideas listed above.
Ready to learn more about home renovation? Read on for 10 tips that are sure to add some pizzazz to your home.