Kitchens are the center of our family's day-to-day living where we start our morning and end-up in the midnight. From leaving for a job to coming back from schools, offices, and trips, all of us make our way first into the kitchen.
Therefore, kitchens ask for our lot of attention and care and demand plenty of time for proper cleanliness and maintenance of hygiene. Sinks, for this reason, are the most important and excessively used fragments of the kitchen.
Hence, choosing the most suitable kitchen sink befitting your kitchen's size, use, countertops, sink water purifier and which can withstand daily wear and rip is inevitable.
Here is the list of top-tier kitchen sinks to perfectly complement your kitchen & cuisine styles!
KOHLER's Prolific® 33″ x 17-3/4″ x 10-15/16″ Undermount Single-bowl Kitchen Sink with Accessories
The most thoughtful design to create an efficient workstation for you, PROLIFIC sink offers three graduated ledges in the basin.
Offering the best accommodation for your washing-bin, cutting-boards, racks & colanders, PROLIFIC also features a cone-shaped drain and sound dampening shields as a unique feature.
Though effortless to clean, its finishing may abrade over time and walls may retain some fingerprints.
---
Read Also:
---
Ruvati 32-inch Low-Divide Double Bowl Undermount 16 Gauge Stainless Steel Kitchen Sink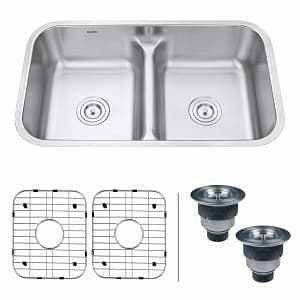 Prepared with long-lasting brushed steel-finish, the Ruvati 32-inch low-divide double bowl undermount sink is the most contemporary and nifty accession to your kitchen.
Complementing your stainless steel kitchen appliances, the sink is also modulated to hide scratches.
Its generous basin size, slopped bottom, drain grooves, and thick rubber undercoats you must vouch for this incredible stuff installed in your kitchens. The only drawback of this product is its unsuitability for small countertops.
Kraus KBU22 32 inch Undermount Stainless Steel Kitchen Sink
Featuring a large double sink to fit all big pots and utensils, this Kraus KBU22 32 inch Undermount Stainless Steel Kitchen Sink is a bit expensive. Nevertheless, making the value of its money, both of its bowls are scratch and crack resistant and withstand plenty of wear and rip.
One of the finest products from KRAUS, the sink has round corners for easy cleanup.
Accessories include a drain assembly, steel bottom grids, and a basket strainer. With easy bottom texture cleaning and it also has a protective Stone Guard coating which limits the noise.
ZUHNE 30-inch Single Bowl Undermount Kitchen Sink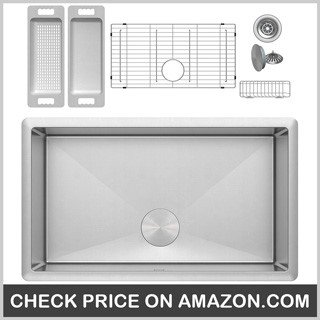 One of the most pocket-friendly and state of the art design, ZUHNE 30-inch Single Bowl Undermount Kitchen Sink offers commercial-grade T-304 steel construction and a lifetime warranty to your purchase. Its scratchless stainless steel body features sound-dampening and imparts high resilience against corrosion.
Its brushed satin finish for easy cleanup, stainless steel grid, sponge holders, and perforated colanders make it a perfect choice for your kitchen needs. Sidewalls of the sink, however, can retain fingerprints, watermarks, and some greasy stuff.
Vccucine Commercial Brushed Apron Single Bowl Farmhouse Kitchen Sink
Very budget-friendly and best fit for all sized countertops, this Vccucine Commercial Brushed Apron Single Bowl Farmhouse Kitchen Sink showcases an extraordinary construction as compared to its contemporaries.
Built with premium quality T-304 stainless steel, this product has brushed nicked finish which makes it corrosion, rust, and scratch-free.
Offering 10 years long warranty, the product comes with handy complementary accessories including a stainless steel dish grid, drain assembly, and a basket strainer. Above all, the sink features a 3.5-inch drain opening and improved channel grooves for easy and smooth drainage.
Swanstone QZ03322LS.077 Granite 1-Hole Dual Mount Single-Bowl Kitchen Sink
Add some funk to your renovated kitchen with this extraordinary master-craft. Swanstone QZ03322LS.077 Granite 1-Hole Dual Mount Single-Bowl Kitchen Sink is jaw-droppingly beautiful and elegant.
Beautifully accessorizing your granite countertops, its double bowl design offers great durability and neatness. Demanding a very handy amount of your investment, the sink can be installed as a drop-in or undermount and has a pre-drilled one faucet hole.
Constructed with 80% quartz stone, its matte black finish also offers a tranquil flow of water to make drainage less noisy. Comparing to its size, the sink offers a great drain size of 4.5 inches and a rounded curve for easy and smooth cleanup.
A Great 3-Stage Filtering System
Residue, rust, and dregs bigger than 5 microns don't have a potential for success with the principal phase of the Ecosoft 3 Stage Under Sink Water Filter. In addition to the fact that this stops the bigger particles breaking through to you, the consumer of fine water, at the same time, thusly, it protects the life of the following two channels too!
For the subsequent stage, they've included their own licensed Ecomix D37 channel innovation which adequately lessens saltiness, chlorine, chlorination side-effects, lead, iron, manganese, and tannins.
The number three-channel is the Activated Carbon Block channel. This resembles cleaning your vehicle: it as of now looks great, you simply need that additional wow factor going on. It evacuates any smells and remaining flavors to improve this the best than-filtered water you've tasted.
What's more, that is it!
All done in three simple and profoundly viable channels.
Straightforward Establishment Underneath Your Sink
The establishment isn't troublesome, be that as it may, in the event that you have to penetrate an opening in the sink or ledge for the additional fixture, it might be astute to look for help.
That being stated, in the event that you're the ardent DIYer, at that point you have no issues and you'll get this going in the blink of an eye by any means.
All that you requirement for the finished establishment of the Ecosoft 3-Stage Under Sink Water Purifier is given to you in the unit.
In the event that you've perused any of the surveys, you'll additionally find that the folks at Ecosoft have amazing client support and are incredible at disclosing what requirements to go where and why. In this way, on the off chance that you do wind up feeling a little overpowered, there's no compelling reason to stress with assistance only a call away!