Experimenting with kitchen designs is a fun way to mix things up, bring in the elements that make you happy, and make your time in this space more enjoyable.
However, with enjoyment comes the responsibility of making a design functional and we suggest you always contact the kitchen designers for your projects.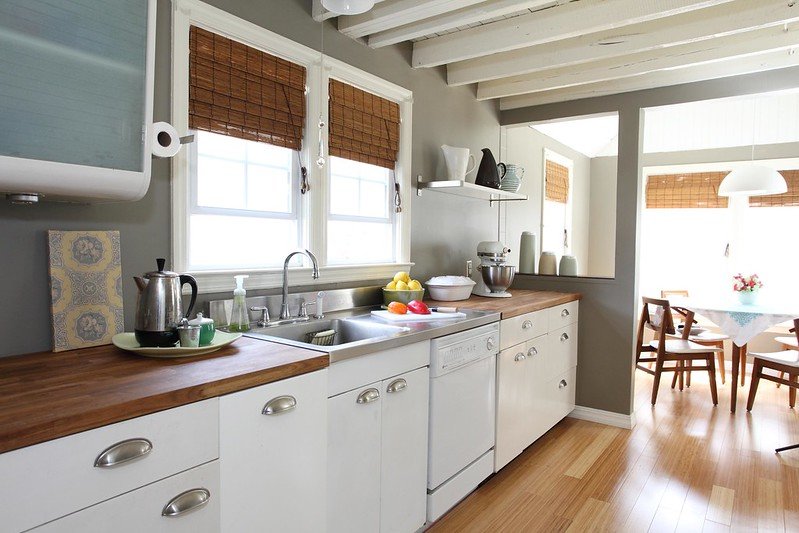 That said, kitchen redesigning is not very simple, it requires planning and intricate detailing to come up with the design of your dreams.
Once done, execution can make or break your game. Naturally, when you match different colors, materials, and fabrics, the thought of it can be intimidating. But if done in a proper way, it can work wonders for you.
Similarly, mixing metals is a beautiful way to layer in texture, as it helps create a historical look and makes a common room stand out. This is why we have curated this article, a piece stating why you should consider mixing metals when choosing finishes for your kitchen.
Let's dive right in!
1. Helps Create a Modern Farmhouse Look
To achieve a modern farmhouse look, it is important that you mix and match old with new materials in your design. It is the new vogue; amalgamating old things with new ones to create a unique kitchen design.
When you decide on what finishes you want for this look, you should combine shiny and well-worn metals. Throw in some brushed or satin finishes somewhere in between this setting; it is a pleasing way to fill in the mix.
Another idea is to go for worn-out iron. This is because this material in itself is a great way to project the old look that you want to achieve and when paired with other elements that your kitchen designer might come up with, you'll have something unique and fresh.
---
Read Also:
---
2. Helps Create a Strong Focal Point
When you add in a metal element to your overall kitchen design, it naturally accounts for creating a strong focal point while also enhancing the overall look of your space.
For instance, adding a hammered copper vent hood on the top of your kitchen island can instantly add a dimension to your design.
Now, along with adding metal colors to your kitchen, you can also fiddle with light fixtures and emit something out of the blue. After all, it is in your hand to customize, so choose the kind of metal and lights that help you achieve something out of your dream.
To finish the look, you can add in elements of brass paired with glass cabinets. Perhaps the knobs of your cabinets are made of a different metal, this can dynamically elevate the look of your kitchen.
Similarly, use toned-down brass for the basis of your counters stools, to create a metallic scheme without being distracting.
3. Helps Create a Worldly Layered Look
Some of the expert kitchen designers from all over the world believe that having a variety of metal, wood, and different countertop materials in the kitchen makes the design timeless and decrease the chances of needing an upgrade for a good few years.
Moreover, mixing metals and other materials in your kitchen makes sure that you are not stuck in one genre.
To achieve this look, you can experiment with different colors, break the conventional materials for specific elements and make your way through to create a design of your dreams. You can probably switch off the wood finishes and countertop materials on various pieces of cabinets, and mix the cabinet hardware accordingly.
A good idea is to use an unconventional color for your under stove place. Perhaps sky blue with knobs made of brass can quickly change the overall look of your kitchen.
To Sum Up…
Consider your kitchen space as an open canvas, and you are the artist who is supposed to paint out of his imagination.
Sure, designing everything from scratch is overwhelming and intimidating at the same time, but with the right professional help and plan to brainstorm, it is achievable.
Mixing metals is a unique way to give the look you want to your kitchen, it is a means of achieving a timeless design for your kitchen.
The curated article should help you with your design pursuits if nothing but to inspire you to come up with your personalized ideas for your dream kitchen. Why not let your creativity flow, and communicate with your kitchen experts to make your imagination come to life?