Unlike before when squares and rectangles formed default shapes for beds, round-shaped beds have gained decent popularity in the field of home décor.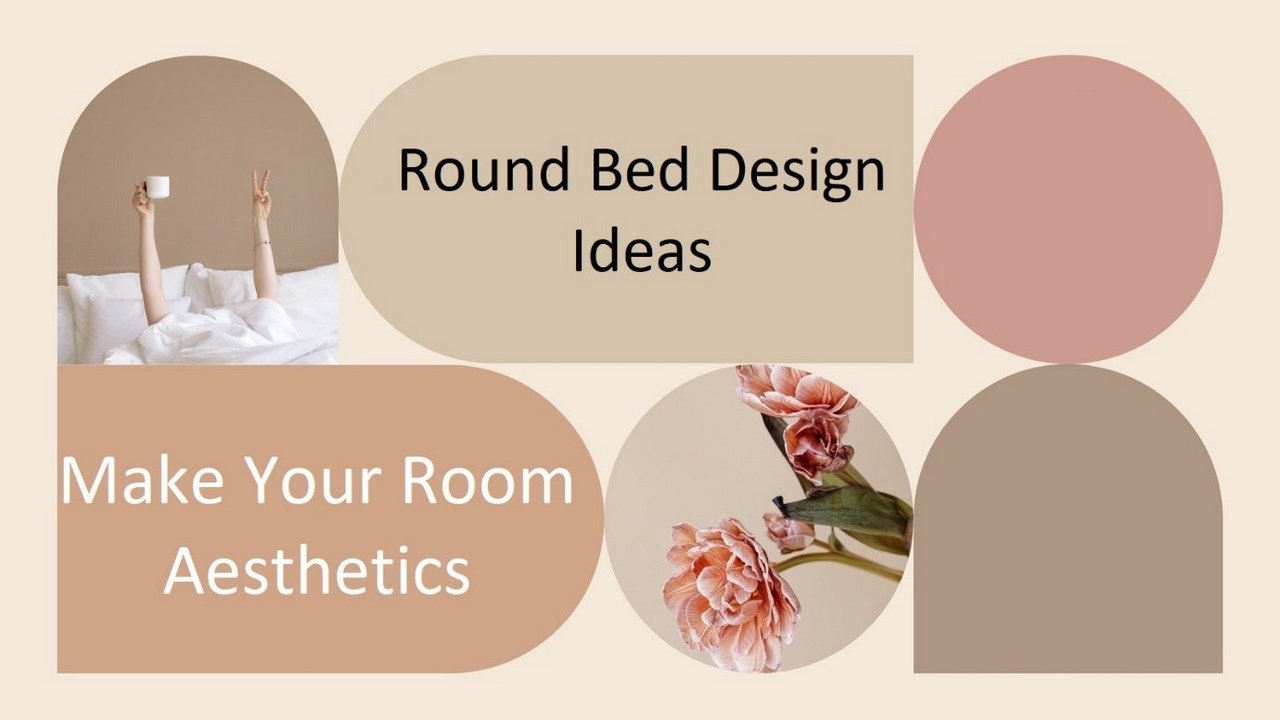 Round-shaped bed ideas are receiving appreciation owing to the varieties they can offer. Hundreds of circle bed design ideas can be formed.
However, here we have consolidated the 20 best unique round bed design ideas to make your room aesthetic.
Best 20 Round Bed Design Ideas
1. Round Bed Design with Headboard
A Curved headboard and a round bed could bring headboards in fashion again.
Although, headboards were introduced to provide insulation from the walls, here they form great architectural design in curating a round bed and optimizing their look.
To make it more aesthetic and luxurious you can add a headboard color rug and carpet beneath your round table
2. White Circle Bed Design with Throw Pillows
A white circular bed complemented by throw pillows in different colors can be a decent go-to option if you aspire to the right blend of white and colorful elements in your bedroom.
3. Floating Circular Bed
A bright color round bed floated near the walls, complemented by a well-lighted room can offer a glossy look to the entire interior. A round bed mounted on a wall at an appropriate height can be an ideal choice.
4. Hanging Outdoor Round Bed Design
If you dwell in an outdoor location far from the crown of cities, you must consider a hanging round bed if having round beds is on your list.
5. Vintage Leather Circle Bed Design
Leather could make great vintage material. A circular geometry on top of that would create an unusual yet convincing option if having a vintage room setting is something you have always desired.
6. Black and White Round Bed Design Idea
A white circle bed design layered with black mattresses and blankets could be a great theme for round bed designs.
The simplest yet most powerful idea for an interior is something you can always bank upon.
7. Beanbag Shaped
You certainly can't deny that bean bags are a perfect choice for people who aspire to comfort mixed with style.
Have you thought about how innovative will it be to mold a round-shaped bed into a beanbag shape with the same mix of style and comfort? I am sure you would love having one.
---
Read Also:
---
8. Round Shaped Bed Design with Circular Chandelier
A chandelier can lend a royal display to your interior. Especially, when a round chandelier is paired with a round bed, it could be a one-of-a-kind bedroom setting display.
9. Round Shaped Bed Design with Stand
Having a stand enveloping your round bed will provide solidity to it. Besides, this element can be introduced in a vintage shade to make the setting look unique in style.
10. Double Duty Round Bed
If you wish to have a round bed and also want to make up for those inches of space that could go waste, double-duty circular beds are perfect options.
They are built to deliver twofold functions. Other functionalities may include storage space or maybe folded into a sofa or a couch.
11. Round Bed with Rabbit Ear Headboard
If your room already houses shapes and geometry, elements are carved in certain shapes, then the idea of a round bed paired with a headboard that is rabbit ear-shaped could do wonders in enhancing the beauty of your room.
12. Heart-Shaped
A round bed in bright colors can be surrounded by a heart-shaped ring. The outer material could be leather or any other synthetic material.
13. Round Bed with Tall Tufted Headboard
The headboard is back in style. Especially to complement round beds. Here, a tall and tufted headboard above your head area could be a classy choice for a headboard.
14. Oval-Shaped
Molding the round bed into an oval one can portray your affinity for shapes. And that your choices could stand out among the standard ones.
15. Elevated Round-Shaped Design Bed
Elevation always brings distinction. To make your round bed look distinct and appear, go for an elevated round bed at an appropriate height.
16. Round Sofa Bed with Storage
Compromising on space with a round sofa bed can be less painful if you opt for one that comes with storage options where you can store extra pieces of pillows, bedsheets, and other stuff.
17. Round Bed with Legs
Like furniture, even beds come with standing legs. A round bed with legs can be a choice that creates synchronization with the traditional choices of bed.
18. Round Bed with Lanterns on the Side
If you want to highlight your bed, what could be a better placement than having a circular bed with hues of colors on the bed and mattresses with lanterns on the two sides making the bed area visually impactful.
19. Round Bed Design with Patches of Artwork
Artwork and design reflect a sense of creativity. You can decide on a theme for your entire interior and paint your round bed with patches of artwork that go with your interior.
20. Modern Round Bed Design Near the Curved Wall
Curved walls are not very common. However, If the architecture of your house is inspired by curved lines and the walls reflect curved geometry, a modern round wall with a curved headboard can be an ideal choice.