Barn doors are modern and trendy, and we just simply love them. Although the name barn doors do not mean that you have a barn at home, a sliding glass barn door style is a versatile interior décor style that fits anywhere in the home. The bathroom is no exception.
Not only are barn doors versatile and can be used anywhere in the home, but they are also great options when you are caught between keeping the door stylish and maximizing available space.
They fit right in your bathroom if you have a small space to work with while making your bathroom look trendy and modern.
Why Should You Use Sliding Frosted Glass as a Barn Door?
There are lots of benefits to using sliding frosted glass as your barn door in your bathroom. Some of them include:
---
Read Also:
---
Opaque glass is a glass type that's popularly used in front doors, commercial spaces, and bathrooms because it boosts privacy.
Using opaque glass for your sliding glass barn door in the bathroom is a good way to eliminate the feeling of intrusion.
It increases privacy without preventing light from filtering into your bathroom, which is a great way to keep your bathroom looking bright without sacrificing your privacy.
Easy Maintenance and Cleaning
Wood use, especially in doors, needs constant maintenance to keep dents, discolorations, and scuffs at bay. Aluminum doors may be lightweight and enjoyable at first, but they are prone to bending.
Frosted glass use in bathroom barn doors will make it super easy to keep your barn door clean and maintain it to keep it in the best condition.
Cleaning regularly with a lint-free cloth, a dishwashing soap solution or, a dedicated glass cleaner will keep your frosted glass barn door in excellent condition and keep it looking as good as new every time.
Frosted glass adds the modern feeling to any space it is made use of and fit into any existing décor style. The use of opaque glass in your bathroom as sliding barn doors will make your bathroom feel modern.
It will also complement the current interior décor style in your bathroom.
The door will fit excellently with any existing style theme or color palette that you may have in place without sticking out like a sore thumb. Instead, it improves the visual appeal of your bathroom space.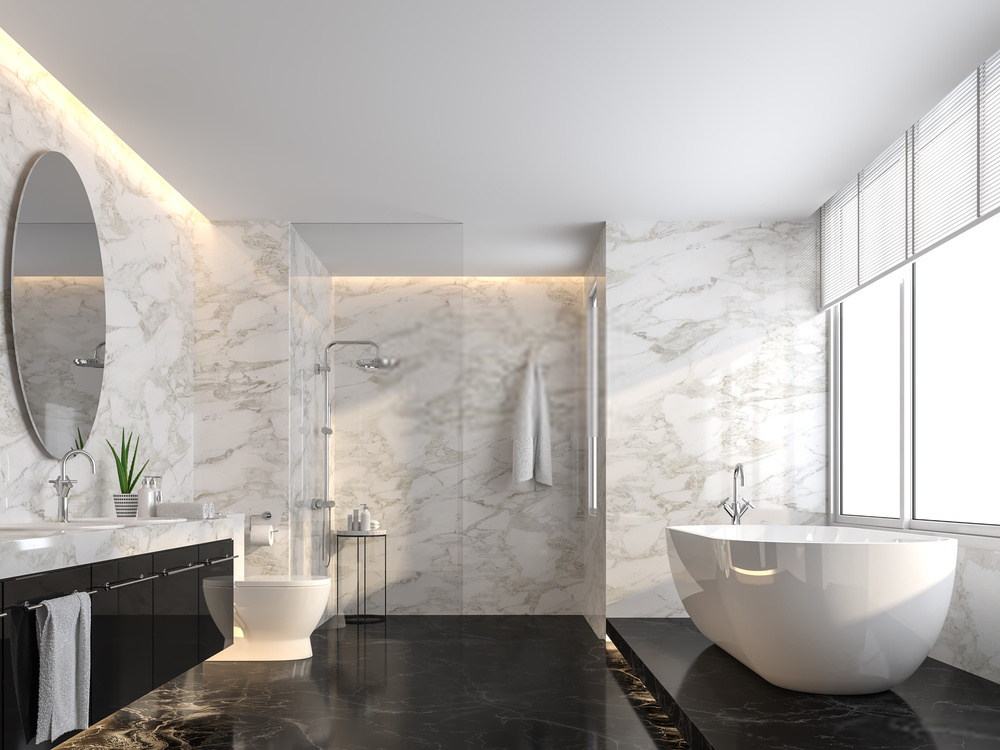 Generally, there is a concern that when a material, especially glass, is opaque, it will block out light and leave your space a little dim. This is not true of frosted glass. Frosted glass use in sliding bathroom barn doors will enable light reflections in your bathroom space.
This gives your bathroom a bright ambiance all through the day and reduces your dependency on artificial lights. This helps you save some money off your energy bills.
Opaque glass doors, apart from allowing light into your space, also filter out harmful ultraviolet rays from coming into your bathroom. This leaves you protected from UV rays and also prevents damage that may occur on bathroom furnishings and appliances when regularly exposed to UV rays.
Should It Be Framed or Frameless to Give Your Bathroom's Interior a Modern Look?
A framed frosted sliding glass barn door offers the benefits and style points of a barn door while at the same time supporting frosted glass sheets with framed panels. Keeping your door framed improves security and sound control.
Having a framed glass barn door also gives you the chance to install your frosted glass barn doors in any style you wish. Framing gets rid of any space between glass panels and their surroundings.
Frameless sliding glass barn doors, on the other hand, may not have reinforcements from support panels, but the glass is durable and strong, and this makes them secured just as framed barn doors are.
Frameless glass barn doors enhance the look of your home and increase the visual appeal of your bathroom as a result of the modern look that frameless glass brings to your bathroom space.
Frameless Sliding glass barn doors optimize the available space in the home while making your bathroom look more significant than its actual size. This makes your bathroom look elegant and increases the value of your home.
Different Patterns of Frosted Glass
It is common knowledge that glass is versatile and fits into any existing décor style. At www.fabglassandmirror.com/pattern-glass, you can shop for frosted glass in different patterns and designs.
This provides you with the option to add a creative twist to your sliding glass barn door and to personalize the installation by deciding on a pattern that expresses your style.
Patterned glass use in sliding glass barn doors for your bathrooms will increase the visual appeal of your bathroom space and home without ridding your bathroom of privacy.
The patterns available include the following.
Aquatex obscure glass: This patterned frosted glass features a vibrant and bubbly pattern.
Pattern 62 glass: This is a glass with a balanced combination of opaqueness and visibility.
Gluechip patterned glass: This features a unique and exquisite pattern that looks like that of a snowflake.
Spraylite textured glass: This glass has increased opaque levels with pattern ripple designs.
Matte glass: This is best for increased privacy that blocks out an ample amount of light.
Reeded glass: This features elegant and sophisticated line patterns.
Seedy glass: This creates the look of scattered bubbles. It is an excellent option for places where a large amount of light reflections is primary.
Rain texture glass: This features patterns etched as dripping trails of rain. This creates the effect of continuous moisture and is a great way to add visual interest to your space.
Where to Buy Quality Frosted Glass to Serve This Purpose
Patterned glass is now easily accessible to everyone, and the choices of patterns to choose from are numerous. For your high-quality, creative, and durable frosted, patterned glass, Fab Glass and Mirror is your go-to shop for all your frosted glass needs.
With over 11,000 positive reviews from satisfied customers and counting, the numerous range of high-quality frosted glass and glass patterns from Fab Glass and Mirror will add improved aesthetics and visual appeal to your home. The designs are modern and will leave your home feeling trendy and up-to-date.