Homeowners should consider a perfect match of rug in their home space. The floorcloth is an essential part of your home, as it effortlessly ties an area into comfort and perfection.
It plays a crucial role in making the overall look of your space, from your average-looking home to an elevated one.
That is why choosing a perfect match for a rug is essential. And based on professional interior designers, it should be the one you love and matches the overall vibe of your home.
But no worries! ABC Carpet & Home has many rug options that can match your home style. They offer classic, contemporary, plain, and patterned floormats.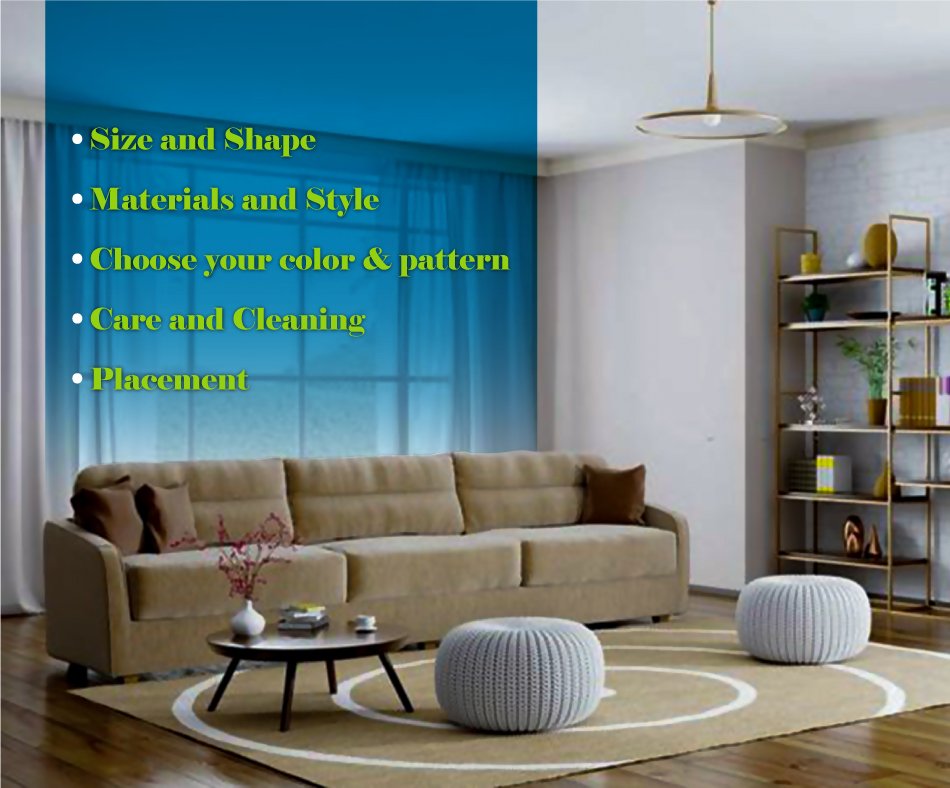 Keep on reading to find the perfect area rug for your space!
Decide How You Want the Room to Feel
Choosing the overall mood of your room can make your rug decision a lot easier. You might want to choose a bedroom that feels calming and inviting to make you want to rest.
A room that feels vibrant and has this uplifting energy or a room that has a black and white theme for a darker feel.
Nevertheless, these things can help you decide for your room feel that is best suited for you.
Such as incorporating your favorite color to your room vibe, choosing a monochromatic and muted look, include a rich and deep color as a statement piece, or go for the latest style room that you like.
When buying a rug, you must ensure that the look and feel of your room mirror your personality.
You do not want to spend your whole day in an area that does not match your characteristics, right?
Things to Consider When Choosing an Area Rug for your Space
You can never go wrong with a rug as a decorative piece in completing your perfect home.
Here are five things that you might want to consider so you can choose the ideal area rug for your room.
---
Read Also:
---
Size and Shape
There are lots of rug sizes and shape available that best fit your home area. These include rug sizes that are fitted in large areas, such as your living room, to measurements that are layout for your furniture placement.
Extended rug sizes are recommended for your dining space. A 10 x 14 rug size is ideal for any area in your home. This site is exclusive in ABC carpet & home.
The shape is also a factor that is needed to be considered in a rug. There is three rug shape that is the best fit for any home space. These are a square shape, a circular rug, and a rectangular rug shape.
A square shape is ideal if you want to have a balanced look in your home. This kind of shape aims to have the exposed floor be identical.
A circular or round shape is the best fit for your dining table or a rectangular shape to have an elongated space.
Material and Style
In every space of your home, there are ideal materials of rug that you might want to choose from.
In living room areas, a durable material of rug is recommended, such as wool or jute.
A low pile rug such as hand-knotted wool, however, fitted best in the dining room.
In bedrooms, a thicker shag blend or hand-tufted rug paired with neutral colors is a top pick for this kind of comfort space.
In indoor areas, an indoor-outdoor and natural fiber rug materials are recommended because they are stain-resistant, kid-, and pet-friendly.
Materials of synthetic fibers are also recommended for outdoor areas and acrylic or polyester materials for open floor areas.
In addition, rug style can spice up your space.
Consider the style that compliments you and your lifestyle when choosing an area rug.
Along with these factors, you might also want to consider the durability and flexibility of your chosen style for your space and home area in general.
Choose your Color and Pattern
Since a rug is a kind of a magnetic piece that connects your space, you need to make sure that you establish your chosen floormat of color and pattern to your mood.
With your color scheme, put together the main colors that complement your space.
You have to visualize everything together to know how you feel about them and a list of colors of your rug that will supplement the other pieces in your space.
A good rug pattern can elevate the look and mood of your space. That is why you must consider the perfect design that complements the colors, textures, and other accent pieces in your home area.
Care and Cleaning
Rugs are vulnerable and are always in need of care. Despite your rug choice, it will always need professional care and cleaning to last for several years.
There are different cleaning methods for every rug. That is why you need to research proper ways oh how clean and take care of your rugs. Or, you can seek professionals who specialized in the care and cleaning of rugs.
Placement
The proper placement of rugs depends on the settings, the type of space, and other décor elements of the room. Specifically, there are lots of ways to fit the proper placement.
When it comes to a foyer or an entryway, the rug is ideally placed at the center. Area rugs in the kitchen should also be situated in the middle.
However, in the bedroom area, the rug should cover a third of the length of the bed.
Also, it should extend by around a foot or two on the three sides ways from the headboard. These kinds of rug placements can make your space put together.
Conclusion
Choosing the perfect rug for your space is hard and takes a lot of time. But ABC carpet & home has different rug varieties other offers that you can choose from.
So, what are you waiting for? Take note of these five steps and find the perfect rug for your space.