As concern for the environment grows, an increasing number of people are seeking ways to live a greener, more sustainable lifestyle. One area where this is particularly evident is in the design and construction of homes.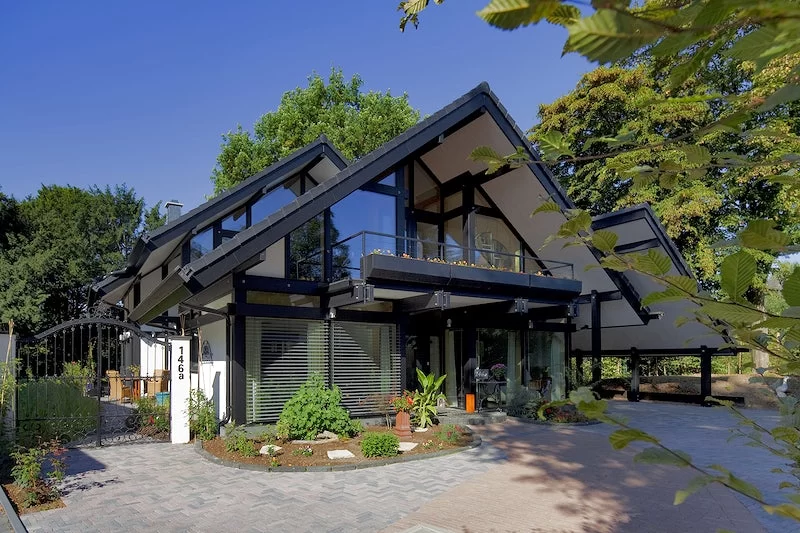 With the increasing availability of sustainable building materials and technologies, it's now possible to build eco-friendly houses that not only reduce our impact on the environment but also offer numerous benefits to the people who live in them.
If you're looking to encourage a greener future by opting for an eco-friendly living space, you'll have no shortage of options to choose from.
In this article, we'll explore the various types of sustainable homes for those considering switching to an environmentally conscious lifestyle.
1. Shipping Container Homes
Shipping container homes are a sustainable housing option that is gaining popularity as a result of their affordability, durability, and versatility. Made from repurposed shipping containers, these homes offer a unique living experience, while also helping you reduce your carbon footprint.
They can also be easily transported and stacked to create multi-level homes and can be equipped with insulation and renewable energy systems to make them energy-efficient.
These cabin containers are also customizable, allowing for creative design and personalization.
Additionally, these homes are known for their strength and durability, making them an excellent choice for off-grid living or living in areas prone to natural disasters.
If you're looking for a cost-efficient and practical living option with a low environmental impact, buying a cabin container might be the ideal choice for you.
2. Passive Homes
Passive homes are designed to maximize energy efficiency and reduce the need for active heating and cooling systems.
By harnessing the sun's natural heat and utilizing principles of thermal mass and insulation, passive homes are able to regulate temperature without relying on traditional heating and cooling systems.
This results in significantly reduced energy consumption and associated costs. Passive homes are also known for their airtight construction, which helps to maintain consistent indoor air quality and reduce the need for mechanical ventilation.
With their focus on sustainable design and energy efficiency, passive homes offer a great way to enjoy a greener lifestyle. These homes provide a comfortable, efficient, and eco-friendly living experience.
---
Read Also:
---
3. Net-zero Energy Homes
Net-zero energy homes produce as much energy as they consume, making them self-sustaining and reducing their carbon footprint. This is achieved through the use of renewable energy sources such as solar panels, wind turbines, and geothermal systems.
These homes are designed to be highly energy-efficient, using features such as insulated walls, high-performance windows, and efficient lighting and appliances.
The goal of a net-zero energy home is to produce enough clean, renewable energy to meet all of its energy needs, with any excess energy being fed back into the grid.
Not only does this reduce dependence on traditional energy sources, but it also has the potential to save homeowners money on energy costs over time. Net-zero energy homes are a step towards a more sustainable future and a greener planet.
4. Earth-Sheltered Homes
Earth-sheltered homes are partially or entirely built below ground level, taking advantage of the earth's natural insulation properties to regulate temperature.
This design results in a more energy-efficient home that requires less heating and cooling to maintain a comfortable indoor temperature.
These homes are also known for their unique and attractive design, offering a peaceful, quiet living environment.
They can be designed to blend seamlessly into their natural surroundings, making them an attractive choice for those who want to live sustainably and in harmony with the environment.
Whether you're looking for a primary residence or a vacation home, earth-sheltered homes are a unique and sustainable option.
5. Prefabricated Homes
Prefabricated homes are constructed off-site and then assembled on-site, offering a more efficient and sustainable alternative to traditional construction methods. This method of construction helps to reduce waste and minimize the impact of construction on the environment.
These homes are also designed to be highly energy-efficient, using materials and technologies that help to reduce energy consumption.
The modular nature of prefabricated homes allows for a high degree of customization and personalization, making them an ideal choice for those who want a unique and sustainable living space.
Additionally, prefabricated homes are often built using eco-friendly materials, helping to reduce their environmental impact. Overall, these homes offer a convenient and sustainable solution for modern living.
To Wrap It Up
Regardless of what you're looking for, there are many different types of eco-friendly and sustainable houses to choose from, each offering its own unique benefits.
From shipping container homes to earth-sheltered homes, there is a sustainable housing option to suit all your needs and preferences.
These homes offer a greener way of living, reducing our impact on the environment and providing a comfortable, efficient, and affordable experience.
Whether you're building a new home or looking to upgrade your current living space, there is an ideal eco-friendly option for you.