Our interior decor defines us in many ways. It gives clues about our lifestyle, our tastes, and even the kind of welcome we like to give visitors to our home.
Visitors aside, the living room is oftentimes the center of our daily lives.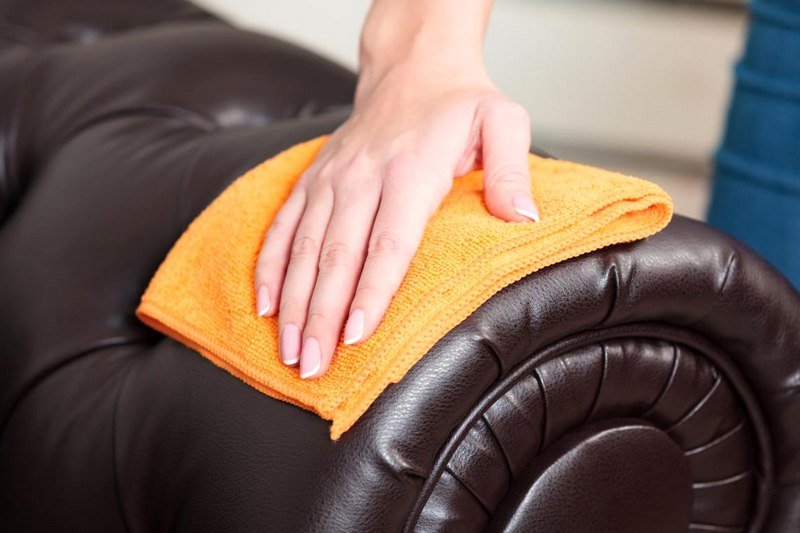 Most of us opt to stay in the comfort zone when faced with a choice between a wooden stool and an ultra-comfortable item of upholstered furniture. Who doesn't like to come home and relax on the sofa, or their favorite armchair?
Dirt, dust, and stains will accumulate over time – even if children with sticky fingers or pets shedding hair never come near your living space.
7 Tips on Upholstered Furniture Maintenance
If you prefer chic to shabby, then regularly caring for your living room furniture is a must.
We asked the upholstery experts about the essentials. This is what they said.
---
Read Also:
---
Vacuum
Vacuum your upholstered furniture at least once a week to remove surface dust and dirt. A weekly vacuum prevents dirt from becoming embedded in the fibers. And it helps to keep upholstered items looking new.
You can also use a soft-bristled brush to gently whisk the dirt away. Avoid using harsh brushes that could damage the fabric.
Remember, too, that old piece of domestic advice about dusting in general: dust from the top down.
Vacuum other soft furnishings, such as covered pelmets and curtains, first, before you start on the sofas and chairs.
When vacuuming upholstered furniture, here are a few tips:
Before you start, check for debris that could clog the vacuum cleaner.
Puff up the cushions. It helps the cushions retain their original shape for longer. It also loosens dust for more effective vacuuming.
If necessary, clip any loose threads and repair or tighten buttons before vacuuming.
Use the soft brush attachment on the vacuum. Be sure to keep it clean and free of oily residue. It is practical to buy two of this type of attachment and keep one for use with upholstery only.
Use a crevice tool for corners and tight spots.
Avoid Sunlight
Too much sun can damage upholstery fabric. Position the furniture in the room so that it does not catch the sun for extended periods of time. This will help to prevent the fabric from fading and fraying.
Window blinds and shutters, and closed curtains help to preserve the integrity of both fabric and leather upholstery.
Avoid Pollutants
Airborne pollutants, such as fumes from cooking or smoke can also harm your upholstery. Proper natural ventilation can help, as can installing a home air conditioning system in your living space.
Upholstered furniture can also absorb odors. Good ventilation will reduce the likelihood of that happening.
Spot Cleaning
Accidents happen. Use a clean, folded towel to blot (not rub) any spills immediately. With pre-treated fabrics, this is oftentimes enough to remove the stain completely.
If food is spilled on the upholstery, first use a spoon or scraper to remove the excess before blotting. With slipcovers and cushions with zippers, it's a good idea to place a towel underneath the fabric too to prevent the spread of the stain.
It's best not to use colored towels or printed paper towels. Their dye might transfer from the towel to your upholstery.
The furniture manufacturer's instructions will recommend either a water-based, or solvent-based, stain remover. Keep the manufacturer's instructions, since details like these are easy to forget!
Whatever the case, we recommend a mild cleaning product. Apply the product with a soft brush, and work it into the fibers in a circular motion. Vacuum when dry.
Always test the spot cleaning product on a small, non-visible area of the fabric first. Wait for the test area to dry well before you decide if the product is suitable.
Removing Pet Hair
In between the weekly vacuum, you'll probably want to remove pet hair from your furniture, especially if it is in your favorite spot!
There are several ways to do this:
Use clothes brush with either a bristle head or napped fabric head
Use a clothes lint remover with a refillable sticky tape
If you have nothing else, wrap masking tape around your hand, sticky side out
Deep Cleaning
Even when there are no visible stains, bacteria and allergens tend to lodge deep within your upholstery. Mold, dust, mildew and other allergens can accumulate in your furniture.
Calling in professional cleaners every 12 to 18 months will minimize asthma and allergy. Deep cleaning is particularly advisable if you have indoor pets and/or young children.
Upholstered Furniture – Leather
Leather upholstery needs special care.
Wipe leather furniture down regularly with a clean, dry, microfiber cloth.
Damp wipe with a soft cloth if necessary. Use distilled water, taking care that the water does not soak into the leather.
Clean with leather conditioner or saddle soap and buff well to remove residue.
We must stress that you should use cleaning products designed specifically for leather. There are also specific products to deal with stains on leather. If you have nothing else in the house, it is useful to know that stains respond well to vinegar and blotting. Follow that up with an all-natural buffing with olive oil to hydrate and soften the leather.
Leather furniture can be gently vacuumed, using a soft brush attachment.
Vacuum suede with a soft brush attachment. Use only made-for-suede leather cleaners. Art gum erasers are effective in removing small spots. Never clean with suede with water.
Leather upholstery has an advantage over its fabric counterpart. If cared for properly, it lasts much longer.
It also has an inimitable style and is much more versatile than people think. If you need convincing, view here.
Always a Pleasure
Clean upholstered furniture is always a pleasure. It lets you indulge yourself as you relax after a hard day's work, or in those precious weekend moments when you can truly put your feet up.
Keeping your upholstered furniture well maintained gives a lift to your living space for years and years. If everything is spic and span, you're more likely to invite friends over more often. And who doesn't like a good company with fun and laughter in the comfort of their own home?
Keep reading our blog for more home tips.