As adults, we often spend our time in the office and at home. To make things more exciting, you can build a game room in your attic. This will definitely help you relax after a long, stressful day.
To do this, here are some of the best attic game room ideas for adults!
1. Add Some Fancy Paintings
Art can bring color to your life. Just look at this attic game room idea by estifelder1. You can easily spot how the red, blue, and yellow paintings emit life. Paired with a gray leather couch and patterned mat, the room becomes extra superior.
2. Well-Constructed Tables
You cannot go wrong with wooden tables. Not just one but three tables are shown by ddtruecraftsmen on Instagram! These tables can accommodate your game nights from cards to any other games in mind. You can also paint them in times that you need a restart.
3. Pool Table and Mini-Bar
Creativity can bring you to different walks of life. See how it_takes_two_diy jumped up to their game room idea! With a red pool table and a minibar, your attic can be one of the best. This one is definitely perfect for parties and overnights.
4. Improve Your Alone Time
Alone time is a happy time. This idea by darthschleder is a real trophy for gamers. The attic holds a widescreen television, couch, and compartments for valuables. You can also notice how white walls and colored mat light up the room. It is clean, impressive, and minimal. It's all you need for an attic game room, buddy.
---
Read Also:
---
5. Use or Follow a Theme
To build the ideal game room, you can follow a theme that you love. In this post from Decoist.com, they followed a "sports bar" theme. You can complete the look with a pool table, a TV, and a famous jersey. After that, you can work on the whole room bit by bit.
6. Build a Home Bar
Having a bar in your attic will definitely keep the kids out. By including this in your game room, you will have more fun with your friends. Take a look at this photo from D Chamblin. You can use this idea to build a sophisticated home bar.
7. Keep the Space Tight
This photo features another brilliant idea from Decoist.com. Friendships are often strengthened in enclosed spaces. By designing a tight game room space, you will bond more with friends. Not to mention, it looks more fun.
8. Use the Space Between Trusses
Attics are often built with support from trusses. If you have a large attic, this idea from Sarah Toppins could help. You can have a large game room by placing stuff between trusses. Even just by looking at the picture, you will feel comfortable.
9. Build a Snack Bar
Spending time in a game room can tire you out. Take a break every once in a while. To do that, you can use this idea from Billy Munker's post. Build a snack bar and share some treats with your friends.
10. DIY Gadget Rack
Most adults play video games too, and they take it seriously. They maintain their gadgets and controllers by keeping them safe. If you are one of them, try this idea from Aaron Gentles. Build a DIY rack for your controllers and headphones to organize them.
11. Maximize Your Workstation
Play and work don't usually vibe. However, we can always defy routines and traditions. Kiran's idea of an attic game room is a paradise to look at. A wooden table, brown chair, and floating shelves complete the picture. You can put up essential things to satisfy your game room too.
12. Comfortable Game Stations
Don't settle for less when you can go for more! Look at this high-level game room by reddit.com.  Aside from the amazing table setup, a bed will warm you up too. Lights also made the room equally cozy and beautiful. Indeed, a game room that totally feels like home.
13. Wall Mounted Rack
Sometimes, we can have problems with holding things up. This post from morningchores.com will give you an idea to avoid messy game rooms. Using wall-mounted racks, you can now organize and rearrange stuff.
14. Relevant Decorations
Inspiration is in the air… or on your wall. This post from inspirationfeed.com shows a relative game decoration. It's a simple way to switch up your gaming space. Collect room decorations and light up your attic game room now!
15. Go Classic with a Dartboard
Cyndie Duhan posted a game room idea that you might just like. Putting dartboards is a perfect way to design your room. In fact, it completes the idea of a classic game room! Invest in a good-quality dartboard and get thrilled with your colleagues too.
16. Set a Candy Shelf
This idea from Lalu Lalang Furnitures will catch the eye of a candy fan. A candy shelf is a perfect addition to your game room. Sweet treats can hype you up during game times. Also, it will be a big hit for your sweet-toothed guests.
17. Personalized Drink Rails
Traditional games are often accompanied by cold drinks. To improve your gaming sessions, try this idea from Shannon Weber. You can place a drink rail by the wall to set your cold beers. You will have more focus on your games instead of playing with one hand.
18. Add a Stylish Carpet
Game stations are excellent design additions to a game room. However, you will always need that "one thing" to complete the look. In this photo from HGTV, that "thing" is the stylish carpet. It removed the focus from the bare floor, improving the room's aesthetic.
19. Build a DIY Game Shelf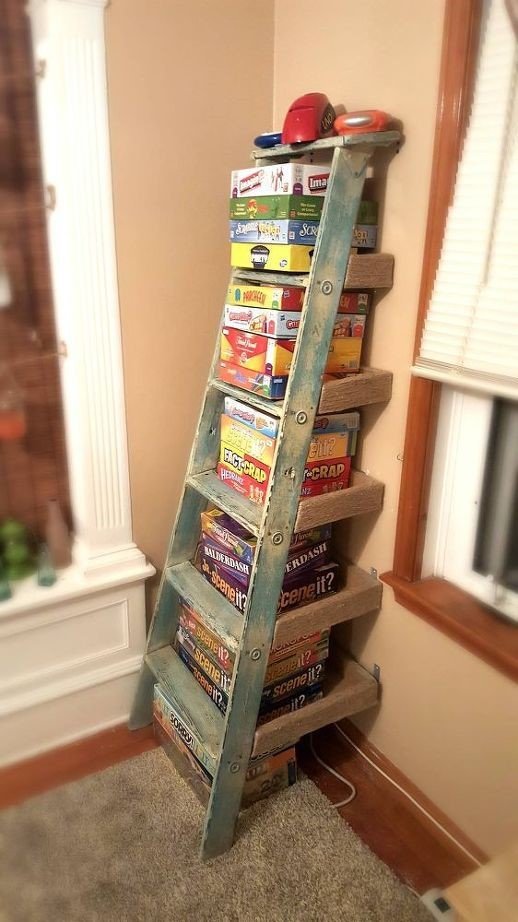 If you have an old ladder, you can build a DIY shelf for your board games. Take a look at this amazing idea from Hometalk. You can do this by getting a few blocks of wood. Just attach them to the ladder, and you are good to go.
20. Have Enough Lighting
Decoist.com posted another idea for us to take note of. No one could ever enjoy playing games in the dark. That is why they featured this photo with well-placed lighting. It makes the place look elegant, and it is effective.
Conclusion
We only get a few fun moments in our busy adult lives. To avoid drainage, learn to breathe every once in a while. Build your ideal game room to make your weekend breaks worth it. It only takes a few steps to build that perfect lounge.