Whether it's for a chilly winter night perfect for enjoying a glass of whiskey or a guys' night in to play poker, a man cave is every man's dream.
More than anything, it gives you your own personal space to relax and escape from the stress that comes with taking care of your family.
As important as it is, you'll want to make sure that your man cave has everything you'll ever need to unwind after a hectic workday. You can visit Tailored Cave to get more valuable ideas, but if you ask us, it's all in the details.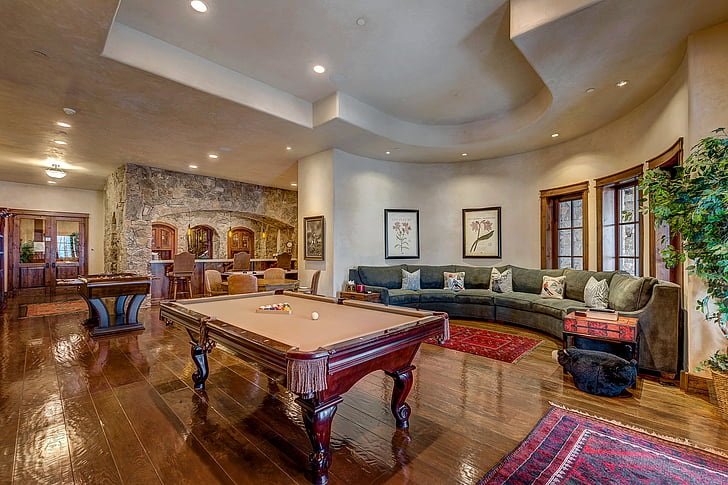 Man, Cave Essentials
Below, we have jotted down all the must-haves that can turn any dull space into a lavish man cave. With these on hand, you'll have a comfortable and irresistible room you'll look forward to coming home to every day.
Something to Get Comfy in
After a busy day out or a hectic work week, we turn to a man cave to destress and rest. In that case, you'll want to make sure you have a recliner and plenty of other seating options.
A Recliner
When it comes to any list of man cave essentials, a recliner will almost be at the top of the list. In it, you can sit back to read your favorite book or watch your team battle it out in the finals. Indeed, a man cave is incomplete without a cozy recliner.
Couches and Bean Bags
If you like hosting game nights, you'll need plenty of seating for your friends to get comfortable in. As such, you will want your entertainment area to have a cozy couch or two, as well as a couple of bean bags.
Make it Smart
Who wants to run around adjusting temperatures, setting lights, and managing volumes? Not someone fixated in a comfy setting, that's for sure!
In that case, you'll want to build your man cave with smart, remote-controlled appliances to have all the essentials right at the palm of your hand. The good thing about this is that more and more man cave essentials now have smart features.
It's All About Entertainment
A man cave is your amusement at home. From video games and arcades to table tennis and poker, how you want to keep yourself and the boys amused is your call. Spare space in your man cave for entertainment and add essentials of your choice.
Gaming Zone
Whether you plan an evening with your boys to fight over a ball or a night mission against zombies with online multiplayer, build yourself a gaming rig to set right in.
Equip your man cave with monitors and keyboards or game consoles and controllers to open your lair to the virtual world.
---
Read Also:
---
Visuals and Sounds
Nothing is more relaxing than binge-watching your favorite TV show or streaming a new release while snacking in a cozy setting.
Add a decent smart TV and quality speakers to create a media hub in your man cave. Don't forget to soundproof your space with insulation if you plan to vibe on high beats!
Go Old School
A boys' night-in should be all about fun and games. Add spice to your entertainment with many interactive games, from cards, dart boards, or a pool/ping pong table (if space allows). The idea is to not run out of entertainment options.
The Cherries on Top
A man cave gives you complete authority to design it as you like. You can choose to make it underground street style to have fun with pals or a sophisticated office to get extra work done. Design it to fit you.
To complete your man cave, here are other must-haves you definitely shouldn't miss out on:
Cave Lighting
To let light, enhance your mood, build your man cave with many lighting options. You can add dim blues for your gaming rig, bright yellows for your workspace, or multicolored LEDs to go with your vibe. Good lighting will undoubtedly add to your room's purpose.
Minibar/Refrigerator
Can't imagine working, playing, or resting without beer or snacks? Us too! Add a mini-refrigerator to have the beers served without leaving your cave.
You can also stack all your snacks in or on it. If space allows, invest in building a minibar to enjoy with the boys in style.
All about you
This is where you make the man cave all about you; show that you own it! Build shelves to show off your football collections or equip the area with racks to display your worthy winnings.
The choice is all yours! Express yourself by painting graffiti on the walls or adding signage or posters of your interest.
Here comes the point: you've built the cave to escape and want no one to lure around in your space. To avoid attracting people to your setting, make the door to your man cave a secret.
For this, you can use bookshelves or mirrors to hide the door behind or wall panels to cover your den. The key is to keep it to yourself!
Final Words
A perfect man cave is comfortable, tech-equipped, and, most of all, showcases you. No matter if you're making use of your garage, the basement, or a secret passageway, a man cave is your unique space. Design it as your escape from the outside world.