Most of the modern offices are small ventures or startups and so with limited resources and staff too. Thus, if you have your workspace at home, you need to take in the fact that it does not consume a lot of your living space.
At the same time, you will need to ensure that the design of a small office is compact and professional too. Setting up racks and organizing stuff, you can keep the office totally clutter-free.
Artistic Interior Designs for Small Offices
Let us check a few of the best Architectures Ideas for small offices building design that you can also try.
---
Read Also:
---
Under the Stairs Office Space
Does this remind you of the "Boy who lived under the stairs?" aka Harry Potter? However, who said you cannot have it all styled up to give you a comfortable workspace? If the only space you get is under the stairs, try to use it to the maximum.
The wall can be used as a bookshelf or a shelf to contain the documents and nick-knacks. Push in a small table under the stairs in such a way, that you face it and not even hurt your head while getting up.
This is a great way to even use the space in a minimalist fashion. You can even have wallpaper up to the steps or with some intuitive designing and woodwork skills, create a rack under the steps to give you extra storage space without cramping up.
Balcony Office Ideas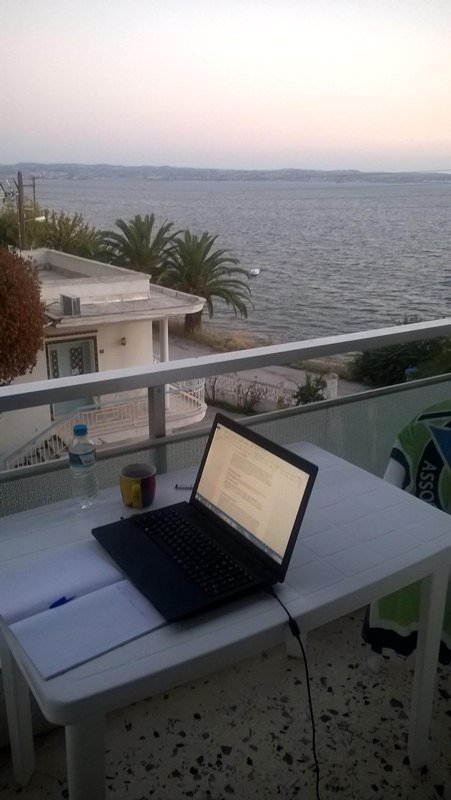 A small balcony with a grill on one side is airy and saves a lot on daylight. So, you will be able to save power and have the use of two walls completely for storage. Try using light pastel shades to give an illusion of space by using white paints or white lights. Let the furniture be of fir or white color if necessary.
You can even try having a glass-topped table and lamps so that you can get an impression of having a spacious workspace. If you are facing a wall, use it for having the shelves and racks. Space will be in proper use, and if you also have a long wall-mounted desk, it shall save the space by a zillion too!
Attic Workspace Ideas
The thing with attic is the presence of a wall, which inclines too. Besides that, you may even have normal daylight coming in through the skylight or big windows. If a room is not very big, try to have a table against the wall and computer or laptop to use for work. Remember to avoid dark-colored wall color for the workspace.
Likewise, the mezzanine room or the landing of a floor can also be put to similar use, and you can have your office workspace there. Just make sure you have sufficient desk space and storage space in the arm's reach so that you do not end up getting from your desk for accessing the littlest of things.
A Riot of Colors for Creative Spaces
When it comes to designing a creative workspace, do not hesitate to use bright colors. You can try bright shades of green, blue, pink, and red, besides even going for the glow-in-the-dark, for the wall decals. Have quirky items scattered around the room to bring in a fun element and make you think more. Many designers even prefer a small nook for themselves where they can sit and think.
There are a few creative artists who also prefer getting a hammock for themselves or pods where they can unwind while they work. Give your small office all the creativity you always dreamt of and get going in life. The creative wings you give to your office room will not just be the reflection of your creativity, but even the levels that you can go with your vision.
Have Multifunctional Desk
If there is more than one worker working with you, a couple of multifunctional desks with storage space or drawers and desks under it can save the space. Try to share a desk with others and sit facing each other. This will be a great workspace that can even double up as a conference table whenever you want.
Do remember to have a desk in the center of the room. Do not forget to have under table power sockets to help you plug in your Smartphone's, your projectors, and even your desktops or laptops. Light up the room well for all the members to work cozily.
There is no limit how you make your small-office space to the best use, but these are very few effective uses to be loved. Here are those ideas that will not just compliment your small office building ideas aesthetically but also give you enough space to move. Make a big change to your small office now!