Adding plants to any living space can bring the place to life and help make a house a home.
While decorating your space, you may realize that some greenery is just what you need. It's hard to know what plants are best suited for apartment living, but we're here to help!
If you want to make your apartment complete with house plants, keep reading for our guide on the best plants for apartments.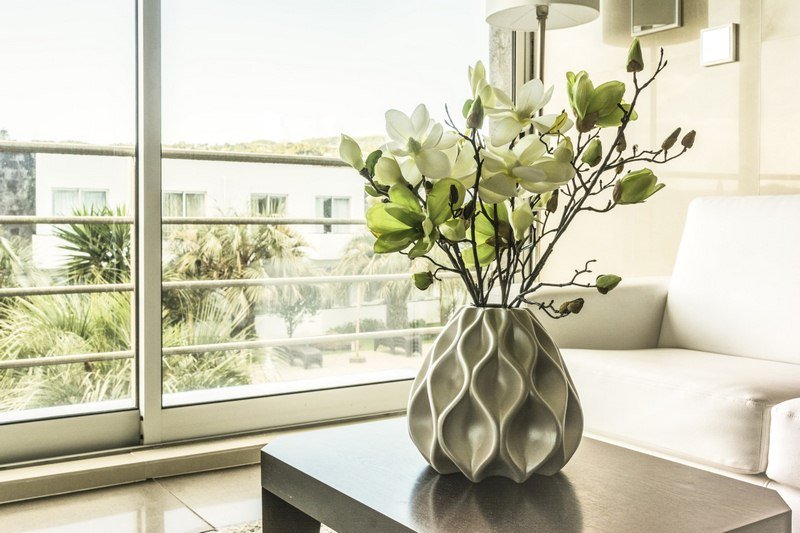 ---
Read Also:
---
1. Snake Plants
These simple plants are perfect for apartment living, as they are basically bombproof. They are resilient and make a perfect addition to your coffee table or bookshelf. To make things even better, snake plants have air-purifying qualities that are great for your indoor space.
This is a great option for apartment owners that are busy or travel often. They can go weeks without care, needling low light and water.
2. Cacti
We love cacti because they are available in so many shapes and sizes. You can pretty much find one to fit any space you're feeling needs a hint of green. It is smart to put your cactus by a window, as they love the sun.
This is another great option for the traveler or the person who just always forgets to water their plants. Cacti only need a spritz of water every month or so, so you can avoid regular watering. These plants are trendier than ever and look super cute growing out of mugs, tins, and other random objects.
3. Indoor Ferns
There are tons of house ferns that can help when you have an open space you need to be filled out a bit. Indoor ferns add lots of green without the hassle.
The Lemon Butter Fern is one of the easiest house fern types, and also gives off a lovely lemony aroma. This one loves moisture, and will do best in a house that's the owner can water it often.
Staghorn Ferns are a unique type because they don't require soil. This is a great idea for any kind of DIY home decorating project you may have. Attach them to elements like wood or hang them off of bookshelves for a growing ivy look.
To water them, you submerge them in water every once and a while, so you'll want to make sure you don't permanently attach them to anything when decorating. They require a lot of sunlight, which is good to keep in mind when positioning them.
4. Herbs
Not only are these great houseplants, but they are perfect for anyone who loves cooking at home. Using fresh ingredients that you can snip off from a plant on your windowsill is both affordable and convenient. Plus, you'll love the fresh flavors they supply.
Easy to manage herbs like cilantro, basil, and oregano are a great way to add some green to an apartment's kitchen. Give each herb its own pot to grow in and plenty of lighting for the best results.
5. Bonsai Trees
These plants are perfect for a small apartment because they have all the beautiful detail of a large ancient oak tree while staying a small and controlled size. While they can be tricky to take care of, they offer such a unique element to any living space.
Place them on your coffee table or side tables, as they act as great conversation starters. You can even get a bonsai tree kit, to learn more about the process and traditions of this meditative practice.
6. Aloe Vera
This is the ideal plant for anyone living in a sunny city. If you're suffering from a sunburn, you can cut off one of the aloe vera leaves and slice it open for refreshing and cooling aloe vera that you can apply directly to the affected areas.
While it's great for burns, aloe vera is also an air-purifying plant. This functional plant is also super easy to care for, only needing to be watered every few weeks, and even less so in winter.
7. Succulents
These plants are trending like crazy, and we know why; they are both adorable and durable. Succulents only need a bit of sun and a spray or so of water every few months.
We love all the different ways we've seen people displaying succulents, like potting multiple different kinds in one pot, forming a kind of succulent bouquet. These are also great for small nooks, such as in between displays on shelves or on desks and tabletops.
8. Air Plants
Air plants are another easy option that is so versatile. They don't need soil, and only need a spritz of water a few times a month. You can skip the hassle of potting with air plants, and they also allow tons of display possibilities.
We love grouping air plants in terrariums or other clear displays that can either hang from hooks with thread or sit atop shelves for a modern look.
9. Peace Lily
This is a great idea for anyone that wants a plant with flowers. This plant has dark long beautiful leaves that bloom with the gorgeous white peace lily.
This plant needs little light and can actually be damaged if there is too much. The peace lily needs little water and will let you know when it does, as it will begin dropping leaves.
The Best Plants for Apartments
As you can see, there are tons of amazing plants for apartments that are also easy to take care of. Make your home come alive with houseplants today, without the added stress.
For more on home improvement, design, and more, head to our site!