This is the story of a screen door. Seriously. And it's a tearjerker.
Screen doors aren't commonly thought of as heroes, but for the Williams family, their sliding screen door with integrated doggy door has been a central feature of their lives.
Baxter is the family's labrador retriever, and he became an essential member of the family the moment David, the oldest child, locked eyes with the jubilant, animated little puppy. David was eight at the time, two years older than his sister Anita.
Understandably, Anita's tiny mind exploded in delight when Baxter first bounded through the doggy door the day his family brought him home. She squealed with happiness and lavished him with kisses and cuddles, deciding right then that he was her very best friend.
David was more subdued, but he loved nothing more than to take Baxter out in the backyard to chase a stick.
David relished leaving the sliding glass door open on his way out to the yard so that he could see Baxter come bursting through the doggy door in the way only puppies can — a frenzied explosion of fur and fun tearing across the deck and out into the grass.
Shelly and Mike Williams, the parents in this story, appreciated the craftsmanship of their sliding screen door. It came standard with PetScreen dog and cat-proof screening by Phifer.
As a puppy Baxter could (and frequently did) jump up on the screening material without damaging it. It's manufactured to be puncture-resistant, able to stand up to scratching, chewing, slobbering, and clawing. All the Williamses knew was that it was Baxter-proof.
The doggy door mechanism was equally well-made. No matter how many times Baxter crashed into it when he missed the opening or wiggled around playfully while halfway through, the door never flinched. It was firmly bolted to the screen door frame, ensuring that Baxter's puppy antics couldn't phase it.
And since Shelly had the door-sized to fit Baxter when he grew up, they were comfortable that it would stand the test of time.
And it did.
---
Read Also:
---
Baxter's Door Grew with the Family
David and Anita got older and Baxter got bigger. After a day spent playing out in the sprinkler, sopping wet Baxter didn't disturb his doggy door as he came in. It swung easily as it always had. The carpet and couch, on the other hand, had a more difficult time.
Family meals out on the back porch were great opportunities for Baxter to play in the backyard.
He could head into the house whenever he wanted to get a drink or chow down on his own food, and then vault back through his doggy door to pounce on the kids as their meal wound down.
As Baxter got bigger, he needed suitable food for large breeds and the screen door kept up its end of the bargain. 65 pounds of excited labrador retriever bounding through the opening to go on adventures with Anita and David were shrugged off by the door with ease.
The door flap opened flawlessly every time. Even as it, Baxter, and the kids got older it never slowed down. And neither did Baxter.
The years came and went in the same way Baxter did — in and out of his door, leaping from one happy moment to another.
Birthday parties in the backyard. Family movies projected on the side of the house. Friends coming over to visit with David and Anita, always raining affection down on Baxter. It was a good life, and Baxter relished every moment of it.
One Day Baxter's Doggy Door Went Still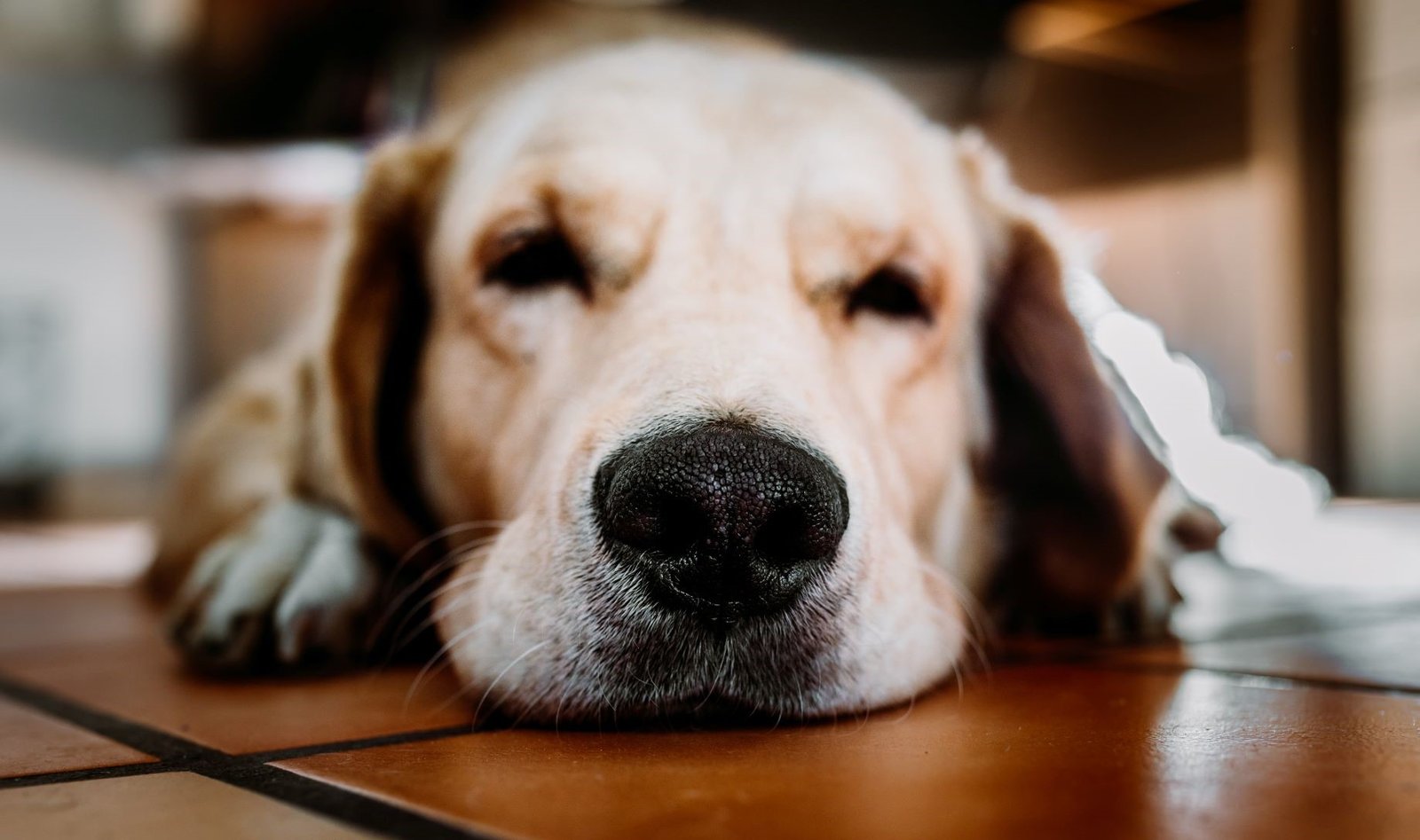 Baxter was up in years. He didn't move quite a fast as he used to, but his dog door still got a lot of use. David was off at college and Anita spent more time with her boyfriend than her best friend.
Baxter's world had shrunk somewhat be he still enjoyed heading out into the yard when the notion struck him. Mike and Shelly were happy to let him.
Then one day — Mike remembered it as a Thursday because he was working from home as he does on Thursdays — Baxter headed through his doggy door to chase a squirrel. And then he was gone.
Much to the family's dismay, it turned out that Anita had left the gate open on her way to a friend's house, and Baxter's pursuit of the squirrel took him out of the yard and out into the unknown.
Anita was understandably heartbroken, her sobs from inside the house punctuated by Mike and Shelly's calls out across the neighborhood for Baxter to come home. They left their trusted screen door exposed at night in case Baxter returned, but his doggy door remained unused.
Not one to lose hope the family posted missing signs on polls and trees around their neighborhood. They enlisted the help of friends to get the word out about Baxter's disappearance.
They called local animal shelters, veterinarians, and every other place they could think of to see if their beloved pet had turned up. They came up empty.
Two weeks passed. Anita could often be found staring out the screen door. She would imagine Baxter as a puppy again, climbing the nearly indestructible screening with his tiny claws, or bounding through the doggy door to cover her face with kisses.
Mike and Shelly were despondent, too. The family would sit down to eat in the dining room and no matter what they were talking about, their conversation would inevitably return to their dog.
And then it happened. They were finishing dinner one evening. David was clearing the dishes away while Shelly and Anita chatted absent-mindedly when they heard the familiar "flap flap flap" of the doggy door.
Anita bolted from her chair and launched herself toward the living room with Shelly and David close behind.
There, tired and hungry, with dirt matting his fur, was Baxter, trotting happily toward them. Anita let a shout of joy that Shelly recognized from that day, all those years ago, when their dog first came through his doggy door and entered her daughter's life.
He was back. A bit worse for wear, but back safe and sound all the same, and the flap of his trusted doggy door had heralded his return.
See? A screen door can be a hero. The doors manufactured by Best Custom Screens & Blinds certainly are. They're built to last and can take anything the world throws at them, including 65 pounds of pure canine joy.
The Williams family loves their sliding screen door with an integrated doggy door, and so will you, whatever your Baxter is named.
Just make sure to keep your gate closed.