Imagine stepping outside your home on a crisp autumn morning, taking a deep breath, and being greeted by the warm and inviting sight of your fall-themed front door decor. Fall is a magical season, with its vibrant foliage, cozy sweaters, and pumpkin-spiced everything.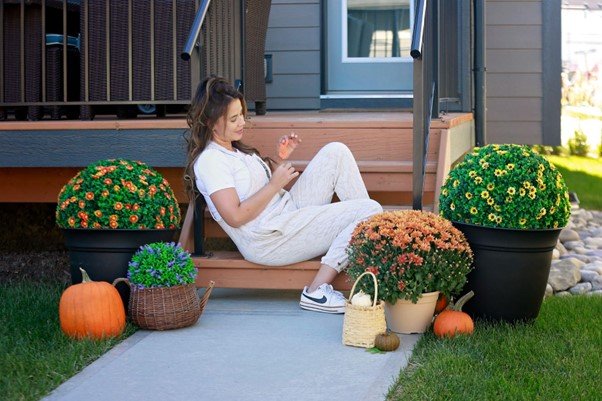 It's the perfect time to give your home's exterior a seasonal makeover, and what better place to start than your front door?
In this article, we'll explore three easy fall front door decor ideas that will not only welcome you home but also delight your neighbors and passersby. One of these charming ideas involves the use of topiary balls to create a classic yet stunning look.
1. Classic Elegance with Topiary Balls
When you imagine fall decor, what comes to mind? Perhaps you envision rustic pumpkins, colorful leaves, and the warm glow of candles.
But have you considered adding a touch of classic elegance to your front door using topiary balls? These beautifully shaped arrangements can effortlessly elevate your autumn decor.  Artificial Topiary Balls are also a perfect way to fill your empty planters.
Start by selecting a pair in a size that suits your front door. Whether you prefer small and charming or large and majestic, Artificial Topiary Balls are available in various sizes to accommodate your taste and space.
Opt for artificial ones to ensure they stay vibrant throughout the entire season and be sure to select ones that look realistic.  Make sure they are secured and centered.
Now comes the fun part: decorating your topiary balls to embrace the fall spirit.  If you have classic green Topiary Balls, try weaving artificial fall leaves or vines around the topiary, securing them with floral wire or hot glue.
To add a touch of whimsy, consider incorporating small, faux pumpkins or gourds into the arrangement. These elements will lend an authentic fall feel to your classic topiary display.
To complete the look, place your adorned Topiary Balls on either side of your front door, creating a symmetrical and welcoming entrance.
You can even add a seasonal wreath or a cozy doormat to tie the whole look together. The result? A timeless and elegant fall front door decor that will make your home stand out with grace.
---
Read Also:
---
2. Bountiful Harvest with a Fall Wreath
Now, imagine your front door adorned with a bountiful harvest of autumn's finest treasures. A fall wreath is a quintessential decor element that can instantly transform your entryway into a welcoming tableau of the season. With a bit of creativity and some crafting supplies, you can craft your very own customized fall wreath.
Begin by selecting a wreath base that suits your style. Grapevine wreaths provide a rustic feel, while foam or wire wreaths offer a versatile canvas for your creativity. You can even repurpose an old wreath frame for an eco-friendly touch.
Gather an assortment of fall-themed materials, such as silk flowers, leaves, pinecones, and berries, in warm, autumnal colors like deep reds, oranges, and yellows. Silk flowers are excellent because they maintain their vibrant appearance throughout the season.
Now, imagine arranging these elements in a pleasing and balanced manner on your wreath base. Start by attaching your materials using a hot glue gun or floral wire.
Create layers and depth by varying the sizes and types of elements you use. For a personal touch, consider adding decorative elements like miniature scarecrows, acorns, or ribbon bows.
As you work, let your creativity flow, and don't be afraid to experiment with different arrangements until you achieve the look you desire. Remember, there's no wrong way to create a fall wreath; it should reflect your unique style and the spirit of the season.
Once your wreath is complete, hang it on your front door using a sturdy wreath hanger. Ensure it's securely fastened, as fall breezes can be quite brisk. As you step back and admire your handiwork, you'll feel the warmth and charm that this simple yet effective decor idea brings to your home.
3. Whimsical Charm with a Seasonal Doormat
Now, imagine adding a touch of whimsical charm to your front door decor. A seasonal doormat is an easy and playful way to welcome both guests and the season itself. Not only does it serve a practical purpose by keeping dirt outside, but it also adds a delightful touch to your entryway.
Start by selecting a doormat that suits your fall theme. Look for options featuring autumn-inspired designs, such as pumpkins, leaves, or friendly scarecrows. Alternatively, you can choose a solid-colored mat that complements your chosen color palette for the season.
For a personalized touch, consider adding your family name or a cheerful fall greeting to the doormat. Many online retailers offer customizable options that allow you to create a mat that truly reflects your home's personality.
To further enhance the whimsical charm of your front door decor, pair the doormat with other fall-themed elements.
You can place a potted mum or a pumpkin on either side of the door, creating a balanced and inviting entrance. This combination of elements will not only add a playful touch to your decor but also create a sense of harmony and balance.
As the season progresses, don't forget to change your doormat to match the evolving fall landscape. Swap out your mats as the leaves change colors and Thanksgiving approaches to keep your front door decor fresh and exciting throughout the season.
In Conclusion
imagine the delight you'll experience when you transform your front door into a charming and inviting autumnal tableau. With these three easy fall front door decor ideas, you can embrace the spirit of the season and create a warm and welcoming entrance to your home.
Whether you choose classic elegance with topiary balls, bountiful harvest with a fall wreath or whimsical charm with a seasonal doormat, your front door will become a beacon of fall beauty for all to enjoy.
So, embrace the season and let your creativity flow as you adorn your front door with the magic of autumn. Your home and heart will be filled with the warmth and beauty of fall, right from the moment you step outside.