When you work from home, an organized office is key to productivity. That's why getting your home office in order is time well spent.
These five essential home office storage solutions will help you to do just that:
---
Read Also:
---
Shelving
When using shelves in your home office, make them work for you and your style. Paint them to match your home office and add some pizzazz where you can.
There are different styles of shelving for different tastes; industrial, sleek, feminine, bright. When it comes to shelving, the possibilities are endless.
Here are a few styles that are especially helpful in a home office:
These are perfect when there is a lack of floor space for bookshelves. You can layer them, make them curve around a wall, or mount them up high for rarely-used items.
If your home office needs are ever-evolving, a modular shelving system will work best for you.
Having a system of shelves that you can adjust to fit your needs, even daily if you must, can help you to be more productive in your office.
For a space-saving option, you can add shelves that take up the entire wall. If you love books, this would be a fantastic place for your library.
Mobile Storage
Some people like to bring their work with them around the house. Mobile storage solutions offer added space for your stuff, but can also move to fit your daily needs.
Need extra workspace? Boom. Want to work in another room today? Boom. Mobile storage is so versatile!
Here's a good mobile solution:
Drill a plank across two filing cabinets and mount some wheels to the bottom. You can use the filing cabinets as drawers and the plank as a desk.
You can turn your mobile storage cabinet into a printing station. Keep your printer on the top, and ink and paper in the drawers.
Printers take up a lot of space for something you may not use every day. This way, you can move the printer out of the way when it's not needed.
Putting wheels on a taller bookshelf can turn it into a mobile room divider. This will allow you to change up the layout of your home office whenever you please.
If you share your office with someone else and want some privacy, use your divider to section off your area.
Memo Boards
Every office should have a memo board. It can be used as a calendar and to keep important notes organized.
There are several different types of memo boards:
Using a pegboard allows you to put more than just written items on your memo board. A few pegs in the right places can support a small shelf or hold a jar for paper clips and pens.
Cork isn't the fanciest material, but you can make it prettier by covering it with fabric and using fancy push pins.
Of course, if your home office has an industrial or rustic look, a corkboard might fit right in!
Chalkboards are becoming increasingly popular in home office spaces.
If you want to use chalk to track your schedule, you can paint an entire wall with chalk paint. That'll give you more than enough room for all of your notes!
A dry erase board printed with a calendar grid is perfect for keeping track of your appointments. Plus, dry erase boards are easy to maintain and reuse.
Cord Solutions
Jumbled cords are an all too common problem for offices. Wrangling your cords will make your entire home office look more put-together.
Here are some solutions for organizing your cords:
Keep your cords out of sight by creating a cord station inside a desk drawer.
Put a power strip inside your drawer and cut a hole in the back for the cord to go through. Now all of those unsightly plugs will stay hidden!
When you look behind your desk at all the cords, can you tell which cord goes to which device? If not, you may have accidentally unplugged the wrong device a few times.
Keep your cords identifiable by labeling each one. You can use colored bread ties or butterfly clips with stickers to let you know which cord is which.
There is an ingenious way to keep your cords organized and out of sight by using flex tubing. This how-to video will show you exactly how to do it.
Upcycle
Get creative and use everyday items to organize your office. Upcycling things that you have around the house is a cheap and easy way to get your office in order.
With a few ribbons or some paint, you can transform ordinary mason jars into stylish organizers.
You can even screw the tops of mason jars to the bottoms of your shelves. This allows you to create a hanging mason jar system that doesn't take up all of your shelf or desk space.
You can store pens, paper clips, or other items in the jars and screw them upwards into the lid to hang them.
Who doesn't have a few old shoe boxes lying around? These can be used for a number of clever storage solutions.
For example, try covering them with pretty paper and storing office supplies or paperwork inside. You can even label them so you know where everything is.
Muffin tins make convenient drawer organizers for paper clips, push pins, rubber bands, and other small office items.
Plus, they look kind of adorable!
In Conclusion
These organization ideas will help you keep your home office clutter to a minimum. With less clutter in your office, you'll be able to work with a clear mind, free of distractions.
Do yourself a favor and pick up a few of these home office storage solutions. You'll be amazed by how much more productive you are!
---
Author Bio: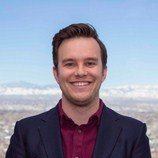 Ryan Sundling is a Group Marketing Manager at Cardinal Group Management. He has over ten years of experience in the conventional housing industry and works with 5151 Downtown Littleton to help them with their marketing efforts.
---